Are you wondering what to make for dinner tonight? Look no further! This printable list of 60 easy, home comfort, and kid favorite recipes will be your go-to guide to help you pick, and plan, your dinner menu for tonight and the days ahead, too.
Just print it out, post it on the inside of a kitchen cabinet door, and then you can refer back to the list whenever you're stuck in a rut and find something yummy to make for dinner.
60 Dinner Ideas to Help you Know
What to Make for Dinner Tonight
20 Quick and Easy Dinner Ideas
Baked Ziti
Crockpot salsa chicken
Brats
Steak
Pulled BBQ chicken
Cheesy bacon chicken
Chicken and Rice
Breaded chicken
French Dip
Meatloaf
Fish 'n Chips
LEFTOVERS!
20 Comfort & Specialty Dinner Recipes
French onion soup
Beef & broccoli
Stroganoff
Pulled Pork
Orange Chicken
Pot Stickers
Pork Loin
Buffalo Chicken
Ham
Salmon
20 Kids Favorites Dinner Ideas to Make Tonight
Breakfast for dinner
Quesadillas
Baked Potatoes
Grilled Cheese Sandwich
Burgers and/or hotdogs
Spaghetti and meatballs
Chicken wings
Fish Sticks
Fried Chicken
Kabobs
Paninis
Tater tot Casserole
Parmesan Noodles
Printable What to Make for Dinner Tonight
60 Dinner Ideas List
To grab this free printable dinner ideas list, just click on the link here or below. A PDF file will open in a new tab so you can save, download, or print the file.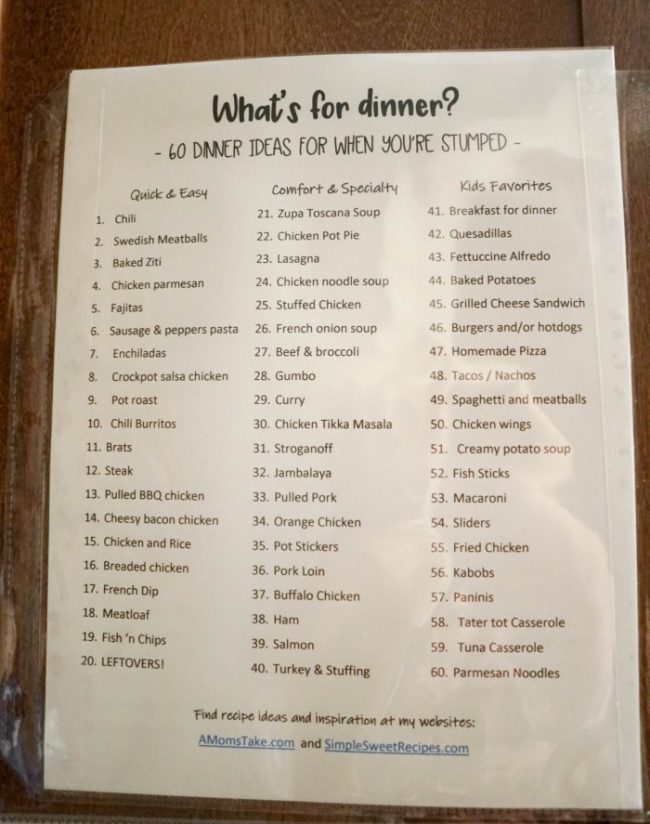 This dinner recipe ideas list printable is for your own personal, non commercial use. Do not distribute or share your printable copy with others, simply direct your family and friends back here to grab their own copy!
What other favorite family recipes would you add to this list? Share your favorite go-to recipes in the comments to help expand this easy weeknight dinners list! Hopefully, with all these choices, you'll now know what to make for dinner tonight!