I am a sucker for comfort foods: mashed potatoes, chicken and dumplings, macaroni and cheese, etc. There's just something extremely satisfying about filling my stomach with these delectable dishes. Wanting to add a little twist to our family favorite dish, macaroni and cheese, I decided to make these Baked Macaroni & Cheese Bites. Perfect for leftover macaroni and cheese, simply roll into a ball, bread, and bake. Biting into these rich and creamy bites, your family will instantly fall in love with these Baked Macaroni & Cheese Bites.
This post is sponsored by Lunchbox. All opinions are my own.
Baked Macaroni & Cheese Bites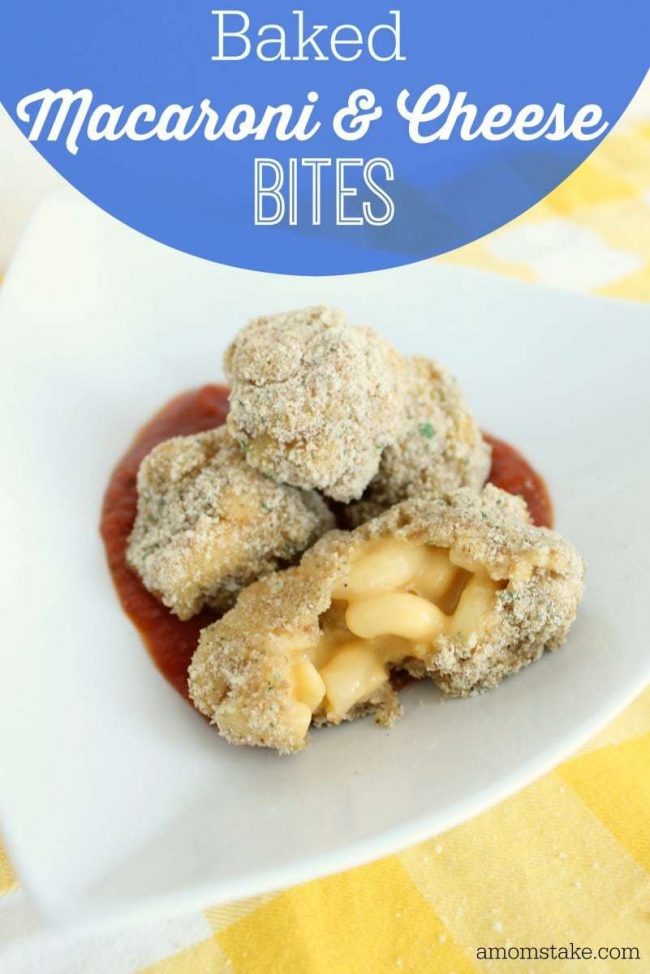 Ingredients:
Macaroni and Cheese –
1/4 lb Velveeta Cheese
4 T butter
4 T flour
1/2 t salt
1/4 t pepper
2 c milk
12 oz macaroni noodles
1/2 cup Kraft Cheddar Cheese
3-5 strips Oscar Mayer Naturally Hardwood Smoked Bacon (optional)
Breading –
2 eggs
1 package of bread crumbs (garlic and herb flavored is my personal favorite)
Instructions:
1. Melt butter over low heat. Stir in flour and seasonings until smooth and bubbly.
2. Stir in milk, Velveeta Cheese, and Kraft Cheddar Cheese until cheese is completely melted.
3. Boil and drain noodles.
4. Pour sauce over noodles.
5. Fry Oscar Mayer Naturally Hardwood Smoked Bacon and crumble into macaroni mixture (if desired).
6. Allow macaroni to cool.
7. Form macaroni into golf ball sized balls and place on a wax paper covered 9 x 13 pan.
8. Put macaroni balls in the freezer until well formed.
9. In a small bowl, whisk eggs.
10. Coat macaroni balls in whisked eggs.
11. Roll in bread crumbs.
12. Bake at 350 for 8-10 minutes. If desired, serve with marinara sauce.
Having a toddler in the house, we eat A LOT of macaroni and cheese! One of my favorite thing to do with our macaroni leftovers is to make these macaroni bites.
I love everything about these bites – the Velveeta Cheese's velvety texture, the crunchy outer layer, hint of bacon, perfect blend of seasonings, etc. What a scrumptious appetizer! Not to mention, breading and baking these bites provides a smart alternative to frying. Another option, If crunched for time, you can always use Kraft Macaroni and Cheese instead of the homemade mixture. What a fun an exciting twist on a classic family favorite.
Kraft has curated a big assortment of recipes at Walmart.com with something for everyone! You'll find perfect recipe to give a try including blogger inspired recipes, like our Baked Macaroni & Cheese Bites! Head on over and find a new yummy recipe to try and cast your vote for your favorites!
What is your favorite comfort food?