Learning to read is one of the biggest milestones our kids will make in their educational journey's. It sets the foundation for a lifetime of learning and creating positive experiences with reading can really make a big difference towards their overall interest and attitude towards reading books for years to come.
We're big readers in our household and I've already taught my 3 older boys to read. They spend endless hours reading fantasy books late into the night. But now, with my youngest heading into Kindergarten this year, we're ready to dive in head first and make reading a priority!
Being the baby of the family, he's a bit behind. But I'm loving how quickly he's already picking up sounding out words and piecing together letters to form words!
This post is sponsored by Reading Eggs. Affiliate links are used in this post. All opinions are my own.
Learning to Read
with Reading Eggs
When it comes to teaching my kids to read, I use a wide variety of resources from books, toys, and games to online instruction tools like Reading Eggs! The more time a child can spend immersed with letters recognition and then letter sounds the quicker they will pick up putting those sounds together to form words!
I love how fun and engaging Reading Eggs makes learning to read and practicing letter recognition and sounds. It makes my job that much easier. They take your child step-by-step through the process of learning to read and little ones as young as 2 can start with learning their letters!
When you first start with Reading Eggs, you'll be prompted to take an assessment to see your child's current level so they'll start right where they are comfortable and not feel like the lessons are too easy or too hard. If you're just getting started, you can skip the assessment.
After the quick assessment, you'll child will jump right into fun and interesting games and videos that make up the bulk of the lessons. They use adorable characters and videos that my son just loved!
I found myself even laughing along with him at some of the silly videos like the "A, a, alligator" who transforms from a capital letter A into an A shaped alligator chases down a lowercase letter a apple! It's cute, fun, and helps build that letter recognition by creating a visual shape to tie together the letter name and sound — genius!
Those letter shapes are used in later lessons to help with recognition and then slowly fade out throughout the game until it's just a standard letter to choose from. I thought this was such a smart approach, especially for the youngest of learners!
As you continue learning with the Reading Eggs suite of programs, your child will be able to move onto Fast Phonics, a brand new suite of learning activities geared for children ages 5-10. My son absolutely loved this new world with an adorable Yeti who leads them through lessons. As they follow through the map of games and activities they'll earn books and new homes and slides for their Yeti friend.
Fast Phonics moved just a little too fast for my son, but it will be perfect for us to transition back to as he continues through the Reading Eggs program. This actually brings the 5th full program to the Reading Eggs suite that's all inclusive in one monthly or yearly fee.
Reading Eggs Junior – For ages 2-4 – Building pre-reading skills.
Reading Eggs – For ages 3-7 – Self-paced lessons for letter sounds, phonics, sight words, and reading.
Fast Phonics – For ages 5-10 – A faster paced reading program.
Reading Eggspress – For ages 7-13 – Focus on reading comprehension.
Math Seeds – For ages 3-9 – Learn counting forward and backward, sequencing, patterns, shapes, telling time, and more!
Speaking of Math Seeds, we found it was built around the same fantastic platform that engages kids with lessons in a variety of formats from videos and games and quizzes to track progress. It was nice to give my child several options when logged into Reading Eggs if he needed a break from letters and words to move onto something fresh and exciting with math concepts in Math Seeds!
One thing I didn't expect when giving Reading Eggs a shot was that they would include printable worksheets that went right alongside the lessons. This was such a great way to bring the learning offline and make sure my child was able to practice handwriting, fine motor skills, and connecting the information he was learning in a more tangible way. I was really impressed how Reading Eggs thought of and included everything I would need.
My child was learning and reinforcing letter sounds, practicing phonics word building, and even memorizing sight words! It was truly an all encompassed program that my son would beg to use every day!
If your family hasn't tried Reading Eggs yet, now's the perfect time to give it a try! You can try Reading Eggs with a 30-day free trial! I really appreciate that there was no credit card information required to sign-up. That means, you won't automatically be billed when your 30-days is up. It's the perfect way to give it a shot with your family and see if it's a good fit for your children — no strings attached!
5 Tips for How to
Teach a Child to Read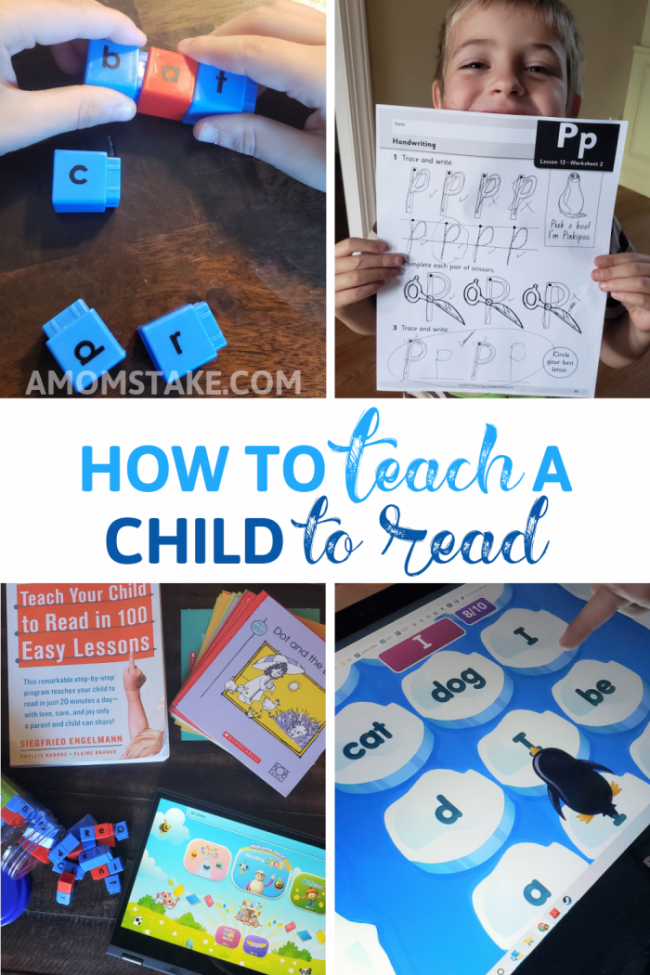 1. Practice Letters & Sounds
The foundation of good reading comes from recognizing letters and the sound they make. Just like in math, you'll drill the multiplication facts with your child, focus on this core building block of reading and do everything you can to help your child really grasp letter names and their corresponding sounds.
You can practice letters and sounds in a huge variety of ways, so don't let this step stop you from getting started. Make a game of finding letters while you drive or looking for a specific letter while you're reading books together.
A really good starting place for building recognition of the letter sounds, we've loved the book Teach Your Child to Read in 100 Easy Lessons. It does a really good job of giving parents a plan and even the dialogue as you work through short lessons with your child.
2. Read Books to them!
Reading books aloud to your child not only helps with their reading skills and interest, but it goes so far in helping them to really find a love for reading that will carry with them for a lifetime. It's a wonderful bonding experience and perfect to add to your bedtime routine. Even just 5 minutes at night can make a huge difference in their reading journey!
3. Use Rhyming
A trick that can go a long way towards helping your child figure out phonics is to play games with rhyming. By showing how bat, cat, mat, hat, fat, sat, Pat, all rhyme your child will really be able to pull out how each sound makes a big difference in building words.
They'll sound out bbbbbb-bat! Recognizing that strong "B" sound really helps cement this pivotal sound and its connection in words and to the letter shape. Plus, it's a fun game that older kids in the family will have fun playing with your emerging reader!
As they progress in rhyming, you can have them tell you what letter the word starts with, to continue building those pathways with letters, sounds, and words.
4. Vary Approach
We all get bored of doing the same thing over, and over, and over again. While you certainly could just pick one resource and it can help your child to read, for our family it's been extremely helpful to vary our approach.
We combine early reader books, learning to read handbooks, manipulatives like these letter cubes or big ABC foam blocks, and online reading programs like Reading Eggs to all come together to reinforce learning skills!
Not all children learn the same, and having a variety of audio, visual, logical, tactile, even emotional (reading with parents) approaches will help your child learn in whatever way they learn best!
5. Praise!!
The number one motivator that will keep your child happy and eager to keep going, even when learning might get tough, is to praise their efforts! Make a big deal out of each step along the way and all their accomplishments.
This can be as simple as a high five and a "Good job, sweetie!" or something more involved like a sticker chart for your current letter of focus that they get to fill in as they work through lessons.
I really like how encouraging Reading Eggs is to show your child all through their learning path with praise and encouragement when they need to try again on a lesson. It all stayed very up-beat and positive!
An easy way to let your child see how proud of them you are is displaying their hard work and letting them and you both point out their best work! What a great way to show off their progress and help them feel proud of their work!
If you've been wondering how to teach a child to read, don't hesitate to jump in with Reading Eggs to make the process easy and fun for the whole family!
What are your tips for how to teach a child to read?