I received a Ju-Ju-Be HoboBe and BusinessBe in exchange for this post. All opinions are my own. Affiliate links are used in this post.

I have a bit of a love/hate relationship with diaper bags. With my first born, I had a huge and ugly diaper bag that I tossed what felt like the whole world into one little bag so I was sure to have everything I would need on hand with me. The bag was always super heavy and it was hard to find things inside, too. Fast forward a few kids and I wanted to be less "mom" and more stylish so I tried a purse only approach. It worked okay, but it still gave me the bottomless pit bag where I could never find anything at all even though I only packed the essentials by this point.
Now, with baby number four, I was ready to give a diaper bag a shot again as my full time purse and diaper bag in one. I wanted a bag that was cute though and didn't scream "diaper bag". Since by #4 I have learned to only take the essentials, I am able to pack a much smaller bag and still fit all the things I need as well as the diapers, change of clothes, snacks and a toy, whatever my son will need depending on where we are going.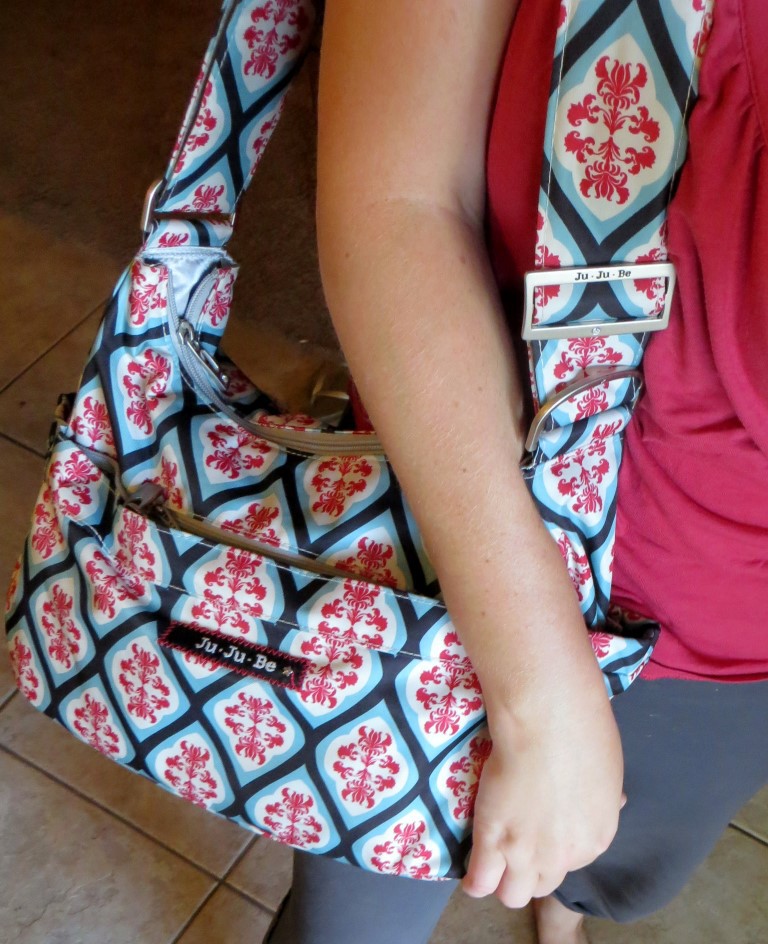 I was thrilled to check out a Ju-Ju-Be HoboBe diaper bag! They have absolutely adorable prints and patterns and the Hobo style of bag is totally me. The compartments make it really easy to find my things separate from the things for my son with two main compartments on the diaper bag. The front compartment has a key fob so my keys don't end up buried and difficult to find and pockets for everything. I keep my chapstick, gum, business cards, receipts, coupons, checkbook, keys, and more up front here. Right behind the mommy pocket, there's a soft lined pocket that's perfect for protecting your phone or digital camera. I always use this pocket for my camera when I take it along with me so it doesn't get any spills or damage.
In the main compartment, there are three large mesh pockets for securing diapers, wipes, a change of clothes, or whatever else you need to store. With everything put away in the side pockets, you still have lots of room in the bottom of the bag for extras. Typically, I toss my wallet in here as I tend to leave the purse unzipped so it's easy access here in the main pocket. At the back of the diaper bag there is an open slot for the changing pad. I also stick papers here and they are really easy to access so I have my shopping list, important school papers, or other things I need access to easily.
I've been using my HoboBe for over a month now and I get compliments on my cute bag all the time! I love the size of this bag, it is perfect for all my "stuff" along with plenty of room for my 10 month old's items as well. This bag would likely be too small for a first time mom that wants to bring everything and the kitchen sink along in the diaper bag but there are other larger bags available from Ju-Ju-Be as well if you need to pack for multiple kids or like to be extra prepared. I have felt so much more organized using this diaper bag than the purse I was using before and I always know where my keys, phone and wallet are in my purse. My phone has made it's home in the side water bottle pockets as I need to be able to get to it quickly and it fits perfectly there.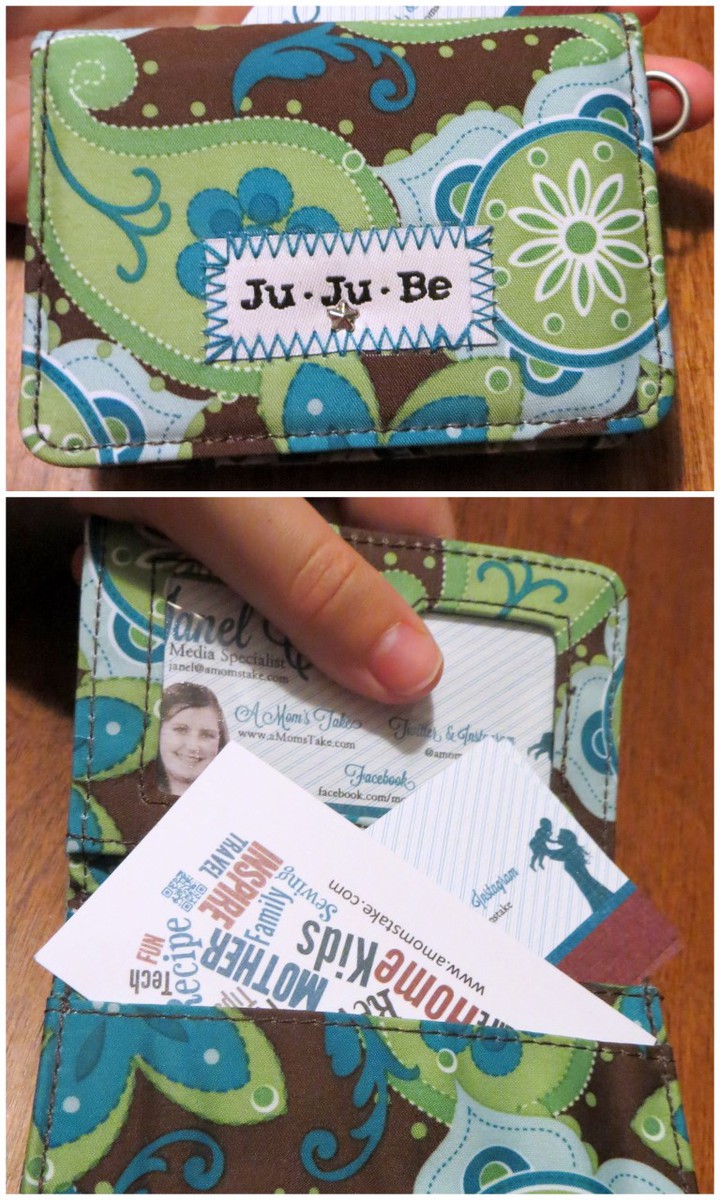 I also got to check out a BusinessBe which can be used to hold business cards or whatever else you may want to stash like your ID, cash and some lip gloss for a night on the town. I have been looking for a way to store my business cards so that I wouldn't be fumbling to find a business card when I had an opportunity to share with someone about my blog. The BusinessBe is just what I was looking for. It has two inside pockets so I can store two different business cards or have one pocket for my cards and the second pocket can store cards I collect from contact I make to keep them safe until I can file them away at home. It also has a clear ID pocket which is perfect for sharing my credentials when I visit attractions as they often ask to see a business card but don't need to keep it after admitting our family in for a press visit. The outside of the BusinessBe has a open pocket you can slide in a card or have one on the ready to hand out as needed. I love the BusinessBe! My cards are now protected, presentable, and super easy to find!
If you're looking for absolutely adorable diaper bags and accessories, Ju-Ju-Be has something for every style with a variety of prints, patterns, and bag styles. Find them at ju-ju-be.com and on Amazon.