I received compensation for this post. All opinions are my own.
After high school, I spent a semester living abroad in China teaching 3 and 4 year old children to speak English. It was a totally different world than the country I left behind, and a big culture shock for me.
I still have so many memories ingrained in me from my time living abroad, though, that it's fun to share some of the Chinese culture with my kids, even if we go for an Americanized version. One thing's for sure — It's impossible to have a Chinese family night without Chinese takeout!
I love getting takeout because the meal is prepared for us so all the prep, work, and mess is taken care of, but we still get to enjoy our time together at home in our own surroundings.
My go-to place for Chinese food is Panda Express. They are quick and easy to order from and best of all is there are no complaints from my kids. After dinner, try one of these fun Chinese Family Night Activities!
Chinese Family Night Ideas
Decorate with Paper Lanterns – Make easy paper lanterns before dinner to decorate the space and start the fun!
Watch a Chinese Movie – After dinner, cuddle up with a fun Chinese movie. Here are some ideas to get you started:
Kung Fu Panda
Mulan
The Karate Kid (2010 version, takes place in China)
Rush Hour or any other Jackie Chan movie
Crouching Tiger, Hidden Dragon
Hero — for date night or with teens
Play a game of Mahjong – You can find free versions online that can be played together.
Pretend to be a Chinese parade dragon – Line up everyone in the family and put your hands on the shoulders or hips of the person in front of you. Parade around the room following the leader as if you were in a Chinese New Year parade!
Try Kung-Fu – Get active and silly by trying your hand at Kung-Fu! Put in a fitness based video to help guide you or look up basic moves and give them a try.
Write a message in Chinese characters – Practice writing traditional Chinese characters and then share your secret message!
Make Paper Fortune Cookies – Nothing feels more Chinese than fortune cookies! You can easily make your own paper cookies and let the kids help make the clever fortunes inside. Or, try filling the fortune with something you like about another family member, than pass your cookies!
How to Make Paper Fortune Cookies
Supplies:
Scrapbook paper
Large circle punch or grab a lid or a CD to trace
Pen or Markers
Scissors
Tape
Grab origami or scrapbook paper in your choice of patterns. If you have a large circle punch, just punch out your circles. Otherwise, grab a large lid or a CD or DVD and trace around the circle. Aim for 4-4.5″ diameter circle. Cut out the circle shape from your pattern.
Next, bend your circle in half, but don't make a crease or fold at the line. While holding the folded circle between your fingers, push in at the center of the fold towards your fingers while pushing the outer tips of the fold upward. This will fold the paper in and give you a fortune cookie shape!
Slip in your pre-written and designed fortunes and refold, if necessary.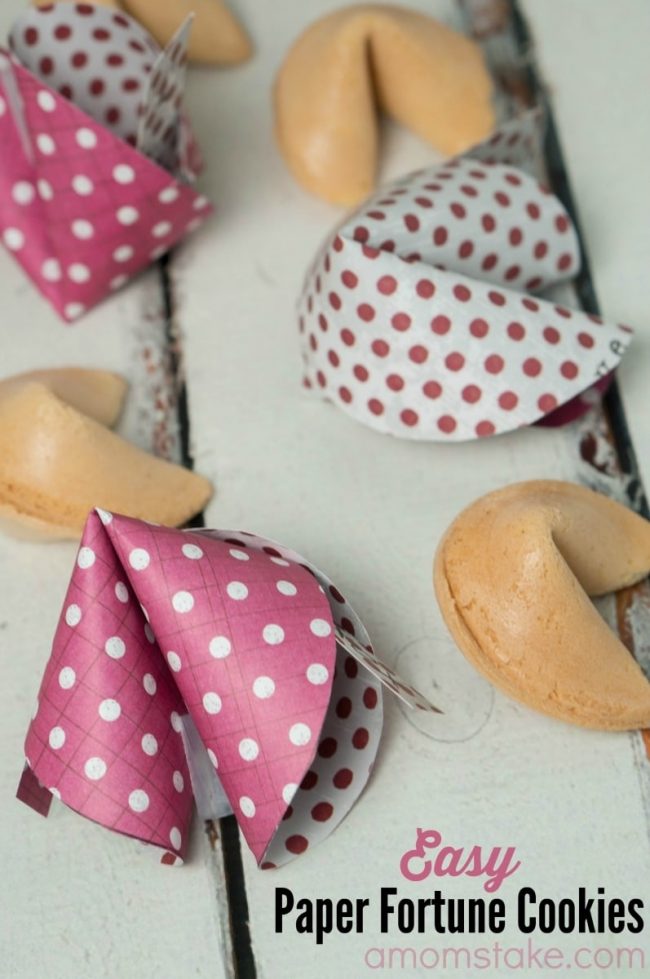 Roll a piece of tape taping the end back to the beginning of your tape strip creating a bubble with the sticky adhesive side facing outward. Tape your fortune cookie by placing the tape bubble between the pointed ends of your paper fortune cookie and pressing to hold the paper to the tape.
Our meal was delicious – we picked our favorites of Orange Chicken and Grilled Chicken with mandarin sauce and everyone happily downed their food, with leftover to spare that I was able to eat for lunch the next two days!
What activities would you plan for a Chinese family night?