I tell you what, some days are just hard. Scratch that… some months. Why is it that you can be sailing along year after year with life going really well and then all of a sudden something strikes and you just keep getting beat down time after time. It has always baffled me how tough things just seem to come in bunches like that.
Well, that's how this year has been for my family. I'm itching for 2015 to just be over, already. A friend shared this quote from me and it struck home really hard. I knew it was something I needed to have up in my home, somewhere I could easily see it each day and remind myself that these tough days can't last forever.
"If for a while the harder you try the harder it gets, take heart.
So it has been with the best people that ever lived." — Elder Jeffrey R. Holland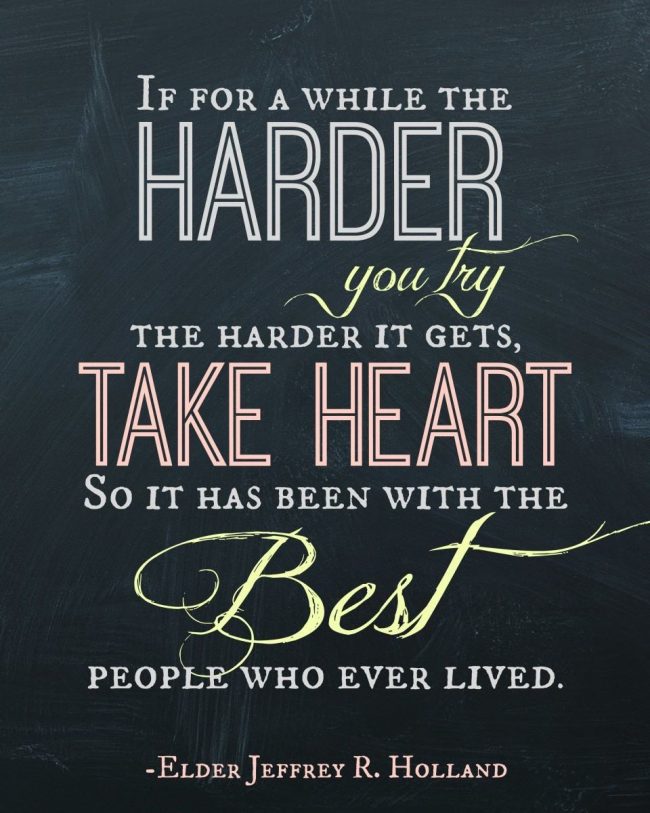 What's so striking to me about this quote is that Elder Holland is recognizing those moments where tough times just seem to keep steam rolling us down not giving a second to catch our breath. He offers a perspective that even though our struggles are real, and are tough, and seem impossible, that maybe – just maybe – we are facing a refiner's fire. That something good may yet come out of our trials. Maybe that something good will manifest as a deeper conviction within our hearts, or stronger family ties, or more empathy towards others.
I don't know all the reasons why bad things happen even to those who are trying with all their might to do the best that they can. It's hard to understand that why. However, in my heart it seems that maybe, just maybe, it's to help us grow to that next level. To be challenged and pushed out of complacency. To become even better. After all, just like the quote says, it is those people who we look up to and admire for their strength that often faced such grueling trials bringing them to where they stand this day.
In honor of my "quote of the year", I made these two styled up versions that can be saved, printed, pinned, or shared through social media to help you, and others, keep our chins up and trudge our way through whatever trials we may be facing.
For the full size image, just click either of the prints or download them here:
Chalkboard – The Harder You Try Quote