Coming to the end of a worldwide pandemic hopefully taught us all a lesson or two. One thing we learned, as a global community, is how quickly things can change. Over a couple short days we went from normal, thriving communities to a closed down, frightened, and sheltering-in-place society.
Every time I check the news I read about something that has me once again returning to a preparedness mindset. Here are some of the concerns I can think of, just off the top of my head. How many have we experience of these as a global community in the past 18 months? It's scary to read through this list and notice we've been through almost all of them!
Natural Disasters such as earthquakes, hurricanes, volcanic eruptions, tornado, tsunami
Environmental Concerns such as drought, fires, flooding, heat waves, cold/freeze fronts, hazards spills/leaks
Food & Goods Shortages such as chicken breasts, toilet paper, and the housing crisis
Political or Social Unrest including riots, looting, mobs, curfews
Disease (hello, Covid!)
Terrorist Attack or War
This list is by no means exhaustive. There are SO many ways that we as individuals and communities can be vulnerable. I challenge you to reflect for a minute on what different hazards you might face where you live.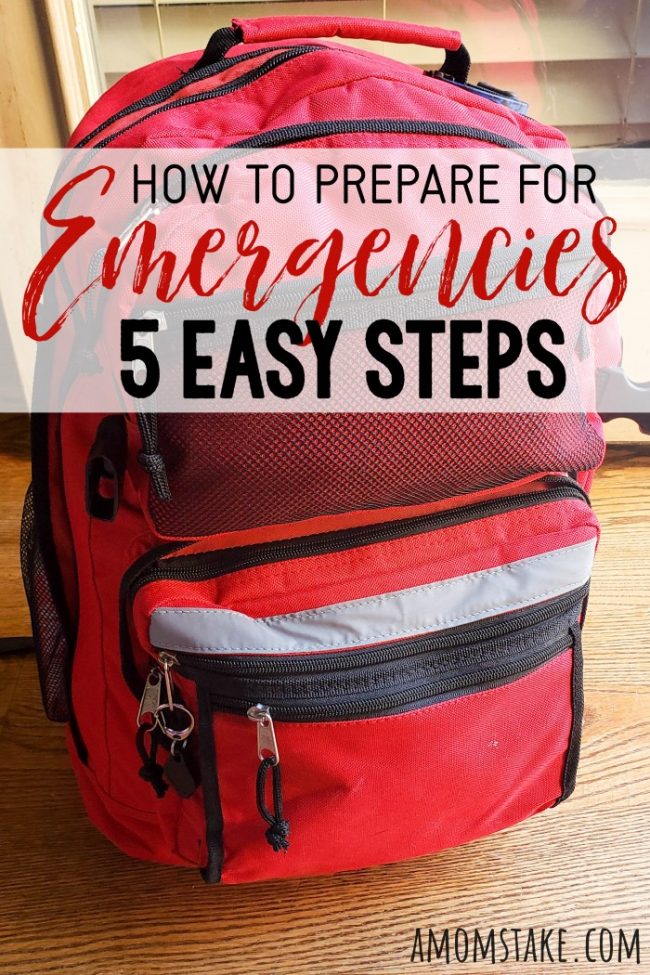 Thinking about emergency preparedness often feels overwhelming, though. There are so many variables and unknowns with what could happen, that it sometimes stops us in our tracks and leaves us with no preparations in place. Today, we'll talk through a couple easy and essential preps to help you get started on or improve upon your preparations.
5 Easy Steps to Prepare for Emergencies
1. Make a Plan
The first step towards preparedness is making a plan. Getting mentally and physically prepared by having a plan of action and practicing your plan will help you be ready when something terrible happens. While others are caught in a panic and unsure of what to do first, you'll have already made crucial decisions ahead of time and be ready to act.
Determine what types of emergencies are likely in your area.
Create a 1-page action sheet for each emergency scenario with your plan of action.
Practice your plan(s)! Set a date to practice at least once a year and make changes, as necessary.
I've created a free printable emergency action plan worksheet to help you get organized! You can fill in one sheet per type of emergency or lump similar emergencies with the same plan and make just a couple of action plans to help you get started.
Printable Action Plan Worksheet
Click on the link below to open up a copy of my Printable Action Plan Worksheet. You can save and use this file for your own personal use. To protect my copywrite, this file cannot be distributed with others without consent. We'd love for you to share this file, but please just point your friends and family directly to this post so they have all the pertinent details and can download their own copy for personal use!
2. Stock Up on Water
Water is a crucial asset to your emergency preparedness! Experts recommend keeping 2 weeks worth of water on hand. You should plan to store 1 gallon per person, per day. That works out to 14 gallons per person, 28 gallons for 2-people, or 56 gallons for a family of 4.
You'll want to both store water and have water filtration to help you have water options beyond the two weeks, as might be necessary. You will also want to have a few different kinds of water storage. At least one should be portable.
Here are a few ideas for water storage:
55 gallon drum
2-6 gallon Collapsible Jugs or Water "cubes"
1 gallon water jugs
Individual water bottles. A case of 45 count 16.9 oz water bottles is equal to just shy of 6 gallons. You would want 10 cases of water bottles for a family of 4.
A rain catch water barrel system.
A well with a hand pump or solar panel dedicated to powering the pump.
Fill up a bathtub before an emergency with a warning (hurricane, tornado, etc. This should be used for cleaning)
3. Create a 72-hour+ Kit
Build a grab-and-go 72-Hour kit that you can take with you should you ever need to evacuate. You usually have little to no time to prepare and having a kit ready will help you have the essentials with you for whatever you might need to face.
At minimum, your kit should include supplies for at least 3 days, which is an older standard. Experts now recommended a 5-day kit (120 hr kit) as more reasonable for the time it might take for emergency responders to step in and be able to help post-emergency.
Your Emergency Kit should be portable, so be careful to not overpack and weigh it down, while balancing your needs with recommended supply lists and meeting with your capabilities.
At minimum, your kit should include:
3-day supply of food
6 water bottles and water filtration
Change of clothes
Small medical kit including single-serve medication and mole skin
Flashlight and fresh batteries, Flint & Steel, or matches
Small toiletries – toothbrush, toothpaste, hand sanitizer, deodorant, etc
Thermal blanket, face mask, poncho, work gloves, pocket knife, cash
See our full post with amazing Bug Out Bag Checklist for a helpful guide to get started.
4. Build a First Aid Kit
A good first aid kit will come in handy for more than just a big emergency. It is something you will come to rely on for all your everyday accidents and mishaps as well. You can start with a store-bought first aid kit, but to have a well-rounded kit you'll want to add additional supplies so they're easy to access and find in an emergency.
Some items I like to add to a starter first aid kit are:
Mole skin
Bleed-stop
Cold compress
Hot hands
Medicine: pain relief, migraine, sleep aid, anti-diarrhea, cold & flu, allergy, ointment, nasal decongestant
Prescription medicines
Antibacterial wipes
Tourniquet
Latex gloves
Tweezers
Nail clippers
Eye drops
Sunscreen
Bug spray
5. Prepare an Energy or Fuel Source
In most emergencies, you're normal ability to cook, heat, cool, or access power can be compromised. There are many different solutions available for heat, fuel, and energy sources. It is best to have a couple of different solutions so that if one presents a problem you can turn to your alternate solutions.
For example, we have a combo propane/charcoal grill. We chose this when looking for a new barbecue because it gave us flexible fuel options. We keep an extra propane tank and an extra full bag of charcoal briquettes on hand so we always have options. We also have a small camping cooktop with backup fuel (butane) and our solar generator could power an induction cooktop. With all these options on hand we could evacuate, stay sheltered in place, and even use a renewable energy to not consume our fuel when we don't have too many other things that need to be powered.
Look around at what options you already have that you might be able to keep extra fuel on hand, such as a grill or a camping stove, and what other sources you might want to add to your emergency preps like a gas-powered or portable solar powered home generators.
Ready for the Next Steps in Prep:
When you've prepared these first 5 most crucial part of your emergency preparedness, you'll be able to tackle most any short term emergencies. It will bring so much peace of mind to have essentials on hand for the unexpected things that each of us will inevitably face.
When you've built your foundational level of emergency preparedness, you can start increasing your supplies to cover longer emergencies. Your food supply will be the next big thing to focus. Many people start with food storage, but it's really not your first, most emergent need. Many pantries in the USA have a few weeks of food reserves you can count on and access to water, shelter, medical care and clean air will really be your first hurdles to overcome in an emergency.
What do you think is the most important first step for emergency preparedness?