Early in 2021 I decided I should probably pull out my really old 72 hour kits and work on updating and perfecting our kits as one of my goals for the year. With seemingly endless natural disaster news coverage, there's no surprise why this was at the top of my mind!
I had 2 backpacks from when I was a brand new mom, complete with all the new baby and postpartum basic necessities. But that first baby was now 14!
And my "baby" of the bunch is now already 6. I'd come a long way since then and I definitely didn't fit the size 2 pants in my old backpack!
I had a couple pre-purchased backpacks and totes with a random assortment of items, but everything was just a hodge podge and definitely not ready to grab and go in the event of an emergency. So, I set out to make big changes and get our family of 6 prepped for an emergency!
Affiliate links are included in this post.
But, then frustration hit. I tried in earnest to find a 72-hour emergency kit printable checklist that would cover EVERYTHING I might want to include within my kit and be easy to follow along and also detail what supplies you only need as a group, not for each individual.
I ultimately couldn't find exactly what I was looking for online, so after lots of research and scouring the web and Facebook groups, I created my own printable checklist.
I worked really hard for about 3 months researching, then purchasing, and finally compiling and organizing 72 hour kits for my family.
This post has a ton of details – so bookmark it (or repin this post here!) to reference later! And hopefully you'll find some of the really cool prep items we decided to add useful while shopping for your own supplies.
In fact, I've made an Amazon List with my favorite 72 Hour Kit Emergency Preparedness finds to help you add some of those to your own supplies.
The Complete 72 Hour Kit Printable Checklist
First, an important note about how much weight!! Try your best to keep your 72-hour kit to 20 lbs or no more than 30 lbs. Aim for 10% of your body weight or 20% if you are fit.
My bag, pictured within this post, is 25lbs. It's heavy! I can carry it, but it will limit how far I will be able to travel. I still choose to keep my bag as is, as I can remove things if I need to based on the emergency.
My bag will also get lighter over time as food and water are consumed. And of course, customize the list with your own individual needs!
One additional note on using this resource and list. I've included everything I could find listed that could be useful and helpful in an emergency situation. This list is long and all encompassing. That's a really good thing – but – don't let it stop you from getting started!
If you're just starting out with emergency preparedness start with this post on 5 easy steps for how to prepare for emergencies!
Focus on the most basic elements for your 72 hour kit FIRST, then continue to add to them as you are able to do so! That post covers what you need to get started with, plus your other first emergency prep steps!
A couple good places to store your 72-Hour Kits: back of a coat closet, under the stairs, add hooks along the wall in your laundry room, or in the garage near your vehicles. You can also put each person's kit right under their bed or in their closet so it's close to where they sleep for easy access in the middle of the night.
Ultimate 72 Hour Kit – Shopping & Packing Guide
Emergency Basics – Include in EVERY 72hr Kit:
Food & Snacks: (Sample ideas of foods you could include)
Breakfast: Granola bars, Belvita, fruit pouches, oatmeal packet, high calorie food bars
Lunch: Tuna/chicken salad kit, peanut butter, top ramen, canned soup
Dinner: Freeze dried meal, ready rice or pasta, beans, chili, meat pouches, instant potatoes
Snacks: Nuts, granola bars, fruit leather, beef jerky, protein shake, dried fruits, raisins, fruit cup, crackers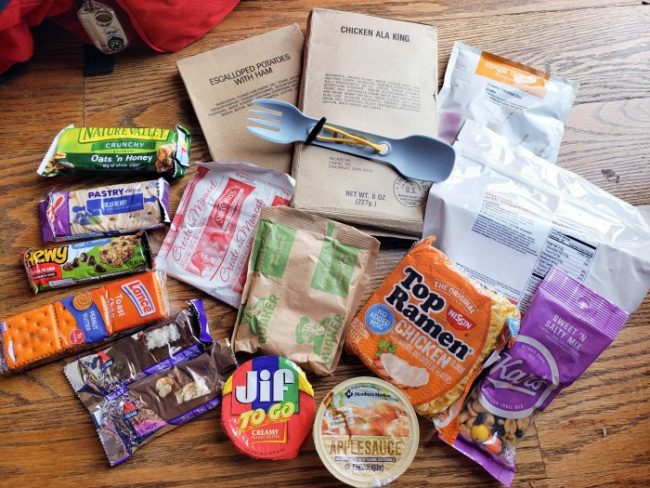 Food & Snacks: Look for ready-to-eat foods, especially those that do not require water. Check expiration dates to find enough food items that will last for 1-year to reduce the need for updating your 72hr kit.
Keep in mind weight, size, and calories to find the best things for your family. I also add this cool spoon/spork to each bag! You may not need a full mess kit if you plan easy items for your food bag.
It's not a bad idea to add a few plastic bags and paper cups to your kit for trash and food prep!
Recommended daily calories:
Children: 2-8: 1,400 9-14: 1,800
Females: 15+: 2,000 51+: 1,800
Males: 15+: 2,500 51+: 2,200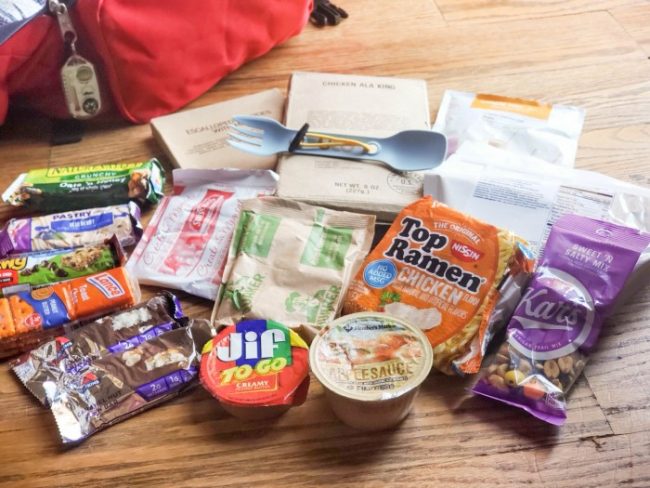 We have mentioned some suggested food items to help you get started, but keep in mind any food allergies, diets, restrictions, and food preferences. The easier to prepare, the better it will be for your kit.
Choose a variety of snack-like foods that can be simply consumed and meals. Contain all food together in a 2-gallon Ziploc bag to keep it separate or in 1-gallon bags per day for easy access and distribution.
Water & Filtration:
6+ Water Bottles / Water Pouches
Hydration Multiplier
Lifestraw or filtering water bottle (Nalgene water bottles are great!)
Water & Filtration: Water is your most important commodity. With many natural disasters, you may not be able to access clean water sources. It is also very heavy, and one of the most difficult things to pack.
Adding hydration multipliers will help you stay hydrated while lessening the load. Make sure to also add options for purifying or filtering water in case your emergency lasts longer than your water.
Amazon is a great source for finding filtration options. Store water bottles or water pouches in a Ziploc bag so your water is preserved if they happen to leak or are punctured.
Clothing:
Long pants
Long sleeve shirt
Short sleeve shirt
2 pairs of socks
2 pairs of underwear
Clothing: Choose clothes that currently fit or are a little on the large size. You would rather have clothes one-size too big than too tight. For children, opt for one full clothing size larger.
Keep in mind your local weather for extreme highs and lows and pack accordingly. It is better to be extra warm than freezing. Pick sturdy clothes that can get you through rough conditions and will not rip easily.
Jeans are best and a thermal type of top works great. Add an extra set of clothes for young children. Pack a pair of older tennis shoes, when possible. Shoes can be strapped to the outside of the pack.
Keep clothes with stains that you no longer want in your closet instead of donating! Or shop second-hand stores for inexpensive clothing to add to your kit. Store in a gallon Ziploc bag that can be reused for other needs!
One tip is to just store sweatpants and sports type shorts as they have an elastic comfortable waistband that will fit a range of sizing! That will give you both a warmer climate and cold weather option!
Toiletries:
Hand sanitizer
Baby wipes or moist towelettes
Toilet Paper
Toothbrush
Toothpaste
Soap (unscented)
Washcloth
Tissue pack
Feminine Hygiene
Brush/comb
Lotion
Chapstick
Hair elastics
Deodorant
Toiletries: Choose very small, travel sized, items for your toiletries. You are planning supplies for a 72-hour survival kit to get you by a worst-case scenario.
Shop dollar stores or Target dollar spot to find small sized items or repackage into small containers. Save any sample packs for your 72 hr kit supplies! Store your collection of basic items in a quart Ziploc bag or a small packing cube to avoid leaks.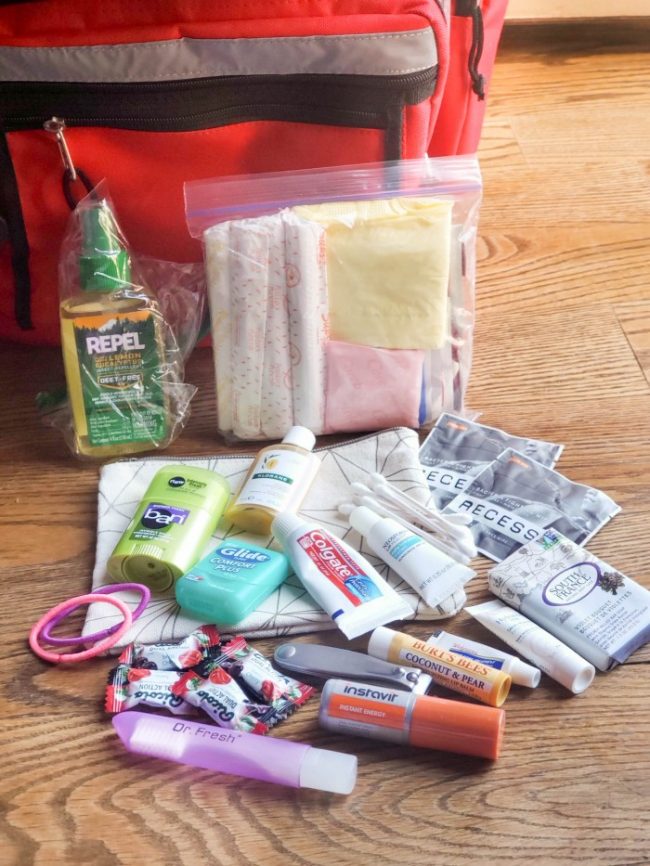 Emergency Essentials:
Mylar thermal blanket(s) (space blankets)
N95 mask, face masks
Neck Gaiter – heat loss, mask, sun protection
Light Sources: Flashlight (I keep this small clip-on style with my med kit) or head lamp
Extra batteries
Whistle
ID Card with photos / emergency plan
Playing cards, coloring book, toy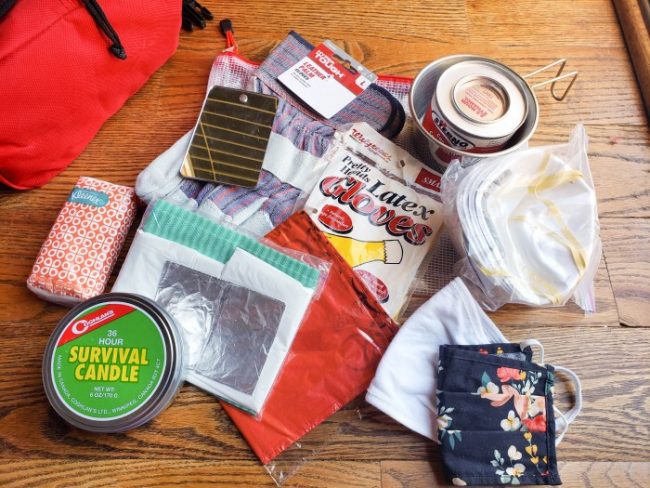 Emergency Essentials: Shop for your emergency essentials for both your individual and group needs at a variety of stores. Don't be afraid to shop around for reasonable prices and add to your supplies as you are able to.
You can pick up a set of items like mylar blankets, ponchos, and flashlights, for example, at a discount over buying individually. Then store essentials together in a Ziploc bag. Keep important items in a front or side pocket like a hand crank flashlight, mask, and poncho.
Identification & Papers: Create a single half sheet document with photos of each family member and any extended family members you might be with during an emergency. Include names, birthdates, phone numbers, addresses, and any important medical needs, allergies, and blood type.
This can help you find your loved ones if separated or ID for medical needs or if they should die. Laminate this document and add to each bag's front pocket.
A record of your accounts, payment sources, and identification, and other important information will help you should your home become compromised and unavailable to you such as in a fire, tornado, or flood.
72hr Supplies for the Group – ONE set per every 1-4 people:
Health & First Aid:
First aid kit
Cold compress
Medicine: pain relief, migraine, sleep aid, anti-diarrhea, allergy, ointment, nasal decongestant
Prescription medication
Antibacterial wipes
Latex gloves
Tweezers
Nail clippers
Eye drops
Sunscreen
Steri-strips (these work like stitches!)
Health & Hygiene: It is very likely that in an emergency you will find an increased need for medical supplies and extra medications. You are more likely to be physically active and out of the home in situations you are not used to. It is very important to keep a first aid kit and basic medications.
If you are on any prescription medications, you will want to ensure you have access to these as well. Consider backup plan for modern medical devices such as: blood sugar testing, pumps, pacemakers, inhalers, oxygen, etc. That may not be as reliable in an emergency.
Best Emergency Kit Essentials:
Water filter pump
Water purification tablets or drops
Pocket knife
Waterproof matches / Lighter
Solar/crank Radio & Charger
Charging cords
Cooking Pot & Fuel
Work gloves
Sharpie
Cash – in small bills
Duct tape
Tarp / shelter
Carabiners
Multitool
Notebook and pen
Garbage bags
Ziploc bags
Copies of important papers
Babies & Toddlers under 2 Add:
Additional set of extra clothes
Diapers
Formula
Bottle
Pacifier
Swaddling blanket
Teething gel
Hat (sun/cold protection)
Infant carrier
Babies & Toddlers: Young children will likely need to be carried when evacuating and traveling during an emergency. An infant carrier will be an enormous help.
Even if you are breastfeeding, consider adding formula and a bottle as your milk production may be impacted during a crisis. A pacifier, even for children who may have outgrown one, will help to comfort and soothe a young child during a difficult situation.
Pet Kit – 1 set supplies per pet:
Pet food & water
Collapsible water bowl
Leash
Small comfort item: toy, blanket
Poop bags
Pets: Keep a smaller backpack or cinch pouch ready to go with basic emergency kit pack of supplies for your pets. Be mindful of something that will be easy to carry with your already full backpack 72hr kit.
You will want to include non-perishable food, water, maybe a treat or two, and most importantly a leash to help keep your pet contained and safe during the emergency.
Beyond 72 hours Supplies:
Store all the following items inside a 5-gallon bucket. The bucket(s) can then be used for hauling gallons of water, as a toilet, as a chair/table, etc.
Sanitation:
5-gallon bucket toilet lid
Trash bags
Urinal
RV sanitizing toilet packets
Shelter & Warmth:
Small tent or hammock
Sleeping bag
Travel pillow
Beanie, Gloves, Scarf
Backpacker's Towel
Cooking:
Camp stove & fuel
Small cast iron skillet
Firewood
Additional food & water
Camelback
Tools & Supplies:
Shovel or gardening trowel
Large knife
Bible / Book
Plastic sheeting
Trauma medical supplies: ace bandages, brace, tourniquet, butterfly bandages, shears
Weapon
Pool noodle for flotation
Grab & Go Checklist:
72-hour backpacks
Shoes
Keys
Cell phone
Wallet / Purse / Credit Cards
Jacket
Camelback filled with as much water as you can carry
Turn off Water, Gas and Power source
Lock doors / set security alarm
Quick Guide to Packing a 72-Hour Kit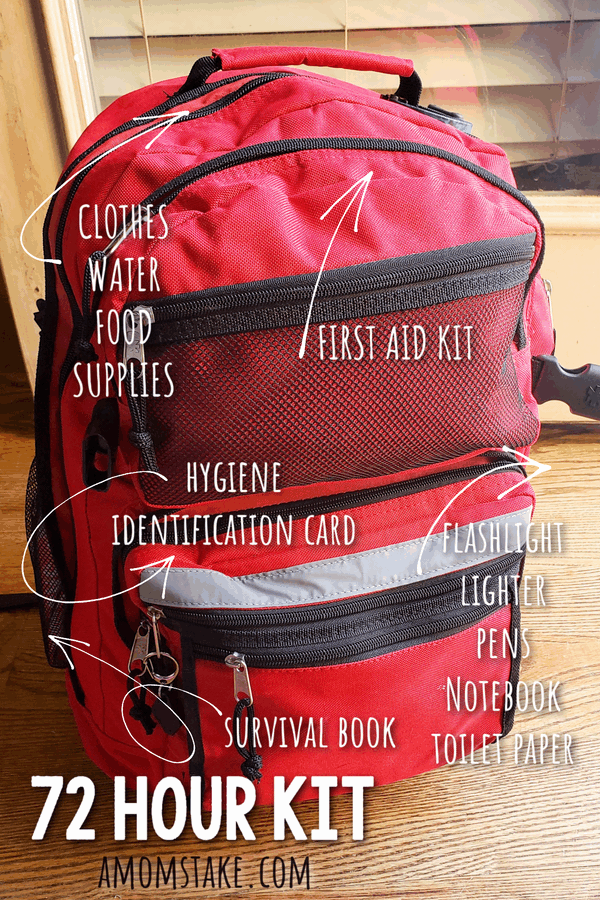 Repin this image & post on Pitnerest to save it for later!
You can use any backpack, even your small children have outdated school backpacks we can use! But if you find backpacks with lots of pockets it can be helpful to get organized and have a plan!
My husband and I have matching backpacks, his is green. We have all of the pockets for the entire family loaded exactly the same way!
By keeping your system the same, it will help you more quickly and easily find and access important supplies. For example, I load up the front main pocket with a first aid kit.
That is the most important thing to be able to need to access in a moments notice and know exactly where it is.
We add a bunch of basic supplies to our first aid supplies! Like using this pill organizer and adding everyday medications to the kit! I just split out that kit across a few of the 72 hour kit bags.
We also store a laminated identification card that has pictures of every family member with addresses and phone numbers and a couple close relatives who we might need to evacuate to their homes. This goes in all of our packs front bottom pocket.
I want a rescue squad to be able to have this information in case they come across one of my children separated from us or should one of us die in the commotion, this is an easy way to have these important details quick to find.
We use the side pockets for toilet paper, flashlights, an all-weather notebook and pen, and a couple other important essentials we're always grabbing for – like my little roll of gorilla tape (surprisingly). The other side pocket has a mini survival guide book that I wanted to be able to find and reference easily.
We keep all our food, water pouches, clothes, and general supplies in the main area of the backpack. You'll know where they are when it's time to slow down and setup camp, eat a meal, etc, but for the most part they don't need urgent access. We do keep food at the very top of the inside of the backpack to make it easier to grab a snack, though.
One thing I really liked using with our kits is these mesh document bags. They're thicker and feel much stronger than a gallon ziploc bag and they fit our supplies so well and are very lightweight!
They aren't waterproof, but I got a big set of 40 bags with sets of color coordinated zippers for only $20. I just gave each of the survival bags one set of them and I have some left over for other projects.
PDF Printable 72 Hour Kit Checklist
Now, you can get started gathering all your own supplies with our helpful 72 hour kit checklist. We've summarized a lot of the info here onto one easy printable 2-page checklist! I like to print it double sided so the info is all on one single piece of paper.
Make a copy for your emergency binders (if you have one of those!) and another copy to put wherever you store your 72-hour kits. Just slip it into a sheet protector and post it on the back of the door. It's the best way to be able to reference the sheet when you need to make updates.
It also will give you quick access to the grab 'n go checklist to remind you what else you need to do when you head out the door – like turn off utilities access and grab your wallet!
Plus, check out my Amazon List with my favorite 72-Hour Kit Emergency Preparedness Kits supplies to help you get started with sourcing and assembling your kits!
Use Terms & Policies: This document is being offered as a free printable for individuals only. You cannot replicate, share, distribute, or upload this file to any other locations. If you'd like to share this file with another individual or group, please just share the link to this post directly. This helps protect my copyright and gives them the full details and other helpful resources that go along the printable.
Complete 72 Hour Kit Checklist PDF Download Here: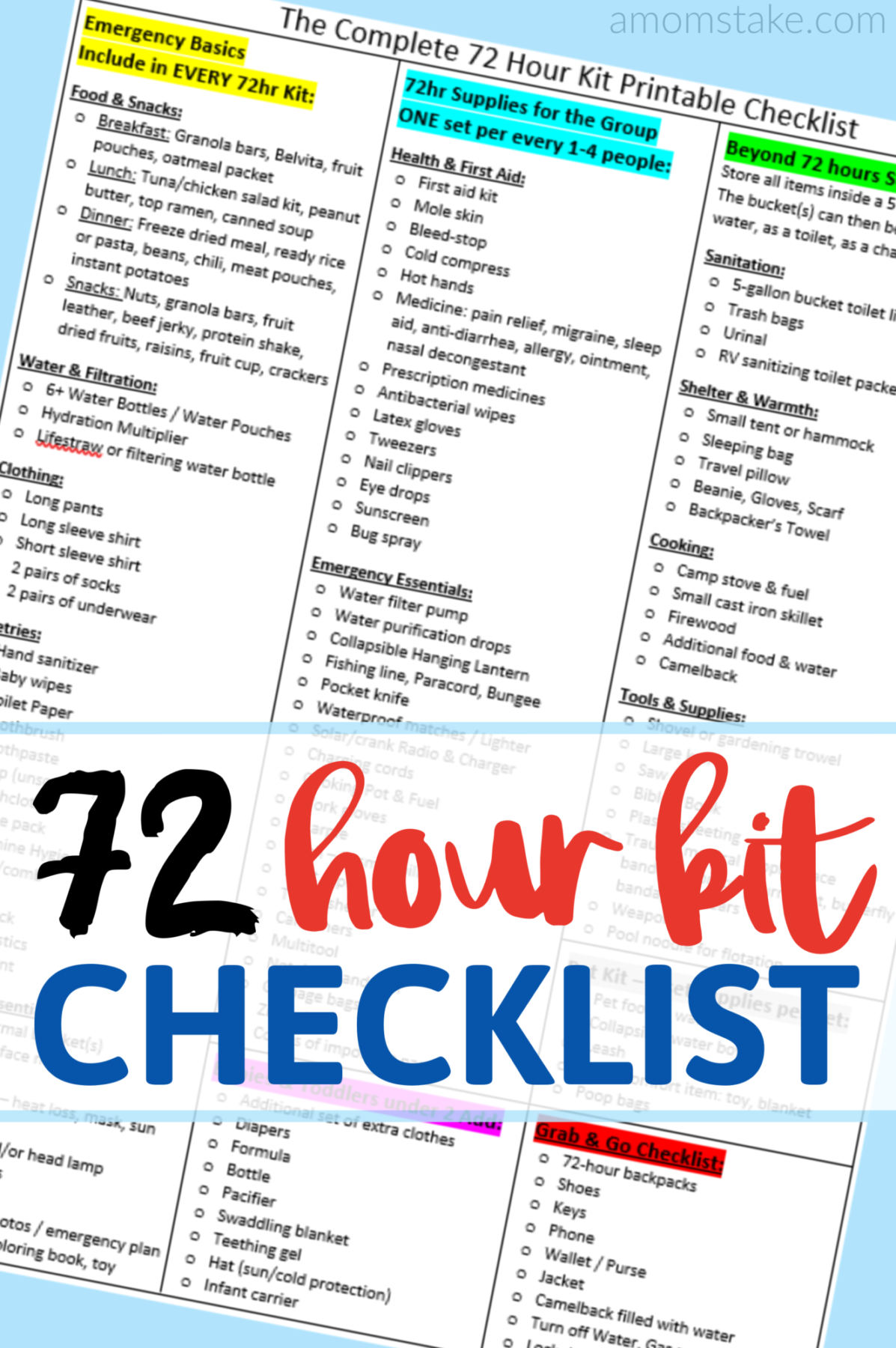 Click here or on the download button below to get a copy of our Ultimate 72 Hour Kit Printable Checklist!
*Terms of Use: This file may not be shared, distributed, replicated, copied, or modified. See the PDF for full terms of use. If you'd like to share this file with others, simply share the link to this post!
Am I missing anything important in this list? Or what have you added to your 72 hour kits that you really like? Share your feedback in the comments to help others, too!