After an incredible western Europe road trip that took us through Belgium, Luxembourg, eastern France, and Switzerland, I was anxious to finally make it back to Paris! We continued our trip from Troyes and stopped in Provins, France.
From Provins, it was just a little over an hour back to Paris where we would turn in our rental car and spend the rest of our trip on foot and public transportation.
Western Europe Road Trip
Paris, France
We stayed in a really cute airbnb on the north end of Paris within a short walking distance to Sacre-Coeur. It is quite a hike to make it up to the Sacre-Coeur with all the elevation gain. But once you're there, and you look out over the entire city it was worth the incline.
Sacre-Coeur – A Paris Viewpoint
This was our first stop in the city, so iot was really neat looking out and spotting the Eiffel Tower, which got me all giddy! But our view point didn't stop there. During our trip, we made our way up to the top of Sacre-Coeur for an even better view (like pictured below).
We really liked the gargoyles that adorned this gorgeous Catholic church. Plus, the view of the massive expanding city of Paris was worth the 300 steps.
The Catacombs of Paris
One of the tourist sites that I was really intrigued to visit was the Catacombs. They're said to hold the bones of over 6 million people. It is both eerie and completely fascinating to make your way through the tunnels that are filled with so many bones. The bones are tossed and collected in large piles, and then they formed walls out of stacked bones and skulls.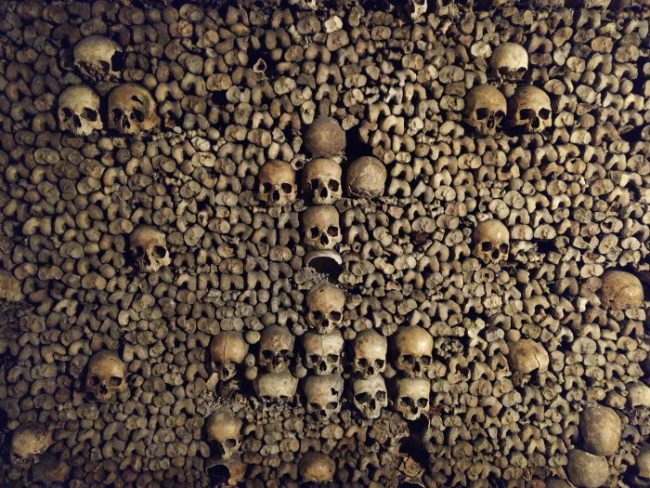 I cannot even fathom having the job of collecting and organizing the bones, but they were carefully collected and corralled together by different years and locations gathered from.
It really was a surreal experience to be down in the gallery below ground. It is absolutely worth a visit, and something I won't soon forget. These pictures can hardly capture even a tiny fraction of the experience.
The Eiffel Tower – the Heart of Paris!
I may have become extra sappy as we approached the Eiffel Tower, but it really does just feel symbolic of the city of love. Our trip wouldn't have been complete without a cliche kiss under the arches.
We took the subway line to a nearby stop, and then followed the crowds making their way to one of the world's most famous attractions. But despite all the people around, it just increased the excitement of the group to be experiencing a famous site all together.
We came through from the park side, which was so beautiful. It was serene and surprisingly not many people. We took our time walking along from this backside view for pictures and to sit and soak in the moment.
Then, we weaved our way over towards the front grassed area and did our best to try to capture the size and majesty of the Eiffel Tower. You can purchase tickets to take a ride partially up the tower and continue to climb the stairs up the rest of the way, if you choose, but we decided not too. There are over 700 steps, if you were to climb the whole way.
Seeing Paris' Notre-Dame Cathedral
The Cathedral of Notre-Dame was crawling with tourists, but it was still worth a visit. It's foundation stone was laid in 1163, and construction continued over the next 200 years as different embellishments, including the impressive front facade, were added. It was restored during the 19th century, from extensive damage that took place during the French Revolution. There is so much history here, it's really incredible.
You'll find yourself passing the Cathedral and spotting it from every angle as you make your way around Paris, as it's nestled right in the heart of the city near the bridges.
Relaxing & Enjoying Paris
After the busy hustle of our road trip, we were ready to take Paris slower and just soak in the city. We had 3 full days (plus the first night we drove in) to see the city. It wasn't a ton of time, but it was enough to let us go at a slower pace and make meaningful memories together as a couple.
After seeing all these really cute French women bustling through the city (trying to dodge all of us tourists) I really wanted to hit a salon and take a little Paris flair home with me. We stumbled across a salon while walking through the town.
We couldn't communicate very well to each other, but with a calculator, some google photos, and some color swatches – a cut and color was under way. I let the stylist know I was trusting her and letting her do what she thought would be best. She did speak some English, but only just enough. We picked a fun and bold red color together and decided on an a-line haircut.
I was thrilled with the result, and it was really fun to feel just a little transformed from my trip — and bring home a new look! I've liked it so much, I've kept up the color.
We also spent lots of time enjoying the food. Oh, French food is amazing! I can't wait to go back someday, just for those pastries! Fresh croissants, baguettes, crepes, French onion soup, it was all so good.
Our next trip to Paris will include Versailles, it was closed the day we had it planned for, and a trip to the Louvre. What would top your list of sites to see in Paris? If you missed the beginning of trip, start from Day 1 through Belgium and Luxembourg!