I received park hopper tickets with admission to both Universal Studios Orlando and Universal's Islands of Adventure theme parks along with Unlimited Express passes. Opinions expressed are my own.
Universal Studios in Florida has two huge parks right beside each other with a really fun CityWalk area that connects them. We started our morning at Universal Studios as their Halloween Horror night was going on that evening and we didn't want to be around for that with our young boys.
After entering the park, we went straight to Despicable Me Minion Mayhem, a 3D ride where you go on a simulated journey to become a minion yourself. My boys love this movie, so it was the perfect first ride to go on. My five year old kept telling me he didn't want to "become a minion" and was really nervous before going on the ride. Once it started, though, he was filled with giggles and exclaimed really loudly in the theater that it didn't work on him, he wasn't a minion! With our Unlimited Express passes, we literally cruise right past all the line and didn't wait more than 10 minutes for our turn. After Despicable Me, we went just across the way to Shrek 4D where we went on a carriage ride adventure with special effects that brought the ride to life.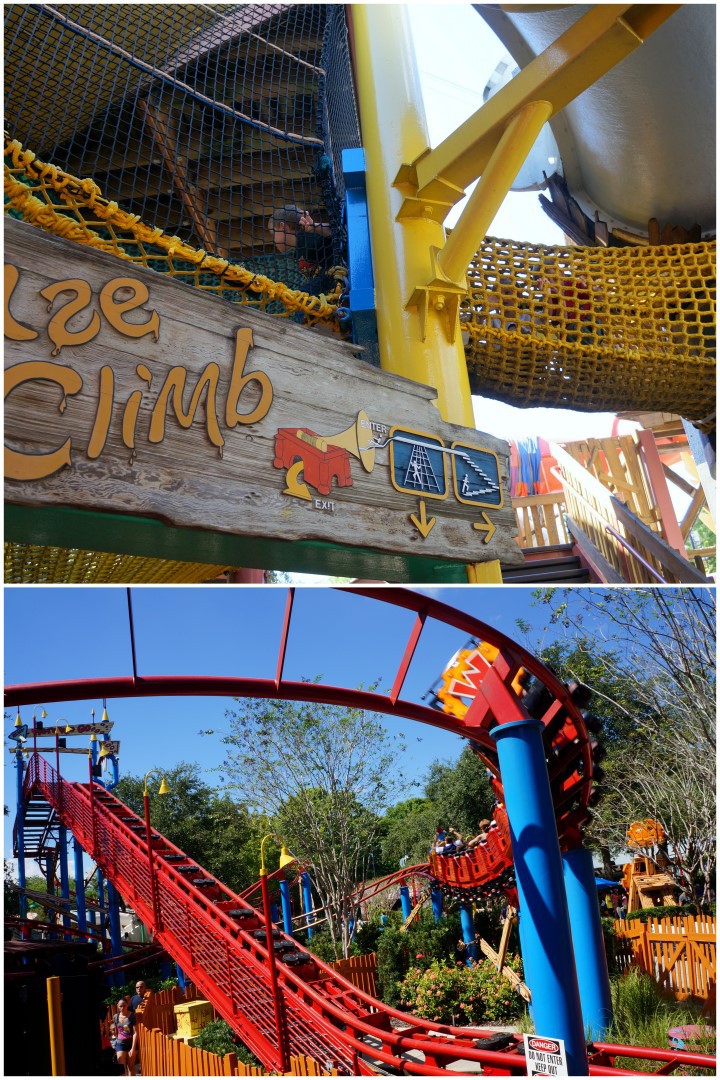 Next, we headed over to Fievel's Playground where you're emerged in a world where you get a mouse-sized view of the world! It was a really cute play area with ropes climbing areas and a slide and lots of things to climb on. It was a nice place to let the kids run and stretch a bit. Right next to the playground was the kids favorite ride of the day – Woody Woodpecker's Nuthouse Coaster. We literally walked right onto this ride! Since Universal does a family ride swap, my husband and I were able to take turns going with our boys on this ride without having to walk back up the queue line.
We took a stroll past Curious George's town, which was absolutely adorable. My boys loved pretending to be George following along with his footsteps into his play area. By this time, though, we were starting to get hungry so we wandered on past the Simpson town and to the big thrill ride I didn't want to miss.
We ended this park with heading onto Hollywood Rip Ride Rockit coaster! This is an awesome ride! The line to load up passengers is on a conveyor belt which keeps the queue line really short. The regular line was only 10 minutes and with the Unlimited Express pass I literally walk immediately onto the ride. You get a chance to pick a song to rock out to on the ride and create your own music video of your coaster ride. I love coasters and this one had no shortage of loops and spins!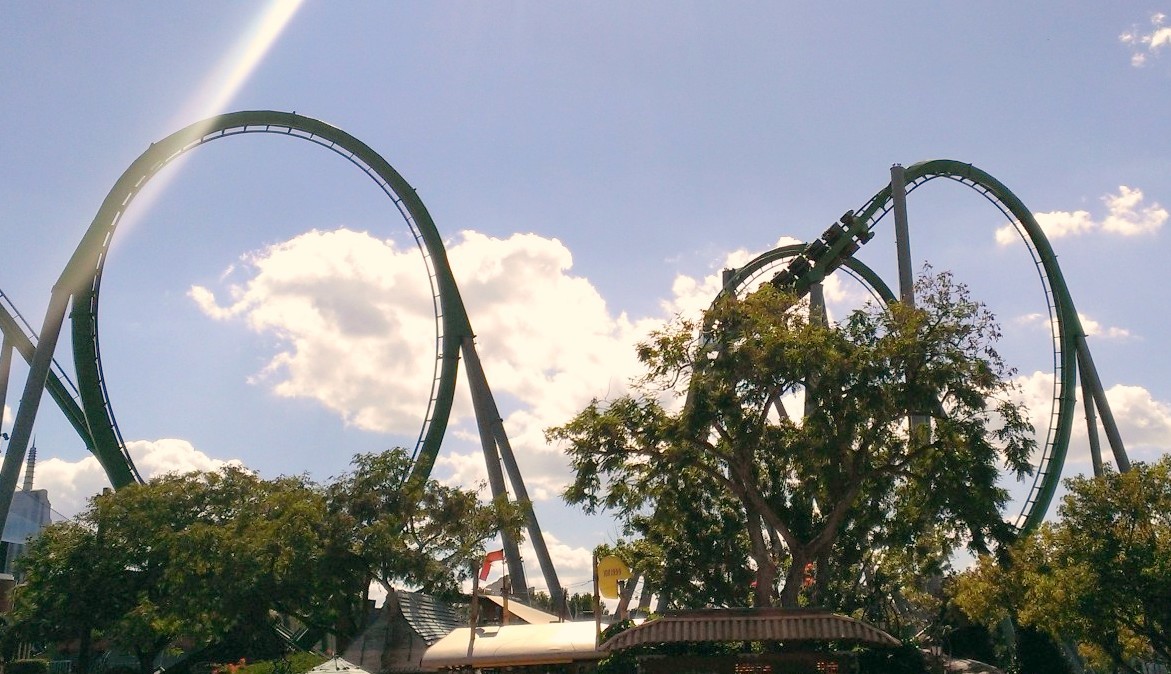 Then, we made our way over to Universal's Islands of Adventure park. The two parks have a completely different feel. Universal Studios feels fast paced and gives you the feeling that you're on the set to make a movie. Islands of Adventure has a much more relaxed and laid back atmosphere with a change of pace, scenary, and even music as you enter the second park. I really preferred the feeling at Islands of Adventure, but by this point in the day we were all getting pretty tired so we didn't stay in this park too long. I did get to go on The Incredible Hulk Coaster ride, which was an AWESOME ride!! It was my favorite ride of the day. You go zooming out of the gate going from 0 to 40 MPH in 2 seconds flat! It's a very different feel then creaking and inching up a big hill to start your ride.
If you're into movies and love watching your favorite shows come to life along with big thrill rides than you'll enjoy either of the Universal theme parks. Both parks have a lot of 3D and 4D shows that get you into the movies and fun themed play areas for the kids which makes them unique from many of the other parks in Florida. With the Unlimited Express pass, you'll really fly right through the lines, which eliminates the most frustrating part of visiting theme parks! If you're looking for fun places to visit in Florida, Universal Studios Orlando might be just the place for you.