I received a Doinkit Darts and Deluxe Magic Set in exchange for this post. All opinions are my own.
Do you ever struggle to pick out just the right gift? Maybe you have to shop for nieces and nephews, grandkids, or even your own children. It can be confusing trying to figure out which toys will last, what ones they'll love, what different ages really are interested in, and all the other questions that go along with shopping for a gift. Wouldn't you love to just simply be told these are the top toys of 2013?
Brilliant Sky Toys & Books offers a concierge style of customer service with free gift wrap and only the top quality toys including their 12 Brilliance Award winning toys that show you a dozen "perfect playthings" with top picks including Lego City Brickmaster by Penguin a cute learning book called How Big is the Lion? My First Book of Measuring by Workman and these two fabulous picks I had the chance to check out first hand!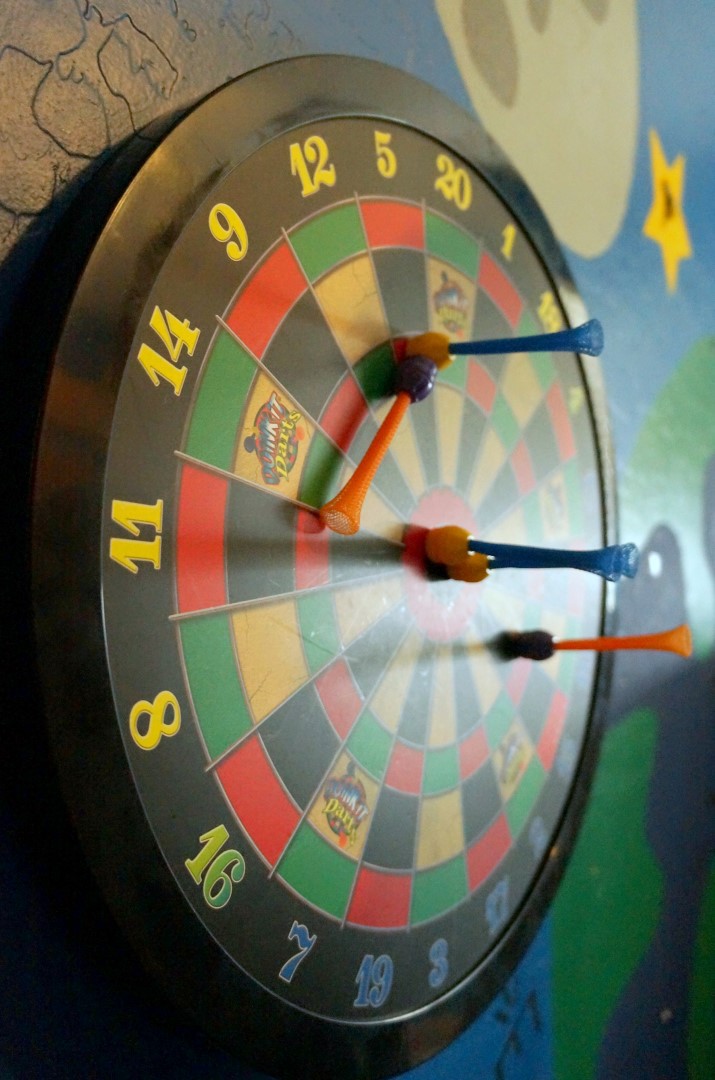 Doinkit Darts by Marky Sparky, Made for ages 6+, $29.99
A magnetic dart set using N-35 Neodymium rare earth magnets (read as: more expensive, quality and stronger magnets). The kids will love getting to play darts and moms will love that they won't hurt themselves, or your walls!
The kids first impression was, "WOAH!! COOL!!!!" and that reaction hasn't worn off. They have been whizzing darts past me in all parts of our home seeing what will cause them to stick and what things won't. Their favorite is throwing the darts at the side of our toaster which lets them stick! I think it's awesome they have been able to come up with their own other ways to play and it's teaching them about magnetism at the same time.
Deluxe Magic Set by Melissa & Doug, Ages 8+, $34.99
A set of easy-to-learn magic tricks that will make the kids feel like a pro! They will get to make objects disappear, change colors, predict the sequences, duplicate coins and more!
I let each of my 3 older boys, ages 3, 5, and 7, learn a trick and show it off to their brothers! Of course, they were quick to spill their magician's secrets and then they all got to try out each of the tricks. They really loved "tricking" grandma as they showed her their tricks and performing them for each other, too. The tricks were way easier to learn than I expected but still really well planned to be tricky for those that don't know the act. This is another toy that I felt like they were learning as they played about how to observe and think about what they were seeing. Another awesome toy!
When you stop to ask yourself, what in the world do I get them for Christmas this year, just head into your local Brilliant Sky Toys & Books! They will help you pick out that perfect gift from this year's top toys of 2013 – the Brilliance award winners as well as previous year's winners and other great toys. I can hands down agree with these two picks we tried out from their Brilliance Awards list deserved their spot! They are both super fun toys that are unique and will have a long lasting appeal for my boys.
Brilliant Sky Toys & Books has 15 locations, are you lucky enough to have one near you? Whenever you can, support your local small business toy stores who help give back and support your local communities growth! If you have a Brilliant Sky Toys & Books store local to you, be sure to show them some support by liking their Facebook page!