I received Eat Smart Packing Cubes samples in exchange for this post. Affiliate links are used. All opinions are my own.
Preparing for a vacation or trip, there is always a ton to do and not enough time. Often, we save the task to pack a suitcase for the very last moment. Then, we hurriedly toss in what we think we need and hope we didn't forget anything. It's easy to see that approach isn't an effective or smart way to pack! Let me show you how to pack a suitcase so that it stays organized and easy to sort through!
How to Pack a Suitcase
Gather all your clothes – Don't add anything to your suitcase just yet. Instead, grab all the clothes you want to pack. Try to pack clothes that will easily pair together without having to find just that one perfect match. If you do have outfits that need to stick together, you can use a wide rubberband to keep them together or keep them stacked together as you begin to pack.
Pack with a Purpose – Group your clothes together based on your itinerary and trip plans. If you're heading out for work, group all your business clothes together and your relaxing clothes together. Maybe you have a big event you are attending like a wedding or funeral, keep all of your items for that big event in one specific pile sorted away from the rest. Think about when and how you'll wear the different outfits to keep your clothes easy to sort through later. If your trip will be very casual, you can sort by tops and bottoms.
Use Packing Cubes – Load your nicely folded clothes, sorted by their purpose, into packing cubes. Keep one of your key outfits on the top such as a favorite shirt or a pair of jeans that will help you to very quickly see and remember what is inside of each of your cubes.
Use built-in compartments – The internal compartments and areas inside your suitcase are designed to help. Often, there will be a compartment for shoes. If your suitcase has this, be sure to utilize it. If you give these built-in compartments a specific use, they will be easier to use for future trips as you will know just how to best fit things into your suitcase. For some items, that may mean the front of your suitcase is the best placement for easy access such as important papers you may need to get to before your final destination.
Pack Hygiene Products – If at all possible, pack your hygiene products into your main suitcase. If you will only have a carry-on for your trip, keep in mind that security may not let all of your hygiene products board the plane with you. Currently limits won't let you take liquid products larger than 3.4 oz and all your liquid items will need to fit into a single quart sized zipper bag. Get all of this ready while you are packing so you don't have a hassle heading through security. Product sizes and quantity are not limited in luggage that will be checked in prior to security screening. Still, keep all of your hygiene products neatly together in a zippered bag so anything liquid doesn't spill and make a mess in your suitcase.
Loading the Suitcase – After you have all your shoes and clothing neatly store, next you will add in your other essentials. I like to start with clothing first, because the other items are more likely to need to be accessed. Hygiene products often work well in a pocket or should be placed towards the top of the bag in case they need to be screened. Place electronics between layers of clothes or wrapped in a sweater to help protect them from damage.
When we travel, we always have kids in tow. Our kids are young so I am still responsible for packing up all their clothing and getting them ready for the trip. That means, in the past all of their clothing would get stacked into their own "piles" in one large suitcase. By the time we make it to the hotel, it was never as easy as unzipping our luggage and pulling out each of their neatly stacked piles. Things shifted around and I forget what I put where and I always ended up sorting out their clothes again.
Above you can see the clothes I packed for our upcoming trip for my oldest. These are only his clothes, none of his brothers, about ready to be zipped up into his own individual packing cube! All of the clothes shown above fit nicely into one of the large packing cubes.
Instead of a mangled mass of clothes, this time we know how to pack a suitcase! I have neatly organized each of my boys clothing into their own individual cubes. I used a large packing cube for my 5 and 7 year old boys and a medium cube for my 3 and 1 year old boys. Then, I have another cube for all of their pajamas, one for swimming suits, and another with all of our Disney World outfits!
We have a set of matching shirts, because we are just that nerdy. Since we arrive late at night, I have set out our first full busy day of clothes into its own packing cube so it will be as easy as grabbing the one cube, unzipping, and tossing everyone their outfits for the day – no additional thought required!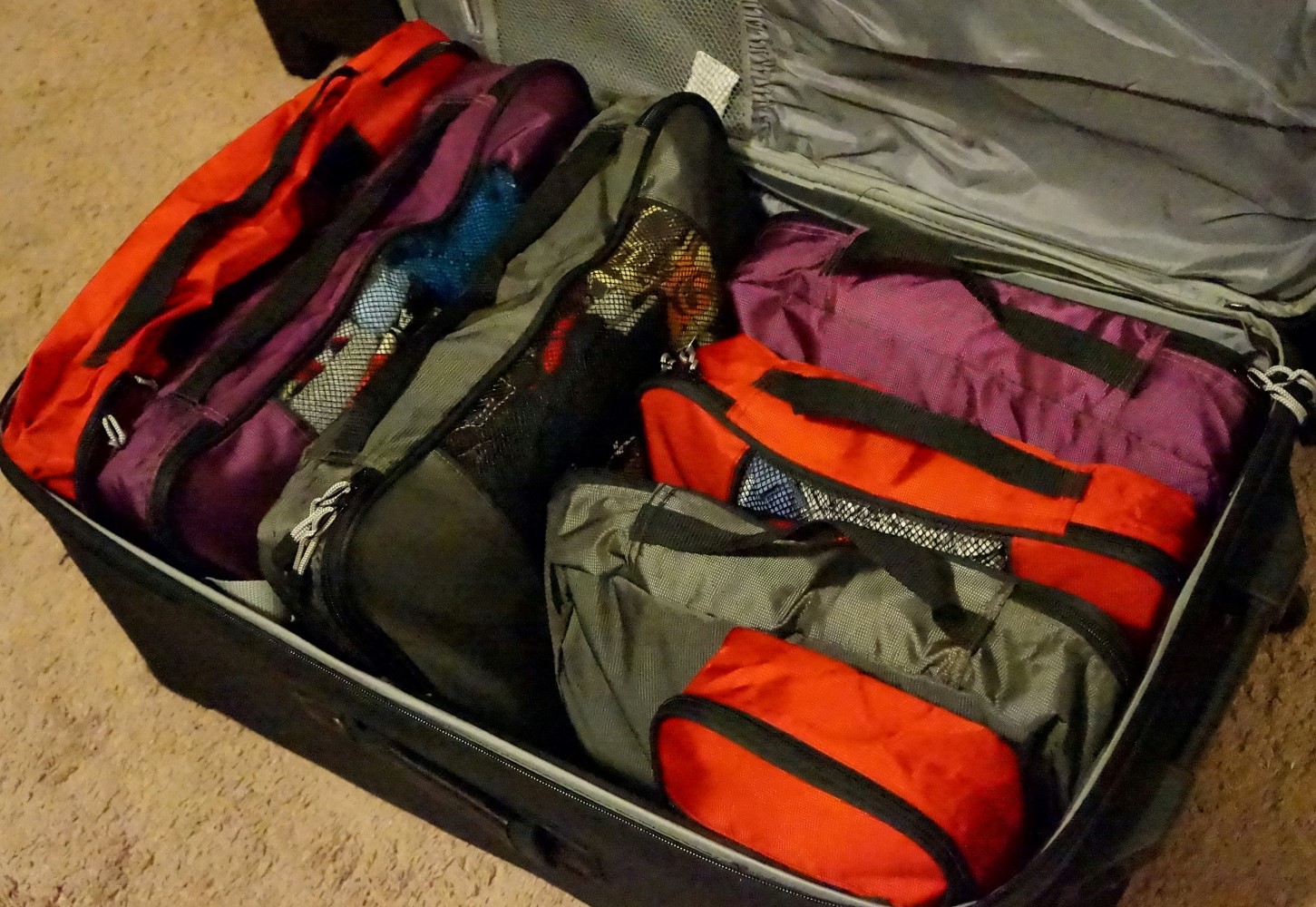 All of their clothing fit really easily into our suitcase with extra room to spare. I will add one more small packing cube of their hygeine products and toss a couple small blankets for the baby and the suitcase will be ready for the trip. Isn't it amazing how organized this is! I can't even believe what a huge difference it makes. Best of all, finding something when we're in a pinch and need a change of clothes will be a breeze as it's as easy as pulling out each kids color or checking the mesh front if you can't remember to find the right cube you are looking for. There has been many occasions in the past where we needed a sweater, a change of underwear, or a full on outfit swap and I had to open up the luggage and literally dig through it right there on the sidewalk to find whatever it was we needed.
The EatSmart TravelWise Packing Cubes come in a set that includes one of each: Large, Medium and Small cubes. They are really well designed with a handle on the top that makes them very portable. They open with a zipper closure that has two zippers making it quick to open. They open fully so they are extremely easy to load. The top side features a mesh front section to allow you to see inside and remember exactly what you stored inside. I think the packing cubes make an enormous different of an organized and easy to pack suitcase! They are a must buy for frequent travelers and for those who travel with kids. You can pick up your set in one of several fun colors an Amazon!