I look forward to our Thanksgiving feast all year. The friends, family, and amazing food that pulls us all together just makes this holiday wonderful! This roasted turkey recipe will help you navigate your main Thanksgiving course with ease!
Roasted Turkey Recipe
Ingredients:
14-17 lb turkey
1/2 C unsalted butter, softened
salt & pepper to taste
48 oz turkey broth
Supplies You'll Need:
Roasting pan
Roasting rack
Basting brush
Aluminum foil
Directions:
*Make sure you check the directions on how to thaw your turkey and give adequate time for your turkey to thaw a day or two before you plan to cook the turkey.
Preheat oven to 325 degrees.
Take out the neck and giblets. Rinse the turkey and pat dry with paper towels. Put the turkey with the breast up on the roasting rack. With the butter in hand rub the entire turkey, then season with salt and pepper.
Make a tent out of the foil, putting it over the turkey. Pour 2 cups of stock into the bottom of the roasting pan. Bake at 325 degrees for 2 1/2 hours.
Using a basting brush, baste the turkey every 30 minutes from the stock mixture at the bottom of the pan. As the drippings and stock begin to reduce down add 1-2 cups more of stock.
Take off the foil and continue to roast the turkey for additional 1 1/2 hours or until an inserted meat thermometer reads 180 degrees. Or for a total cook time following the recommendations on your turkey's packaging as cook time is based on weight.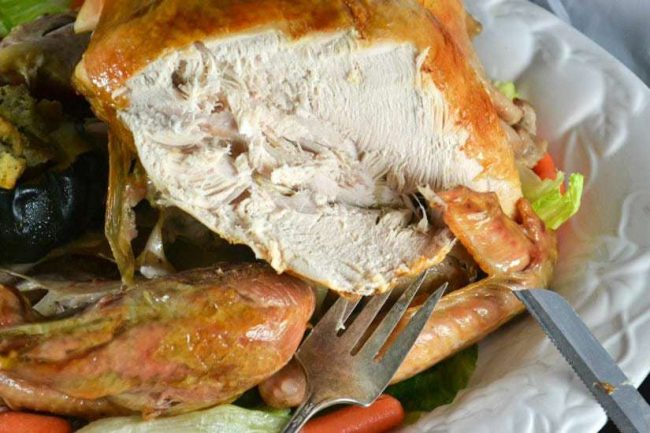 You'll soon be the pro at cooking this roasted turkey recipe and can start a new tradition of hosting Thanksgiving at your home each year!
Want to round out your Thanksgiving meal? We're sharing yummy Thanksgiving side dish recipes to go with your roasted turkey! Try our rosemary & garlic mashed potatoes recipe and watch for stuffing cooked in an acorn squash and a perfect side roll recipes coming soon!