I am a Denny's Diner Brand Ambassador. As such, I received compensation and a welcome kit. All opinions are my own.
Denny's has a new set of exciting menu items just in time for the holidays! Their limited-time selections include four new breakfast options, a holiday turkey and dressing dinner, a dessert good enough for even Santa and two pies added to their selections.
We headed into our local Denny's as a family this past week. As soon as we sat down to the menu, my boys both immediately cried out they wanted the Rudolph pancakes! They are cute and inviting on the menu and they were just as thrilled when they arrived. Our waiter forgot the whipped topping that comes on the pancakes, but was more than happy to add the topping when he realized something was missing.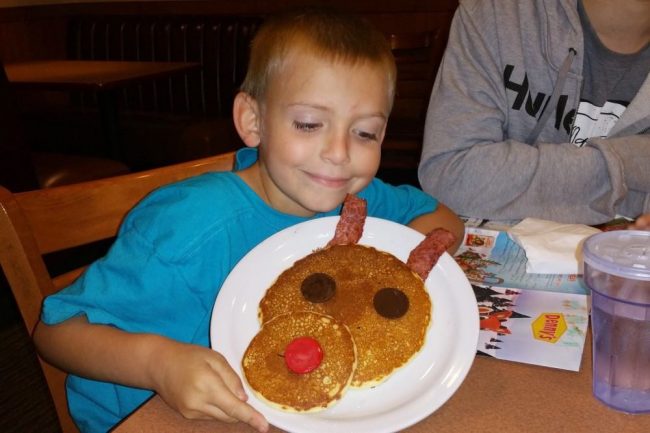 The Rudolph pancakes are available on the kids menu or as a full breakfast option which includes two eggs and hash browns. You can also add an adorable limited-time reusable Rudolph cup with the kid menu options to compliment the meal.
Mix dessert with breakfast with a sweet Pumpkin Pecan Pie Pancake breakfast. It's served with pumpkin pancakes with a glazed pecans and topped with a pecan pie sauce. Add eggs, hash browns, and your choice between sausage or bacon.
I kept flipping back to this delicious looking Holiday Harvest Skillet which is served with a gouda-apple chicken sausage, seasoned red-skinned potatoes, and a whole skillet full of tomatoes, onions, mushrooms, and bell peppers. Add two eggs and Italian cheese blend to create a perfect skillet!
The Gouda-apple chicken sausage can also be added to a Build Your Own Holiday Slam for a custom breakfast with your personal favorites.
You could even head to Denny's for a Thanksgiving feast, without the fuss! The Holiday Turkey & Dressing dinner comes complete with tender sliced turkey breast, stuffing, gravy, and of course cranberry sauce. You also get to choose your choice of two additional sides and dinner bread for a filling meal.
When the meal is done, finish with a special Santa's Milk & Cookies shake that blends tasty sugar cookies with a vanilla ice cream milk shake that is then topped with whipped cream and cookie crumbles! Who could resist?
Denny's is also offering Pumpkin or Pecan pies by the slice or a whole pie starting at just $2 for an individual slice, making dessert an easy add-on without busting your budget.
This limited time Taste of the Holidays menu is only available at Denny's through January 6, 2016, so head in soon to grab your taste and try one of these new offerings.
Which limited-time menu item are you dying to try?