Have you ever wanted that picture perfect room like you see in a magazine? A cute and functional space that you'd be proud to show off? It was fun and pretty easy to decorate my boys nursery and little boy bedrooms. With certain key furniture pieces the room needs like a toy box, dresser, and bookshelf the rest of the pieces seemed to fall into place.
But my boys are growing up and so are their needs for design. I wanted to create a really cool space for my tweens in their shared bedroom. It's a room over the garage so it has some sloped ceilings and a unique shape, leaving me stumped on how to decorate it and make it a place they'd want to hang out in. I was thrilled to partner with Modsy to try out their design platform that helps you through the entire design process, at an amazing price! Plus, they've offered an amazing discount just for my readers, so be sure to read on to grab that discount!!
This post is sponsored by Modsy. All opinions are my own.
Designing Your Home with Modsy
Modsy makes it so easy to jump right in and get started with your own home design. You'll help guide the stylists to find pieces and a design plan that you'll love and let them know about the space you have in mind. The first few steps will only take about 15 minutes, then Modsy will take over from there! Here's how it works: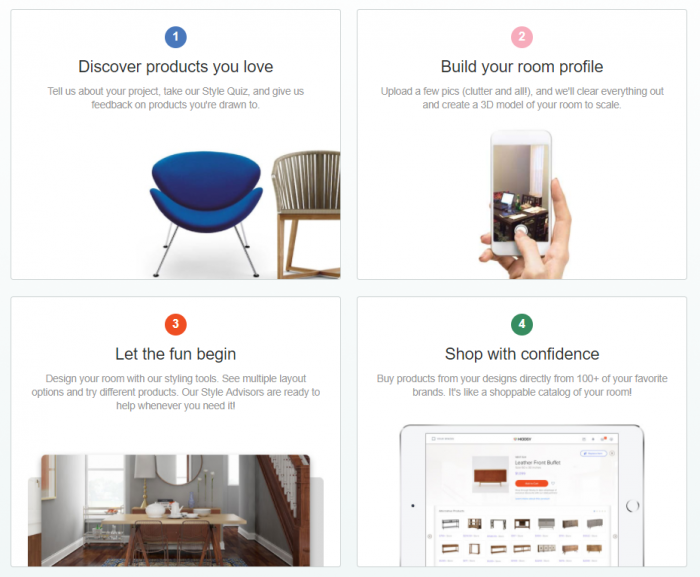 Style Quiz – The first step is fun style quiz that can help pin down your style preference and why type of feel you'll want for the room. You can take the quiz a few times if it doesn't fit you quite right.
Snap Pictures & Measure – The tech team behind Modsy needs at least 8 photos of your space to build a 3D model of your room. You'll stand in each of the four corners of the room and also at the mid-point of the wall. Take pictures from those locations out into the room and then upload them to Modsy. You don't even need to clean the room or move furniture out, Modsy will clear everything out to make room for the stylists to get to work. You'll also be asked for basic length and width measurement of the room to make sure everything is to scale in your design.
Create a Moodboard – The final step is browsing through a selection of products based on your style quiz results. You'll remove suggested products from the moodboard that you don't like and leave pieces you love to help your stylist build a design that fits your unique taste. You can even search through their catalog to add additional items to the moodboard.
After these first 3 easy steps, which will take only about 15 minutes to complete, Modsy then starts the behind the scenes work. They'll send 7-10 days working on the 3D model and the design plan before you'll have your results. You'll then get to see your beautiful new design and make any changes you'd like playing around with the space until it's just perfect.
Teen Bedroom Design Renders
I had a great experience working with Modsy. I wasn't sure what to expect and was completely blown away with the results! I had requested a place that would give them little areas to hang out, improve the lighting, and styled to grow with them through their teen years. The space my Modsy designer came up with was better than I could have expected.
When we walked through the design together over a video call, I was able to swap out items like a small ledge near their bed that was great in theory and style, but wouldn't fit what my boys would really need – a place to set their books. As they read in bed every night, I loved the idea of a shelf right there next to their beds to hold their books. It was perfect to see a design, and love the concept but make those small tweaks that we would need to make the space both beautiful and functional for our personal needs.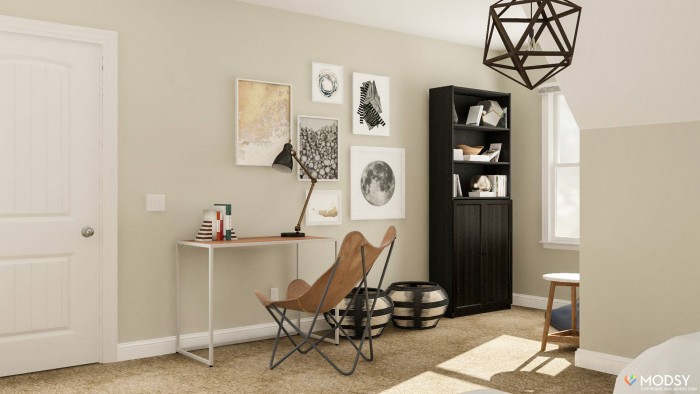 When it came time to shop for my space, I was able to bounce other items off the designer to get feedback before I purchased. The desk in our render, for example, was out of stock and I didn't want to wait! I send over some alternate desks and it was so helpful to have feedback so I could feel confident that I was spending my money on a product that would look nice, fit my space, and fit my budget.
Our Teen Boys Bedroom Progress
After I was happy with the design plan, the designer sent over a personalized shopping list of the items in the plan. I couldn't wait to start shopping and putting together the room. To show you just how amazing of a transformation it really was, here's a before picture of my boys room.
BEFORE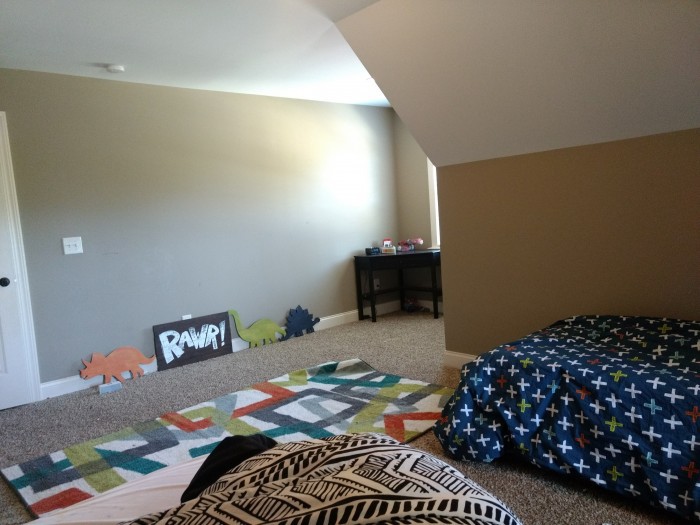 We moved into this home just 10 months ago, and had yet to do much with their space, but as you can see it was heading in the wrong direction towards a "little boys" room not a sophisticated space for tweens and into the teen years.
AFTER
We added a ceiling fan, bedside lamps, wall shelves, new bedding and throw pillows, and a bean bag in the back nook here in this picture. Adding more lighting has made a huge difference in the overall feel of the room. We loved the original pendant light in the plan, but my boys both begged for a fan, and it was the perfect time to make the switch. I loved the industrial feel of the fan with really unique edison light bulbs.
My kids read in bed every night and the wall scones have been the perfect addition! We previously had these clip on lamps that didn't stay clipped onto the bed and were always knocked over and they got really hot which worried me! In these lamps I used an LED bulb so there isn't the heat and they produce a ton of light without the electricity usage. Instead of lots of throw pillows, that I know would end up on the floor, I found these amazing standard size pillow covers that have a marble/stone look. They add so much interest to their bedding and are completely functional!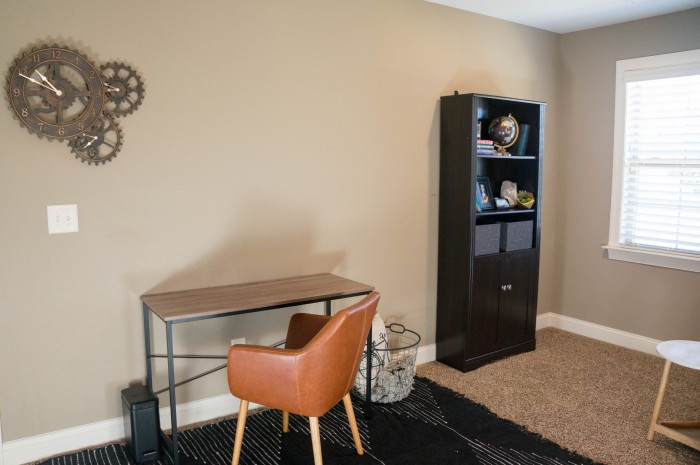 We're still awaiting all the art and a bean bag chair for this area, but they should be here soon. We're all so excited for the difference a little art will make in the room.
My boys have been spending lots of time working at the desk doing their projects and puzzle books. The chair was a swap from the one in the design for one that might be a little more practical for working at the desk – and we all love it!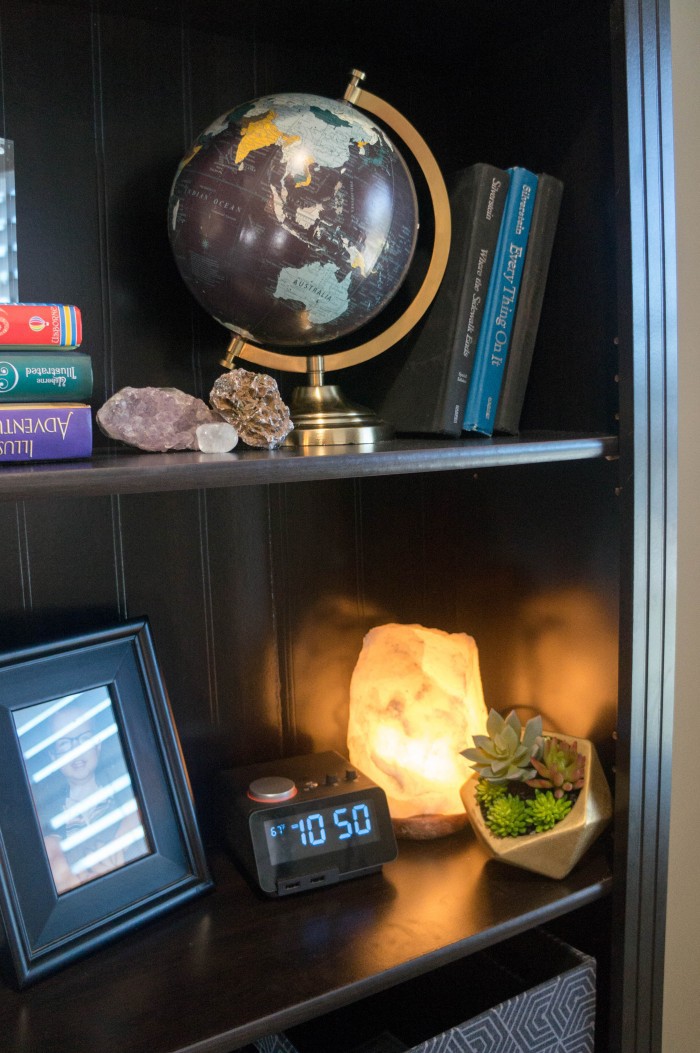 The bookshelf gives the room height and holds their alarm clock, lots of books behind the lower doors, and some of the things they love like their favorite rocks from their rock collection. Adding a basket for each of the boys lets them collect their toys and knick-knacks out of sight!
The final area, which wasn't it the final renders, but was in my design plan was a large circular mirror and hooks on the wall near their closet. It's perfect for letting in more light and giving them a place to hang their hats and sweaters so they're off the floor.
Modsy Design Packages
Modsy offers two design packages to choose from: the Do-it-Yourself approach where you'll be able to use the tool to change out products and move items around yourself as many times as you need. If you like taking the reins, this package is perfect for you and a bargain at just $69/per room. Modsy will still create your initial designs to give you the inspiration for your space and you can then make any tweaks and changes.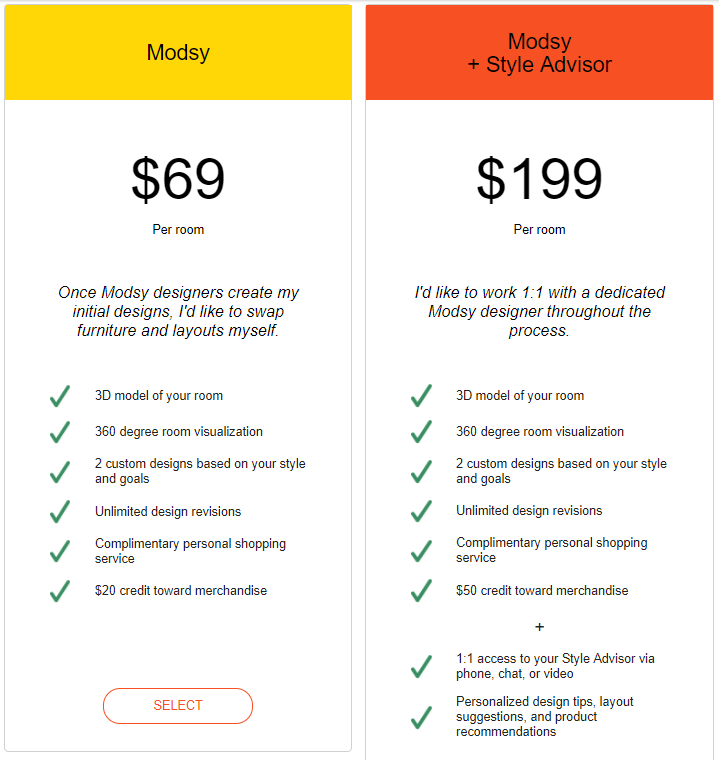 If you need more help throughout the design process or don't like to tinker, they have an option for that, too! The Modsy + Style Advisor plan lets you work 1 on 1 with a dedicated Modsy designer for just $199/per room. The designer will help make any adjustments and changes to your space with unlimited design revisions. You'll be able to call, chat, or hop on a video conference to discuss the room. They'll even share their tips and layout suggestions to help you take the room from a design plan to a finished product easily!
If you're looking to update your home to an amazing space look no further than Modsy! The pricing is fantastic and the designs are so professional and amazing. I've already purchased my own package to get help with our basement which is a big, awkward, open space we haven't tackled yet. I can't wait for my results!
Modsy has offered an exclusive discount code just for my readers! You can save an extra 20% off either design package with the promo code: MOMSTAKE20. This promotional offer is only available for a limited time, so act quick!
Bookmark this post to save these ideas for later!