There are so many developmental stages we get excited to see our children meet – like those first steps, first giggles, and even their first day to school. But in all that hurry and excitement of seeing our little ones grow up, there's one important step we shouldn't rush!
We all want to keep our children safe, and with September being Baby Safety Month and this week being National Child Passenger Safety Week it's the perfect time to take a look at car seat safety!
This post is sponsored by Chicco. All opinions are my own.
3 Important Harness Booster Safety Tips
Tips by Courtney Barry, CPST-I and Chicco's Child Passenger Safety Advocate
1. Maturity plays a critical role in the type of booster seat you should be using with your child.
Before transitioning your child from a forward-facing convertible car seat to a belt-positioning booster seat, you must feel confident that they are mature enough to sit upright, without playing with their seat belt and accidentally shifting it into an unsafe position, for the duration of your trip. For children that are not quite there yet, manufacturers like Chicco have created transitional seats that are designed to not only keep children safer longer, but also prioritizes their comfort, like the MyFit Harness + Booster.
2. Harness boosters, like the MyFit, offer the safety benefits that come with having a 5-point harness.
Harness boosters, like the Chicco MyFit, offer added protection and security for little big kids that have outgrown their forward-facing convertible car seat but aren't quite mature enough for a belt-positioning booster. This is because they utilize a 5-point harness, much like an infant or convertible car seat. The 5-point harness on harness boosters are designed with higher shoulder strap slots that allow taller children protection and security for longer, in a more comfortable position, until they are ready for the next step.
3. Know your options and what to look for when it comes to selecting a car seat.
The best car seat is the one that fits your child, fits your car and that you'll be able to use correctly every time. Do your research to learn what your options are, as there can be several different car seat paths to take depending on the size of your child. Car seats like the Chicco MyFit can be a great option when a child is too tall for their forward-facing convertible car seat, but are not fully ready to use a booster seat. There are also many car seats that grow with your child, which can help save money without compromising safety. The MyFit does just that, as it easily converts to a belt-positioning booster to accommodate years of growing.
The increased safety and support is worth the sacrifices and keeping your child in their harnessed car seat longer, rather than aging them up to the next stage of car seats.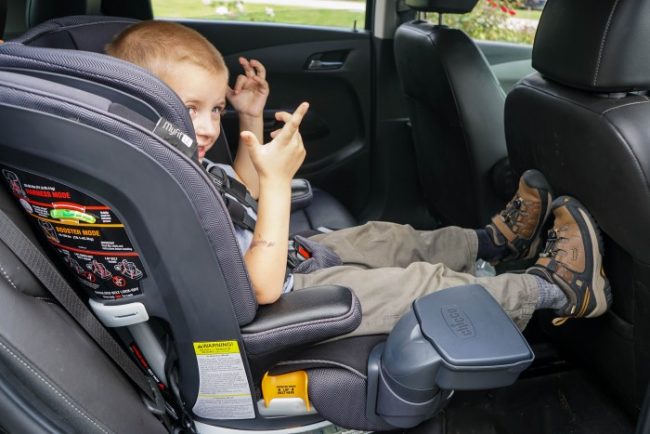 Rather than basing our decisions around what we see, we can be informed on the very best practices and help keep our kids, and other kids, safe by being an example to others. When we are better informed, we can also be that influence for other parents to make the best decision for their child as well.
MyFit LE Harness + Booster Car Seat
When the timing is right, a good next choice after the convertible car seat is one that has both harness and booster capabilities to growth with your child through their next stages. Chicco is a brand you can trust as a leader in car seat safety and innovations! They have a range of car seats to fit the right stage and needs of your family.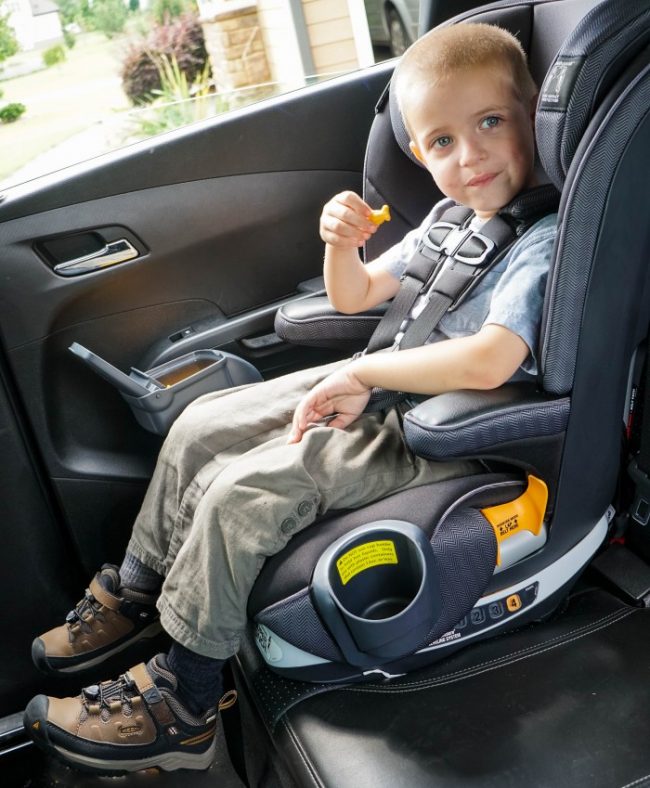 We recently got the chance to try out Chicco's MyFit LE Harness + Booster Car Seat. It is the perfect car seat to help us transition through the two important next stages:
Toddler (25-65 lbs): Use the MyFit LE as a traditional 5-point harness.
Big Kids (40-100 lbs): The MyFit LE then converts to a belt-positioning booster. This helps guide the seat belt fit properly on your child's lap and shoulder so they stay safe.
We've loved the thoughtful features that really make a big difference in both the ease and safety of using a car seat. We're able to get a great fit with the nine-position extended headrest that doesn't need any belt adjustments. That means, when your child has that overnight growth spurt – you'll be ready to easily make transitions to their seat that can provide comfort and safety in seconds!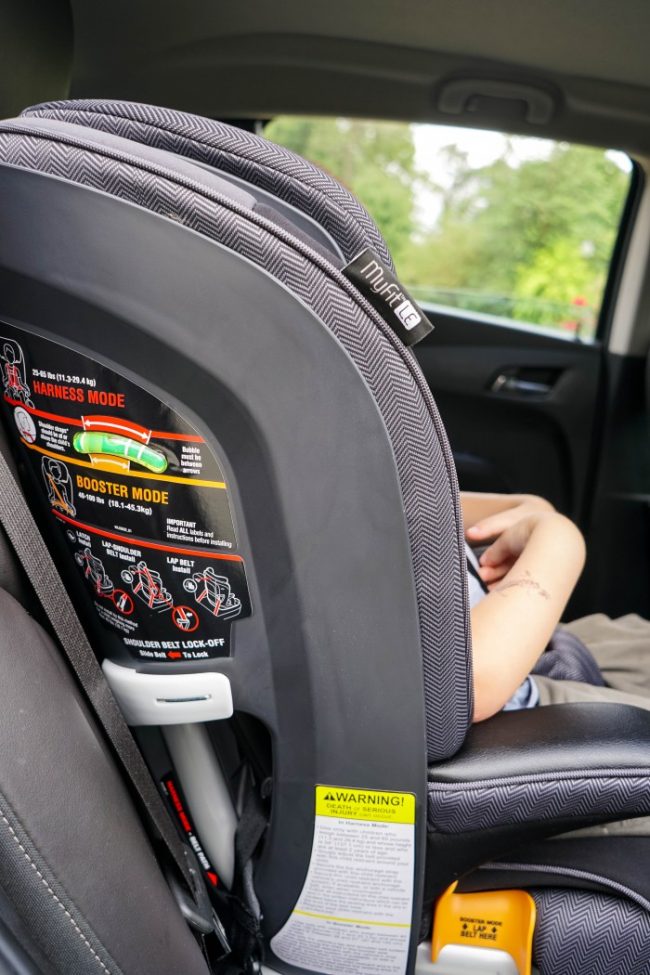 I really love the My Fit LE's 4-position recline that adds additional comfort on long car rides and helps it fit perfectly into our car. I can tell that it's properly installed at the best angle for my car thanks to the bubble level guide. We can easily transition the car seat into a slightly more reclined position to help support his head and neck for the trip before we get started, no unbuckling needed!
Latch installation is easier than ever with the SuperCinch Tightener that requires much less effort and gives a secure fit.
One really thoughtful feature in the My Fit LE is the included Kid Console that is detachable and fits right into the cup holder. This gives your child room to store snacks, toys, crayons, or whatever else they might love. The Kid Console and cup holders are removable for easy cleaning, as needed. My son also loves the armrests!
We are using this Chicco My Fit LE car seat in harness mode, for now, with the comfortable 5-point harness. When the times is right, this car seat will help us to transition to the next step of using the car's own seat belt properly positioned to fit my son just right.
To find the right car seat for your family and the stage you're in, visit Chicco's Choosing a Car Seat resource page for the guidance and products to help your family the various stages of car seat safety!