This is a sponsored post written by me on behalf of The Hershey Company. All opinions are 100% mine.
Easter is an exciting holiday that brings the family together and calls for some creative fun. This year for your Easter holiday, think outside of the traditional egg hunt. Make this Easter more memorable with some new and creative ways to hold an egg hunt. To help get those creative juices going, we have come up with a list of new fun and exciting ways to hunt for those Easter treats.
Zany Ways to Style Your Eggs
These unique ways to decorate and style your eggs will add to the excitement and hype of being the first to find the egg. It may even make your hunt a little more challenging.
1. Glow in the dark Paint the eggs with glow in the dark paint or place a glow stick in each egg. Hunt for them in the dark while they glow.
2. Camouflage eggs Make the egg hunt more difficult by using camouflage eggs. Paint them to look like their surroundings.
3. Names on the eggs Personalize this egg hunt with each person's names on the eggs. They have to look extra hard to find only the ones with their names on them.
4. Hanging eggs Tie strings or ribbons onto eggs and hang them. Hang them from trees or the porch, wherever you can find the hang them.
Unique Group Easter Egg Hunt Ideas
Sometimes getting an egg hunt coordinated with many kids can be difficult. These are a few ideas to help this year's egg hunt go smoother with more fun and less crying.
5. Release by age When you have a large group, sometimes the little kids get trampled. By letting the little kids out a minute earlier, they are free to find the really easy ones in the grass or down low.
6. Potluck fill eggs If you're getting together with friends or family, fill eggs potluck style. Have each person come with a dozen pre-filled eggs per kid, ready to hide. Then, all the candy choices will be different and it's less costly for the host.
7. Color hunt Have a specific color for each kid. This way, each kid is sure to find all of their own color eggs. That makes the hunt fair, and hopefully the fighting less. Then feel free to hide the younger kids eggs in easier spots, knowing the older kids won't take them.
8. Checklist Give each child a checklist of what to find. This can include things like, find 3 green, 4 blue and one Cadbury Crème Egg.
Ideas Perfect for One or a Few Kids
If you have one kid or many, these ideas can make your egg hunt awesome. They can work as a team or separately to find the goodies.
9. Flashlight Fun Try egg hunting in the dark. Hide the eggs and give each child a flashlight. This could be a fun challenge for older kids.
10. Riddle Use riddles, rhymes and clues to guide them in their hunt.
11. Map X marks the spots in this egg hunt. Hide all of the eggs, or just the basket. Create a map and mark where all the eggs have been hidden. They must follow the map to find the goodies.
12. All Cadbury Crème Egg Everyone's favorite Easter treat is always the Cadbury Crème Eggs. Skip the daunting task of filling all the eggs individually with candy or fillers and pick up a variety of Cadbury Crème Eggs. They are easy and fun to hide and will absolutely create a memorable egg hunt!
13. Follow That String Attach one end of a string to their Easter basket and hide the basket. Run the rest of the string all around the house. Make a huge web of string everywhere. They will need to follow the string to find the basket.
Fun Easter Egg Fillers
You may not want to fill all your eggs with just candy. There are many other options. If you have a group of kids or adults at a party, here are some ideas to fill eggs with unique fun things.
14. Fill with money Who doesn't love finding money? You canfill every egg with a different sum of money or just a select few. This is also great for older egg hunters.
15. Egg word scramble Place foam letters in eggs and hide. They must find all the eggs and manipulate the letters to unscramble the words and decode the message.
16. Confetti eggs Messy but so cool. Blow the yolk out of eggs by making a small hole, then fill with confetti. Add a small piece of tape. The kids have so much fun throwing them and watching confetti explode.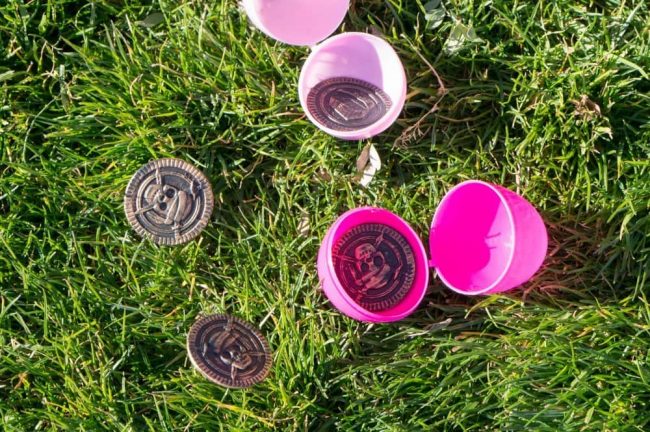 17. Token to trade for toys or gifts Not all fun toys and candy can fit into a little egg. Instead, place tokens or "bunny money" into eggs to use for buying their goods.
18. Non-candy fillers There are several non-candy fillers for office parties or older kids. Things like movie tickets, spa treatments , IOU's or gift cards.
19. Puzzle pieces Hide pieces to a puzzle in each egg and hide the eggs. You can even write a message on the back of the puzzle to give them a clue to where their basket is hidden.
20. Clues Inside Create a hunt where the clues are in the eggs. Use the clues to find the next egg clue, or clues to find where their basket is hidden. Be creative and have fun.
Hershey's candies wants to help you Celebrate with Hershey's by making your Easter sweeter and more enjoyable for the whole family. This year for Easter, fill their baskets with treats the whole family will love. Be sure to grab their favorite #HersheysEaster themed treats like Hershey's Reese's, Whoppers, Kisses and of course Cadbury Crème Eggs, at any retailer nationwide.
Easter doesn't always have to be the traditional, throw plastic eggs out on the lawn and do a mad dash. Make this year extra fun with some new creative egg hunt ideas and some of their favorite Hershey's candies. The idea is to have a good time. Get creative and make your Easter tradition memorable, fun and exciting!
What are some fun ways your family celebrates Easter?