Preparing and planning for dinner can be hard. This yummy Crockpot chicken fajitas recipe solves the problem! I don't know what it is, but the whole house seems to go on meltdown mode around 5:00, making it impossible to prepare dinner without drama. Crockpot cooking saves the drama by having dinner prep all done and ready before lunch! Just toss in all the ingredients, and wait!
Crockpot Chicken Fajitas
Ingredients:
1 1/2 lb of skinless, boneless sliced chicken breasts
2 cans of chicken broth
2 small orange bell peppers, sliced
2 small red bell peppers, sliced
2 small yellow bell peppers, sliced
1 small onion, peeled and sliced
1 packet fajita seasoning
1 package of flour tortillas
Fajita Directions:
Put bell peppers and onion in the bottom of your crockpot. Pour half of the seasoning packet over the peppers and onion.
Add sliced chicken to the crock pot. Add the remaining seasoning packet over the chicken.
Pour in the chicken broth. Turn on the crock pot to low. Cook for 6-8 hours.
If desired, you can also warm your tortillas. Wrap flour tortillas (sets of 5) in foil and put in the oven. Heat tortillas on 350 degrees for 15-20 minutes.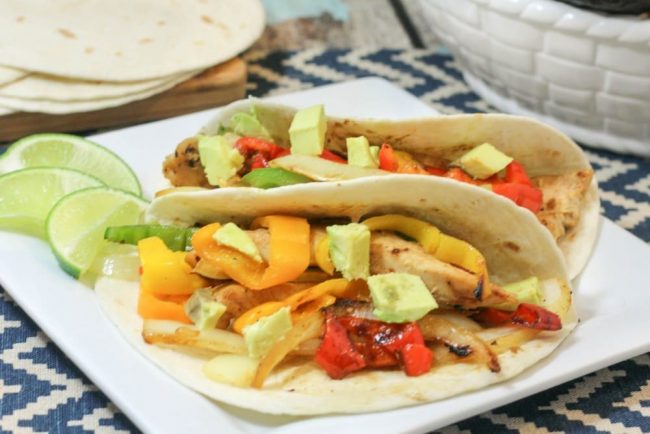 Easy, peasy! Dinner in the crockpot before lunch, and dinner will be ready with no extra thought required!
Top the fajitas with your favorite toppings – like black beans, sour cream, a dash of lime juice, or avocado.
Let us know when you try this crockpot chicken fajitas recipe!