If you are like me, life moves fast. I am a mom of three young kids and I find that everything seems to pile up pretty quickly around here. Paper especially. When I saw that Adobe had released a new Document Cloud I thought, "That would be handy for work." But after playing with it for a little bit, I was floored by how much I can use this as a stay at home mom! Here are three easy ways I have found to use it's services on a regular basis.
I received compensation and samples for this post, all opinions are my own.
#1- Accessible Documents- Most of us use Adobe Reader and PDF Documents everyday whether it be for work, bills, or even just ordering files from Etsy. With an intuitive, touch-enabled interface, Adobe Document Cloud delivers powerful accessibility to get tasks done from anywhere, it makes using and editing these documents on any device seamless. You can easily send, share, and even file documents from ANY of your devices and have access to them at all times, from any location. This can really come in handy when you need something but it is on your spouse's computer, or you are out of town, or sitting at ballet practice. NO need to wait until you are by a certain computer or with a specific person to get the information you need.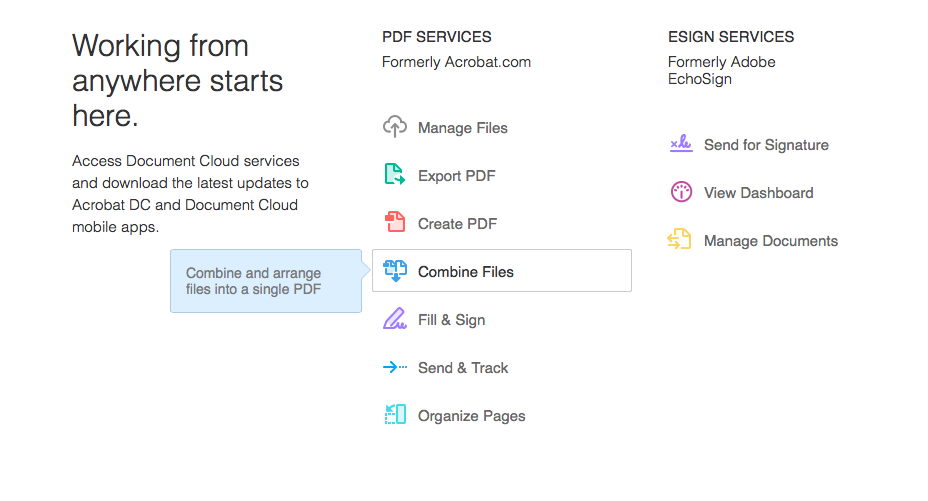 Need a document signed? It can do that too. You can sign your own documents or you can send them out for others to sign. The best part is the other person does not need the apps or Document Cloud to electronically sign a paper and send it back to you. You can send documents to ANYONE.
#2-Saving Receipts We all have that pesky pile of receipts laying around somewhere. Whether they are neatly filed, held in a folder, or shoved in a drawer, we all have to deal with them. By using Adobe Document Cloud's easy mobile apps, you can easily snap a picture of your receipt with your phone or tablet and it will turn your picture of your receipt into a document that can then be filed electronically. When the time comes to fill out an expense report or file your taxes everything is stored and ready to go! No messing with all that extra paper mess! Plus, if your receipts are shoved in a drawer like mine, you now have extra drawer space. Beautiful.
#3-Filling Out Paper Work My favorite task to complete with the Adobe Document Cloud is filling out paperwork. I knew this would come in handy, but didn't expect to use it so quickly! After a week of playing with my new Adobe apps I found myself halfway across the country, at home, for my mother's funeral. After all was said and done with preparations and family had trickled back home, I realized that I had neglected to turn in my son's preschool application before I left Alaska. Lucky for me it was not big deal. I simply downloaded the form, then using the Acrobat Mobile Fill & Sign App (that is free!) I was able to click on each space right there on my phone and fill in his information and even sign the document.
The App automatically saves it as a PDF and I went ahead and sent it right along to the school. No printing, no scanning, no postage, all from my phone! AMAZING. I can't believe how much time and stress it saved me.
The new Adobe Document Cloud is so easy to navigate. The more I use it, the more reasons I find to use it in my everyday life.