If you love grapefruits, this Brown Sugar Baked Grapefruit recipe is just calling your name! It's so delicious, you just have to try!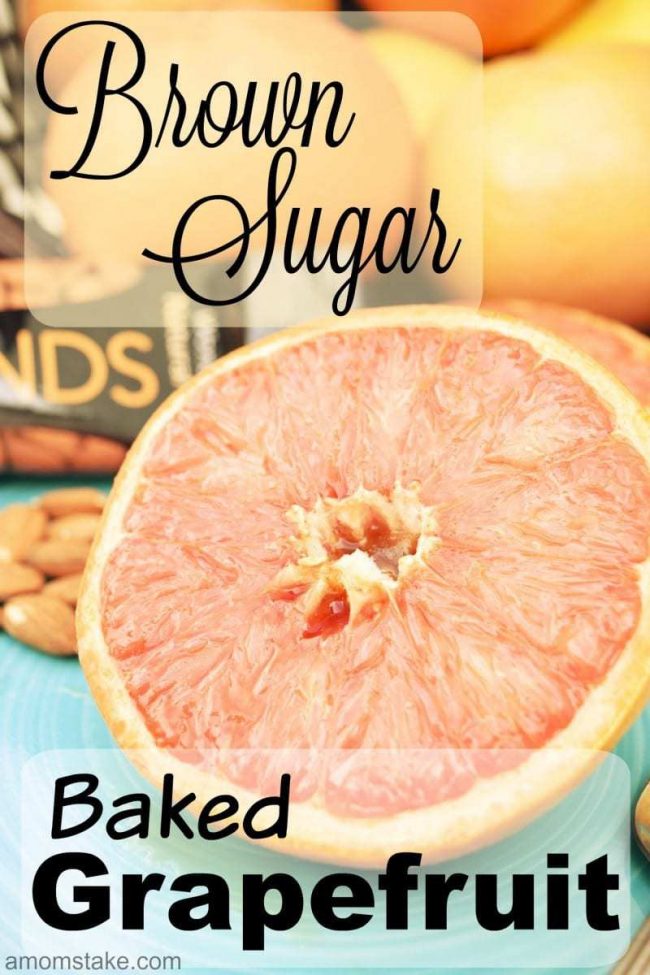 CLICK HERE TO SAVE THIS RECIPE ON PINTEREST!
Not only does this taste refreshing and delicious in the morning, but you'll also love the combo of sweet and sour!
Better buy a bunch of grapefruits because you'll be making this over and over again.
If you love this baked grapefruit recipe, you will also love these Potato Egg Cups as well!
Affiliate links are used in this post.
BAKED GRAPEFRUIT
Here in Arizona, our citrus trees have just begun blooming again. That means that all the old citrus has recently finished ripening and been picked. If you have citrus trees, you may be finding yourself drowning in fruit and looking for new ways to use it up.
When I was a kid, it was fun to cut open a grapefruit and smother it with sugar. I could at least pretend I was eating something healthy. As a grown-up, I have found that these deep red grapefruits don't need as much sugar as I thought they needed as a kid. They really don't need any, but if you insist, here is a great recipe using not much sugar at all.
Not to mention that they really are a healthy choice. Grapefruit is known for its high levels of vitamin C which is a great immune booster and free radical fighter. Red Grapefruit also contains Antioxidants and studies have shown it may reduce cholesterol. So you can enjoy a tasty breakfast without cholesterol, fat or GMO's. Just natural goodness.
If you're looking for a delicious breakfast idea that is also healthy, Try this Brown sugar baked grapefruit recipe.
HOW TO BAKE A GRAPEFRUIT
Here's what you do. First, Preheat your oven by turning it to broil.
Cut your grapefruit in half. Run a knife along the lines to loosen the fruit from the membrane.
This helps the sugar seep down into the fruit.
After your fruit is prepared, add a sprinkling of brown sugar on top of your grapefruit.
You don't need too much. No more than a couple Tablespoons.
Place on a pan and broil 5-12 minutes until the brown sugar is melted or crusted as desired.
Serve warm and enjoy.
After broiling, the sugar will have melted and seeped down into the grapefruit. It will be juicy, sweet and warm. Serve with a side of raw almonds and kick-start your day with a healthy breakfast.
FAQS ABOUT BAKED GRAPEFRUIT
Q: Can you bake this grapefruit using regular sugar instead of brown sugar?
A: For best results, we recommend using brown sugar.
Q: Will children like these brown sugar grapefruit?
A: If they like grapefruit already, their taste buds will be used to the taste!
Q: Do you have to bake the grapefruit for this recipe?
A: To get the best taste, we recommend baking the recipe as directed.
IF YOU LOVE THESE EASY BAKED GRAPEFRUITS, SPEND A FEW MINUTES TO SEE THESE OTHER BREAKFAST RECIPES THAT WILL BE AN AMAZING PART OF YOUR RECIPE COLLECTION!
CONNECT WITH A MOM'S TAKE ON YOUR FAVORITE SOCIAL CHANNEL FOR MORE RECIPES!
You can find us on:
Instagram | Facebook | Pinterest | YouTube | Twitter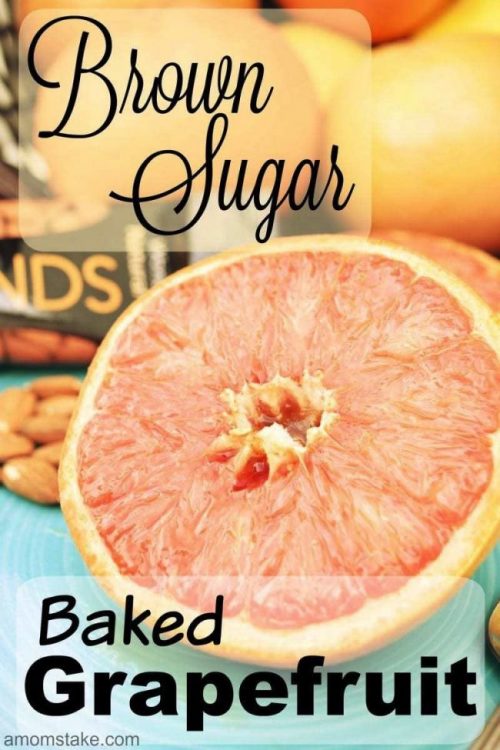 What is your favorite thing to do with grapefruit?