Christmas time at my household means an abundance of candy and baked goods. With gifts to give and parties to attend, it seems like I spend an added amount of time in the kitchen baking delicious holiday treats. Looking for a fun and unique Christmas treat? Usher in the holiday season with these tasty Christmas Tree Rice Krispie Pops.
This review was made possible by Double Duty Divas and Mr. Clean. I was provided the featured product and compensations to facilitate this post, but all opinions are 100% mine.
Christmas Tree Rice Krispie Pops
Ingredients (I just use the Rice Krispie Recipe on the cereal box):
– 3 T Butter
– 1 bag marshmallows
– 6 cups Rice Krispies
Decorating Materials:
– Popsicle sticks
– Icing or melting chocolate
– Sprinkles
Instructions:
1. In a large saucepan, melt butter.
2. Once butter is melted, add bag of marshmallows. Stir until melted.
3. Add Rice Krispies.
4. Place warm Rice Krispies in buttered round cake tins. This recipe will have enough for 3 round pans (make sure to press Rice Krispies firmly into the pans).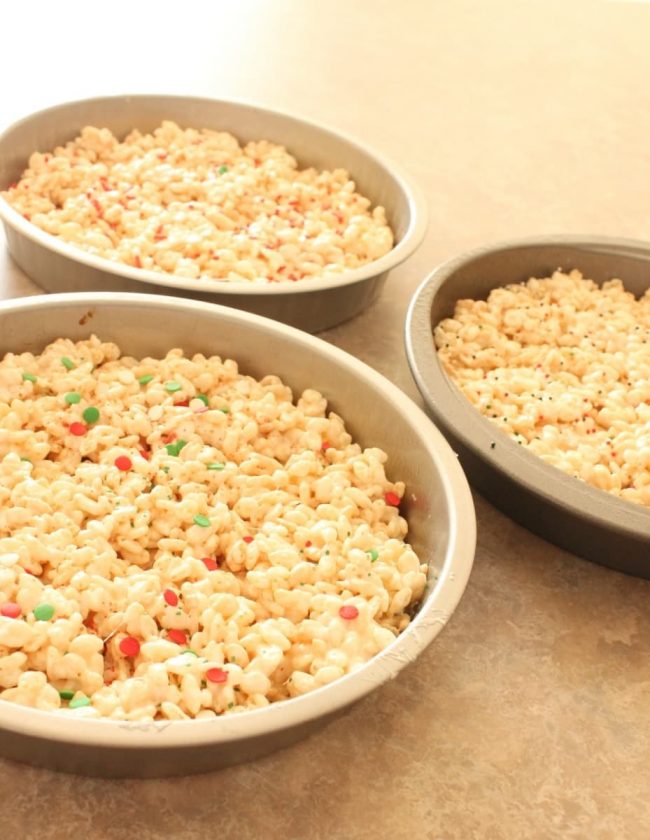 5. If you choose to decorate your Christmas trees with sprinkles, apply sprinkles while treats are still warm (this will help them stick onto the Rice Krispie Treats).
6. Allow Rice Krispie Treats to completely cool and then cut your circular pan like you would cut a pie.
7. Place trees on wax paper and insert Popsicle sticks.
8. Decorate trees with melting chocolate, icing, or other desired toppings.
Although I love baking fun holiday treats, clean-up is always a nightmare! Thankfully, this holiday season, I have a secret weapon: my Mr. Clean Magic Erasers!
Because I dread kitchen clean-up, sometimes I let my baking pans sit too long before washing. This often leads to extra mess and frustration. For example, after making my Rice Krispie treats, I allowed the pot to sit for a couple of hours; this lead to a hard, dry, sticky marshmallow mess – talk about a nightmare.
However, using my Mr. Clean Magic Eraser for holiday baking clean-up, I was amazed how quickly and efficiently my pot became clean – Mr. Clean cut out all of the elbow grease! All I had to do was gently scrub and rinse the sticky mess away!
I am amazed at just how many ways Mr. Clean Magic Erasers come in handy during the holidays! Use Mr. Clean Magic Erasers to help clean stained cookie sheets, dried wax from holiday candles, wipe scuff marks off of your favorite boots, etc. With over one million uses, Mr. Clean Magic Erasers are sure to help make your holiday season easier, happier, and cleaner.