I have got a delicious side dish you and your family are going to love. Just the name alone will make you drool – Cheesy Bacon Ranch Potatoes. Who can say no to bacon and cheese? Also – this recipe is super easy and what's better than delicious and easy when it comes to dinner.
These potatoes take about 60 minutes to bake (remember to check them with a knife to see if they're done) and are the perfect match to chicken, baked pork chops, or beef.
Cheesy Bacon Ranch Potatoes Recipe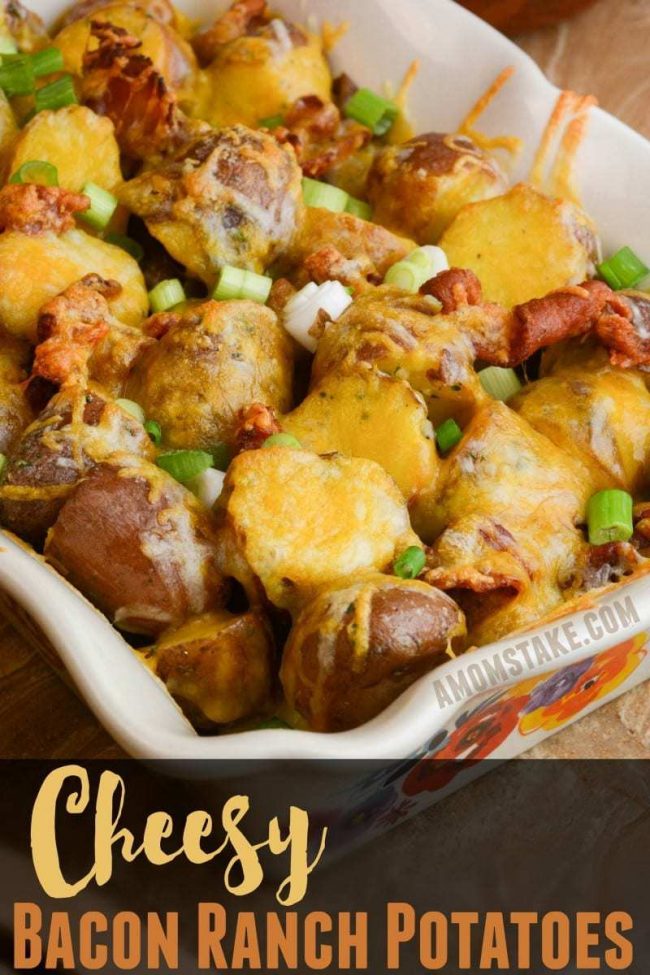 Ingredients:
5 pound bag of red potatoes
6 slices cooked bacon
1 stick butter
1 packet Ranch seasoning
16 oz cheddar cheese
Directions:
Start by preheating your oven to 350° F.
Melt the butter, and combine with your ranch packet, mixing until well combined.
Cut potatoes into 1 inch cubes. Coat the diced potatoes with your ranch and butter mixture. You can toss them all together right in the baking dish, to save your dishes, or combine in a gallon ziploc bag and shake to coat!
Place all the potatoes into a deep baking dish. I love to use my Pioneer Women set from Amazon that includes two cute ceramic bakeware casserole dishes.
Top the diced potatoes with broken up bacon strips, then coat the top of the dish with lots and lots of cheese!
Bake for 60 minutes or until potatoes are tender. ​
Speaking of beef, these cheesy bacon ranch potatoes would go great with steak. Skip the loaded baked potato – make this dish, sprinkle with green onions and add a dollop of sour cream and it'll bring this side to a whole new level!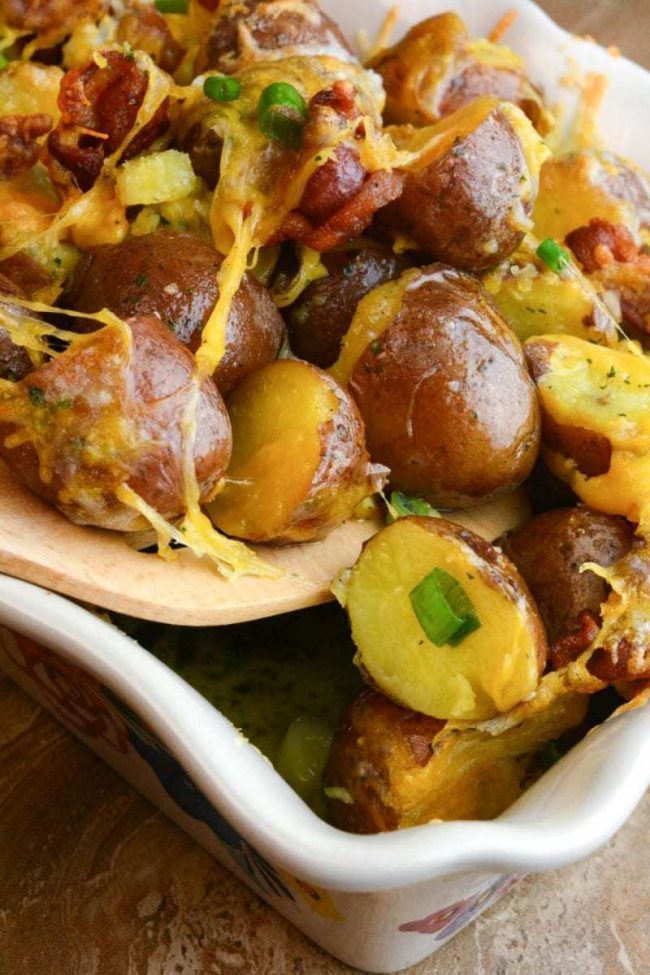 Pair it all with a fresh green salad and you'll have a dinner where everyone cleans their plate. Just writing about this is making me hungry! I might have to scoop up a small bowl of them out of the fridge – they reheat well in both the oven and microwave and even as leftovers, they don't lose any of the flavor!
When will you serve this yummy Cheesy Bacon Ranch Potatoes recipe?