Why use the can when you can do it so much cheaper from scratch! Preparing pumpkin pie filling from scratch is so super simple!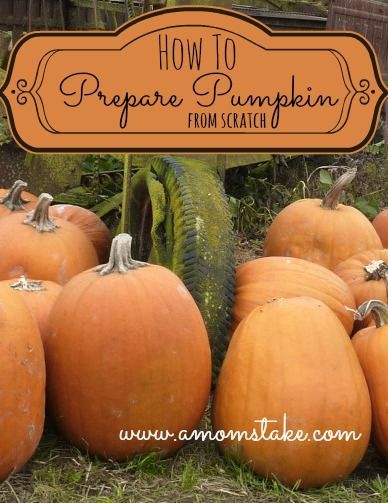 When preparing pumpkin from scratch you start with a whole pumpkin. You can even use the Jack-o-lantern if you don't carve it too soon and use it before it sits too many days.
If you love this super simple pumpkin puree recipe, you'll love this recipe for easy Halloween cupcakes as well!
Affiliate links are used in this post.
PUMPKIN PIE FILLING FROM SCRATCH
Just like everyone in the world, I love a good pumpkin pie. But those store bought fillings? No thanks.
I want something fresh and real if I'm going to eat it. This holiday season, you can find ways to take that canned pumpkin from scratch and make it great!
HOW TO MAKE PUMPKIN PIE FILLING FROM SCRATCH
Cut your pumpkin in half, seed it, then place it cut side down on a cookie sheet or cake pan to bake at 400 degrees until fork tender. About an hour or so.
When it is fork tender, remove the pan from the oven and let cool. I will often let it cool in a colander over a large bowl or sink so that most of the water drains off. You do not want this water. A teen skinned this pumpkin and used his hands to scrap it out of the skin. Usually, it will still be in larger pieces. But no matter how it looks, it will all be blended and smooth when we are done. 🙂
Note: Some people think that boiling their pumpkin is how you prep. for future use. When you do this you lose a lot of the pumpkin flavor. By roasting it you deepen the sweetness of the meat and reduce the moisture content.
Once the pumpkin has cooled enough that you can handle it, you peel the skin off from the outside and all the meat left over is what you can use in all of your favorite pumpkin recipes.
After I peel mine, I usually let it continue to cool and drain. Once it is well drained I will bag the cooked pumpkin meat into quart size bags about 4 cups worth of meat, so that I can freeze it to be used throughout the year for pumpkin pies, bread or muffins.
Note: When I am ready to use my pumpkin after is frozen, I do not want to drain off the water in the bag after it has thawed. This moisture is needed. Only discard the moisture before it is frozen.
To use this cooked pumpkin in a recipe, you will need a blender. Use the same amount of cooked pumpkin meat as what the recipe calls for. So if it calls for a 15oz can. Measure out 2 cups of pumpkin meat. Just press it into the measuring cup or just guess on the high side. Both ways will work. Most recipes call for milk or eggs or oils. I blend up my pumpkin with some or all of this liquid that the recipe calls for until the pumpkin is smooth and not lumpy or fibrous. Often I will mix in the spices at this point also, just to make sure they are well dispersed through out the mixture.
You can also do this with Large squash, or sweet potatoes. Above all else, Have Fun!
I hope you try this at least once and see how easy and affordable pumpkin baked goods can be.
FAQS ABOUT PUMPKIN PUREE:
Q: Can you mash the cooked pumpkin by hand?
A: It's not recommended. To get the best texture, a blender is needed.
Q: Will using sweet potatoes in this pumpkin pie filling from scratch cause it to taste sweeter?
A: More than likely, a sweet potato being used instead of pumpkin will result in a sweeter flavor.
Q: What do you do with all the pumpkin seeds from the pumpkin?
A: Wash 'em, season 'em, roast 'em and eat 'em!
IF YOU LOVE THESE SIMPLE PUMPKIN PIE FILLING FROM SCRATCH RECIPE, SPEND A FEW MINUTES TO SEE THESE OTHER RECIPES THAT WILL BE AN AMAZING PART OF YOUR RECIPE COLLECTION!
If you love this fun recipe, you'll definitely enjoy this French Toast Bake!
CONNECT WITH A MOM'S TAKE ON YOUR FAVORITE SOCIAL CHANNEL FOR MORE RECIPES!
You can find us on:
Instagram | Facebook | Pinterest | YouTube | Twitter
PUMPKIN PIE FILLING FROM SCRATCH
Click below to pin!