One of my favorite things about the Holiday Season is the baking. I love to bake, but I really love to make things that taste wonderful. With these High quality Nielsen-Massey Pure Extracts, I have gotten a really full rich flavor in everything that I have tried them in.
I received an assortment of Nielsen-Massey pure extracts in exchange for this post. All opinions are my own.
Pure Coffee Extract: I had never really tried anything like this before. I have found when adding it to my chocolate recipes, it really enhances the chocolate in a deeper way. One of the finest ways I have found to use this, is 1/4 tsp. added into my cup of Hot cocoa, makes it into an instant mocha. Very good!
Pure Vanilla Paste: Pure Vanilla paste has always been a mystery to me. I have heard about it, and how to use it, but had never seen it or tasted it. Well now I have. This Nielsen-Massey pure vanilla paste is similar to a syrup consistency. I don't know if you have ever tasted pure vanilla extract, but if you have you will know how surprising it is to stick your finger in it for a taste. Well, this paste is wonderful, even on the end of your finger. I have used it in many of my recipes: muffins, cookies and cakes alike and this product does not disappoint. It adds that full rich flavor that I am looking for from a high quality pure extract.
Pure Almond Extract: I love Almond Extract and the things that you can use it in. I was talking with my mom the other day telling her about this Pure Almond Extract that I was trying and these are a few of her favorite things to use it in. " She adds it to her sour cherry pie filling, frosting for the tops of her cinnamon rolls, and when she makes her Danish Dutch Pastry. I really wanted to make cookies but did not want to have a huge batch of cookies around to eat so I created an Almond shortbread tea cookie.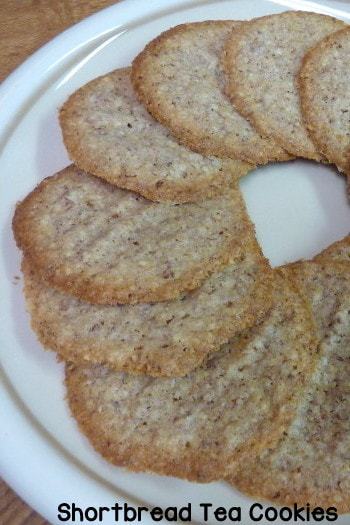 Almond Shortbread tea Cookie
Light and crispy, full of the Almond flavor and deliciousness.
Author:
Granny from A Mom's Take
Ingredients:
1 cup flour (I used ½ cup almond flour and ½ cup fresh ground spelt flour)
¼ tsp baking powder
⅛ tsp salt
½ cup confectioners sugar ( powdered sugar)
1 tsp Nielsen-Massey pure almond extract
½ cup butter
Directions:
I creamed together butter and sugar then added the Nielsen-Massey pure almond extract. Then stir in all the other ingredients until smooth. I then used a small scoop and made 1" balls, this recipe only made 13 cookies. It was the perfect amount for us, We did not want a bunch of cookies sitting around for us to eat. This also makes a nice plate of cookies to offer for tea with a friend or 4.
After the cookies were on the sheet I used a fork to press them out a bit. These cookies spread and turn into a thin crispy cookie. If you want them to not spread so thin, you can add a couple more tablespoons of flour to the batch. Bake at 350 degree's for about 10 minutes or until golden brown. Let stand a bit before removing from pan.
Nielsen-Massey is dedicated to bringing the best pure extracts that are available to restaurants and in home chiefs alike. You can search for stores near you, or order online at these different locations. Prices will vary, but are a great price for the product you receive. If you have any bakers on your Christmas list, these Nielsen-Massey Pure Extracts would make for a great gift idea. There is plenty of time to get them ordered and shipped. I hope you enjoy yours.