The Epson Perfection V33 Scanner is an affordable all-purpose scanner with impressive image quality and color restoration capabilities. At just under $90, this scanner features 4800 dpi optical resolution and can be used to scan everything from books to school projects and even 3D objects!
Another great feature is the included ArcSoft Scan-n-Stitch Deluxe software that allows users to scan oversized documents and scrapbook pages and then stitch them together automatically. How cool is that!? The Epson Perfection V33 also uses energy-efficient ReadyScan LED technology that ensures fast scans with no warm-up time.
With school in session this scanner would be the perfect tool to help your household stay organized and preserve all the amazing art-work and projects your kids will be bringing home on a daily basis.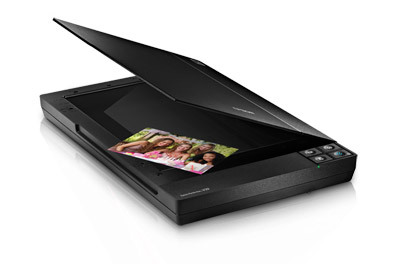 The Epson Perfection V33 Scanner is perfect for my boxes and boxes of pictures I have sitting in my garage! My old scanner (which is enormous compared to the sleek V33) took forever to scan each image so I gave up quickly on trying to digitize all my 4X6 prints.
Now I am ready to get that project done and am excited for the extra space I will have! After scanning my pictures on the Epson Perfection, the image often times looks better than the original!
I also am trying to consolidate my kids' art work from school. I used to hang on to piles and piles of school papers each year, but after my mom gave me a box of all the school stuff she saved of mine, I realized need to cut back!
I had no idea what to do with it….until now 🙂 It will probably take a while to get through all the boxes I have, but it definitely will be worth it and I no longer have to worry about the images coming back blurry, they will be just as good as the originals, if not better!
The Epson Perfection V33 scanner can be found on Amazon or the Epson website and retails for $89.99.
Disclosure: I received the Epson Perfection V33 Scanner for free in order to try the product and form an opinion for this review. I was not compensated in any other manner. The opinions expressed above are my own.