I received a complimentary week's accommodation and a media rate for two additional nights stay at the Global Resort Homes Orlando vacation home rental site at 2541 Archfeld in exchange for this post. All opinions are my own.
We just got home from a wonderful 10-day trip to Orlando, Florida. Before our trip, we thought quite a bit about where we wanted to stay. We invited my in-laws and my sister-in-law to join us on our vacation and we wanted to be able to spend as much time together as we could, but still have our own space. After looking around at our options, we decided we really wanted to feel at home and not crammed into a small hotel during our trip. An Orlando vacation home rental was the perfect option to give everyone plenty of room and actually be affordable versus booking separate hotel rooms for our three families on the trip.
We stayed in the Windsor Hills resort community that offers a range of near-Disney vacation home rentals! Our home was just 10 minutes from the Disney parks! During our trip, we visited many of the top Orlando Attractions to visit with kids and almost all the attractions were within about 20 minutes from our home. Including SeaWorld Orlando, Disney World, and Universal Studios.
There are so many fantastic things about staying in a vacation home rather than a hotel. One of the aspects we loved was having a kitchen and dining areas. We were able to cook home cooked meals and grab a quick breakfast without spending all that extra it would have cost buying food at the parks or even hitting a fast food joint on the way out the door. It was so nice to sit together as a family and slow down after a day at the parks. The kitchen was large enough that several of us could be in the kitchen working and cooking together to get dinner ready. Plus, the kitchen was equipped with all the dishes and tools we would need.
Room for Us to Spread Out
The Orlando vacation home rental we stayed in has a total of 6 bedrooms. Of the rooms, two have king beds, two with queen beds, and two rooms with double twin beds. My husband and I took the master bedroom suite with a full bathroom suite. Our three older boys spread out between the two kids bedrooms. We brought along a pack 'n play for our one year old and he got his own room, too, closest to our bedroom.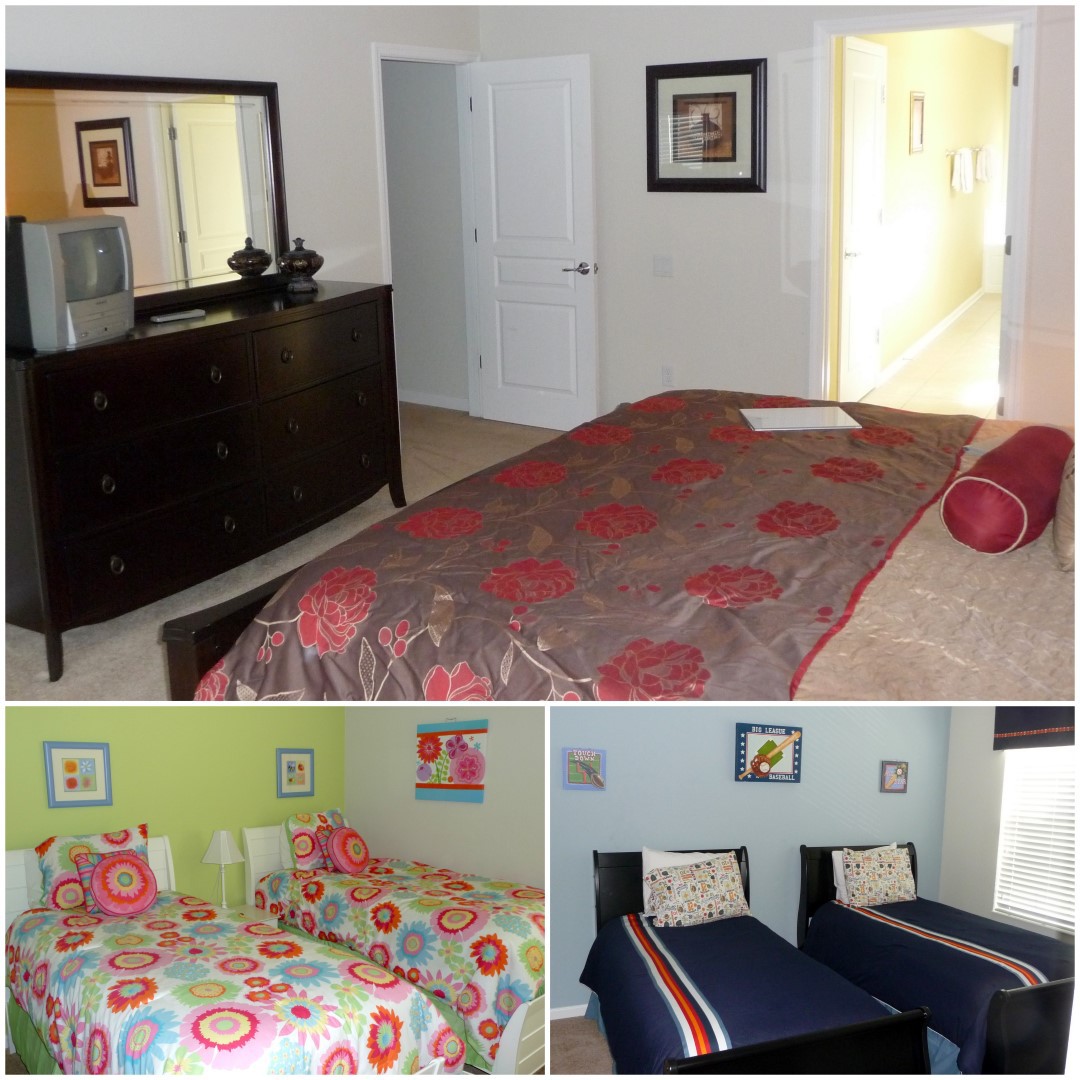 My boys absolutely loved having their own place to go in the house. They took advantage of the TV in their room to relax and watch cartoons in the morning or after a long day out playing. Since everyone had their own space and bed, something they wouldn't have in a hotel, we all slept great! I was a bit surprised that I didn't have any problems getting the kids to bed at night.
And Room for Them (plus some!)
Since my in-laws came along with us to visit and vacation with the kids, it was so wonderful that they were able to have their own space to get a break when they needed it but still be in the home to visit and enjoy our trip with! My husband's parents took the other bedroom with a King bed and in-room bathroom. My sister-in-law claimed the downstairs queen bedroom which had its own bathroom right outside the room. All the adults had their own bathroom and the kids all shared their own bathroom! Even with nine people along with us on the trip, we still had one extra unused queen bed and twin sized bed. There truly was a ton of room for everyone!
Fun Activities in the Home
The garage in the home is converted into a game room with a pool table and air hockey table that let us have even more fun while at home. We spent one of our days just relaxing at home away from the parks and the game room was a welcome place to have fun together.
Our most used space in the entire home was the private backyard pool and spa. The kids would ask all day long, every day if we could head out to the pool. They would even ask to head home from the parks just so they could go and swim! We spent hours out in the pool during our trip sometimes even heading out more than once in a day! I loved that the pool wasn't super deep and most of the pool my young boys could reach the bottom until it leveled out at probably about 6′ deep on the one end. I appreciated that the pool was fully fenced in to help protect the kids.
Awesome Windsor Hills Community Park
As in the features in the home wasn't enough, the Windsor Hills resort has an amazing community park for all the guests. It's a gorgeous castle theme that is surrounded by a sand moat that features a huge sea dragon creature. Once inside the gate, there are tons of areas to play and room including two swing areas, a merry-go-round, slides, teeter-totters, and those spring based rocking animals.
One other really fun features of the park is a life-sized checker board! My husband and oldest son played a round and while my son didn't win, he had some great strategy and it was fun to see how he would play. There is so much variety at the park that we played there for over an hour and the kids didn't want to leave when it was time.
Check out this video with my family showing you what we loved in this home!
If you're looking for an Orlando vacation home rental that will give you the space and comfort you need of being in a home away from home, visit Global Resort Homes. You can find the size of home your party will need from condos on up to 6 bedroom homes all conveniently located! To book this specific home, just search for 2541 Archfeld in the Windor Hills Resort.