This easy baked pork chops recipe will become your go-to way to serve pork chops! Add it to your easy dinner recipes collection and you won't be sorry that you did. This is the only way my husband wants me to serve Pork Chops, now!
Affiliate links are used in this post.
Do you ever get tired of the same ol' dinners week after week. Chicken dinners tend to be our go-to, but mixing up our routine with pork chops makes our whole week feel fresh again!
Then, when we pull out our favorite teriyaki chicken and rice recipe and our easy parmesan chicken bake we are excited to enjoy them again!
We like to serve pork chops with a fruity side, like this 3-ingredient peach cobbler.
Easy Baked Pork Chops
How to Make Pork Chops:
You will start by combining your seasonings of garlic, mushrooms, salt, pepper, oregano, and thyme with a little bit of butter in a large skillet.
When the butter is melted, toss in your pork chops and seer each side of your chops for 1-2 minutes or until golden brown.
That's all the prep you will need!
Now, bake your pork chops for 35 minutes or until they are cooked through. If your skillet is oven save, just stick the whole skillet pan right into the oven. Otherwise, transfer all your ingredients into an oven safe pan.
We love this oven-safe skillet as it can be used up to 550°F and is even freezer safe!
When they are done, be sure to check your meat with a
meat thermometer
. Remove the skillet from the oven and go ahead and set your pork chops on their plates to give them time to rest while you finish making your sauce.
Whisk in flour and milk in with your seasoning/butter mix stirring until all lumps are removed. Simmer the mixture for 3-4 minutes. Serve your butter garlic sauce over the tops of your pork chops and enjoy!
FAQ's about Baked Pork Chops:
Q: Can I bake pork chops?
A: Absolutely! Baking is a great choice for cooking pork chops. You could alternatively cook your pork chops on the grill, in a crock pot, or even on the stove top.
Q: How long should pork chops bake at 350?
A: Bake pork chops for 35 minutes at 350 F, and test internal temperature which should reach 145 F.
Q: Can I make this pork chop recipe without the mushrooms or garlic butter cream sauce?
A: Yes, you can skip the mushrooms or the cream sauce (or both). As an alternative, try serving pork chops with pears, applesauce, or a side salad.
Don't be afraid to experiment and share your experiences in the comments to help others that may have the same question.
If you love this Pork Chops recipe, browse all our easy dinner recipes!
Are you often stumped on what to make for dinner? Grab this printable with 60 dinner ideas. It's a lifesaver to put into your home management binder and help you when planning your weekly meals.
Connect with A Mom's Take on your
favorite social channel for more recipes!
You can find us on:
Instagram | Facebook | Pinterest | YouTube | Twitter
Garlic Butter & Mushrooms
Baked Pork Chops Recipe
Yield: 4 pork chops
Easy Baked Pork Chops Recipe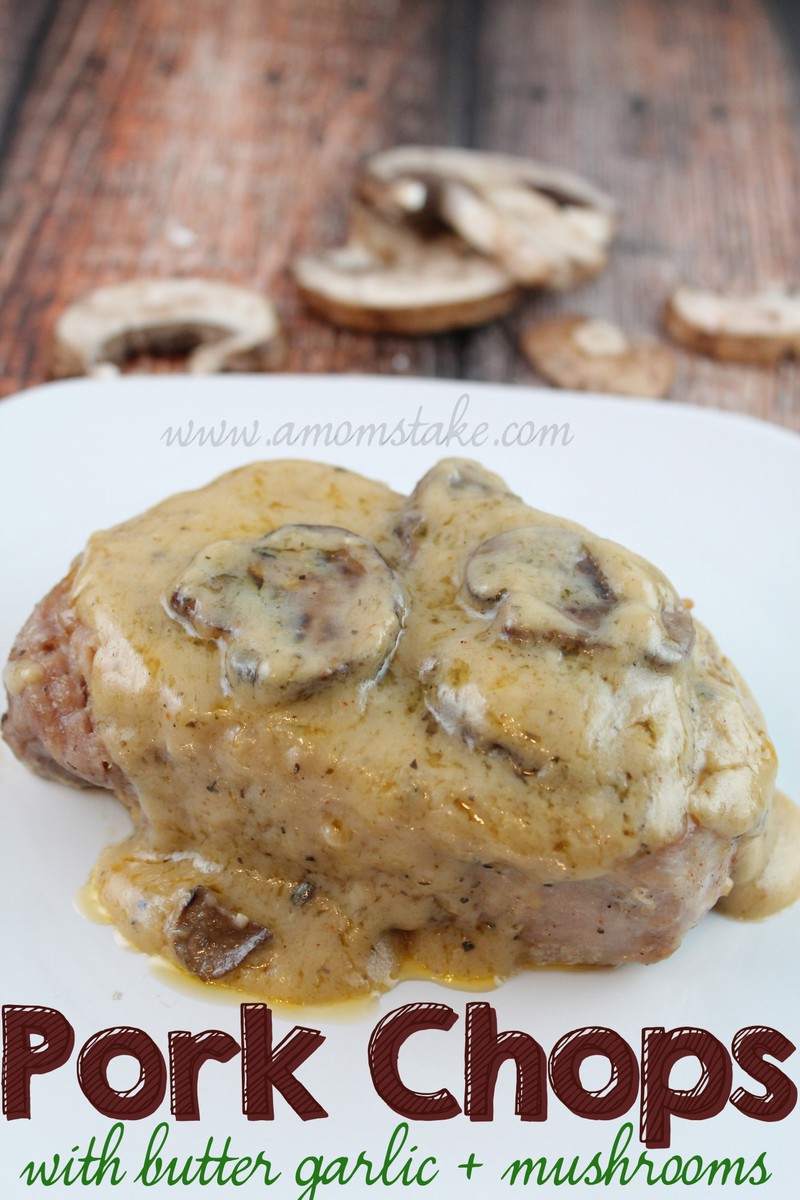 Delicious and easy pork chops with a flavorful butter sauce that compliments the meal perfectly.
Ingredients
3-4 Thick Cut Pork Chops
½ Stick Butter
2 Garlic Cloves, Minced
¼ Cup Flour, All Purpose
¼ Cup Milk
1 Cup Mushrooms, Cleaned and Sliced
1 tbsp Oregano
1 tbsp Thyme
Salt and pepper to taste
Instructions
Preheat oven to 350 degrees.
In a large skillet over medium high heat combine butter, garlic, mushrooms, salt, pepper, oregano and thyme.
Once butter has melted, add your pork chops and seer on each side for 1-2 minutes until golden brown.
Once both sides of the pork chops are a golden brown place in oven and bake for 35 minutes or until centers are no longer pink. *Time may need to be adjusted depending on the thickness of your pork chops.
Remove skillet from oven and remove your pork chops and sit them aside to rest.
Whisk flour and milk into your pan with the remaining liquids after removing the pork chops. Whisk until all lumps are removed. Simmer for 3-4 minutes.
Serve over the top of pork chops.
Nutrition Information:
Yield:
4
Serving Size:
1 pork chop
Amount Per Serving:
Calories:

482
Total Fat:

29g
Saturated Fat:

13g
Trans Fat:

1g
Unsaturated Fat:

12g
Cholesterol:

163mg
Sodium:

261mg
Carbohydrates:

10g
Fiber:

2g
Sugar:

1g
Protein:

43g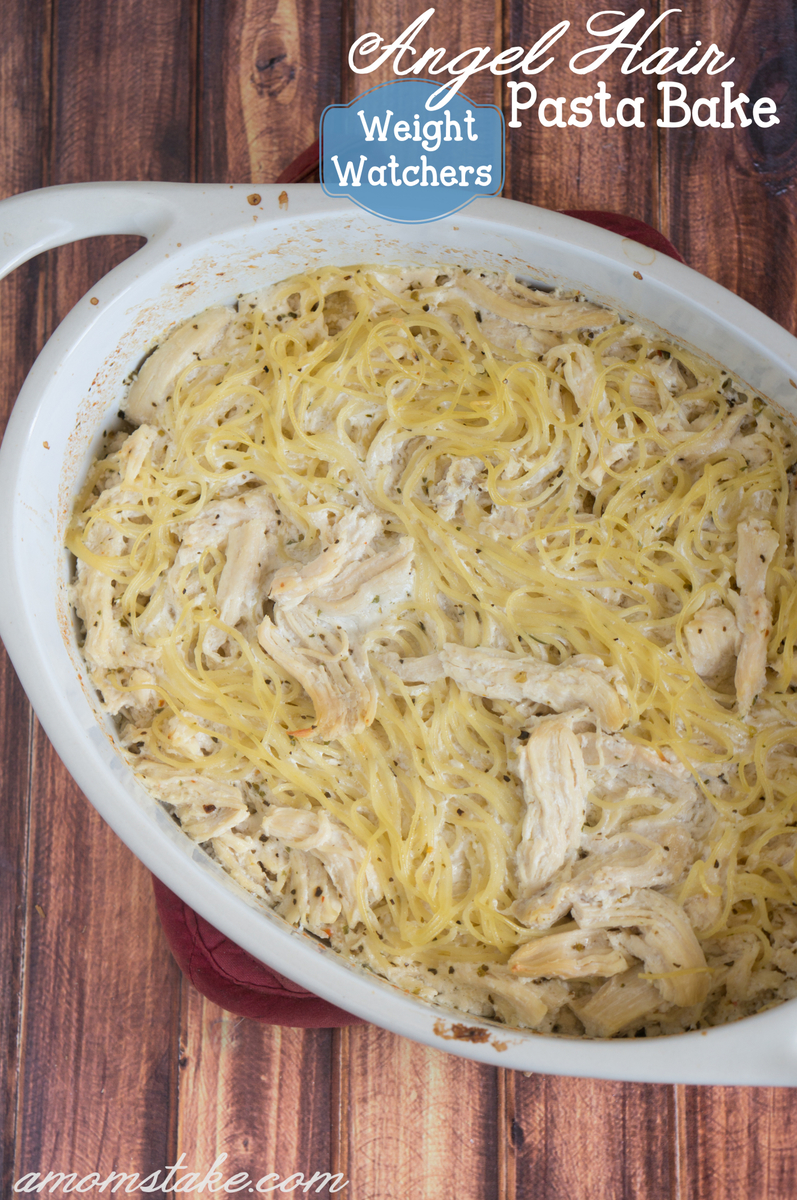 Potato Spinach Kielbasa Skillet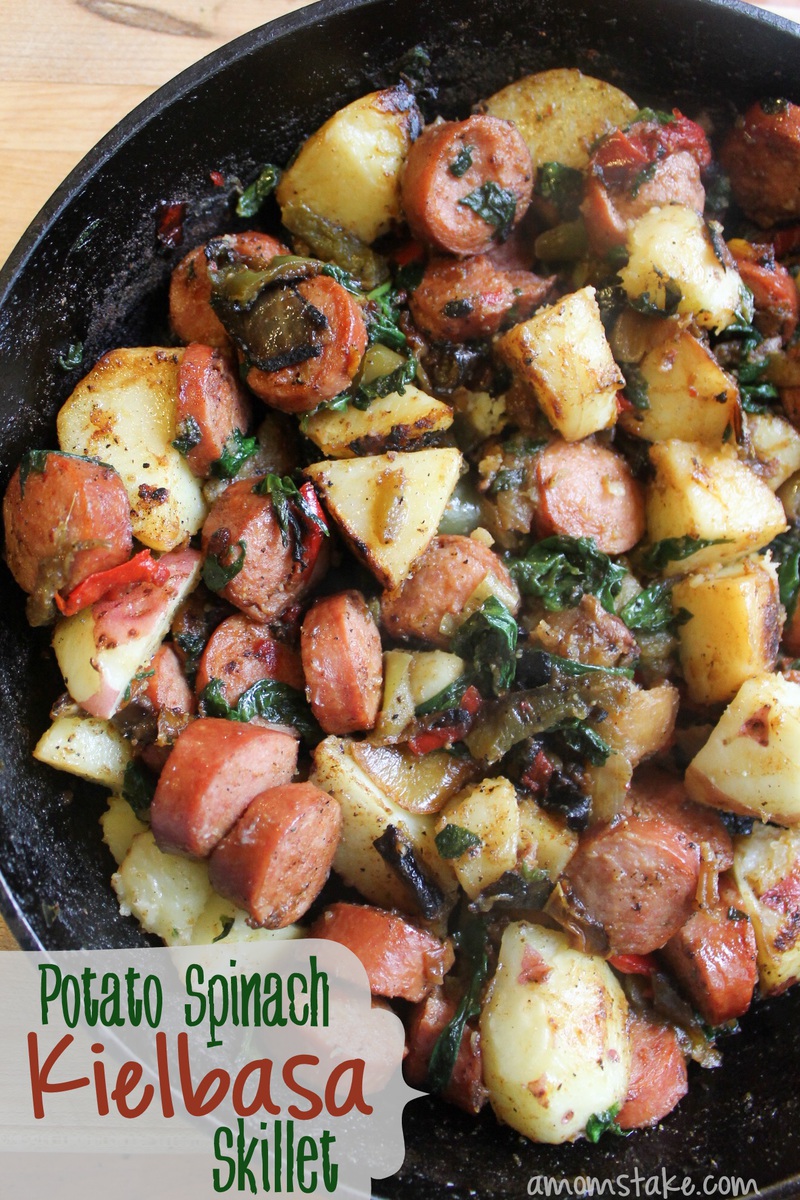 If you try this easy pork chops recipe, share what you think in the comments!