These Rice Krispie Pumpkins are the perfect treat for any Halloween snack! Simple and good to the last bite!

There's just something so simple and delicious about this awesome Pumpkin Rice Krispie treats that they are certain to become a seasonal favorite of yours as well!
If you love this fun treat, make certain to check out our Graveyard S'mores as well!
Affiliate links are used in this post.
PUMPKIN SHAPED RICE KRISPIE TREATS
Fall is rolling in and Halloween is right around the corner! It's that wonderful time of the year with lots of fun reasons to get together and celebrate! It's always fun to have something homemade when visiting with friends or planning a party at your home, but you don't want to spend hours working in the kitchen just to create something to enjoy. That's why you'll love this Pumpkin Pops recipe – it's yummy, adorable, and is really easy to make!
This treat gives you a simple twist on classic rice crispy treats that will make it feel like a whole new treat.
HOW TO MAKE RICE KRISPIE HALLOWEEN PUMPKINS:
Start by melting butter in a medium stockpot. Add in your marshmallows and continue to stir until the marshmallows melt and are well combined with your butter.
When the marshmallows are melted, remove your pot from the heat and quickly stir in your rice crispy cereal and mix until all the cereal is coated with marshmallows. Press your mixture into a 9×9 pan that has been prepared with cooking spray so your treats don't stick. You can use a piece of wax paper to press down on the top of your treats to make them even and smooth on the top. Let the treats cool completely before your next step.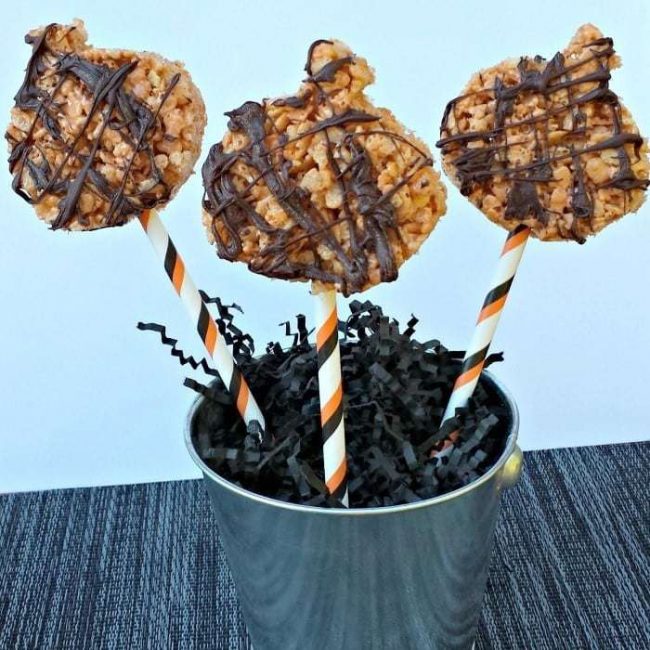 After your treats have cooled, remove the sheet of crispy treats from the pan and place them onto a cutting board. Use a pumpkin cookie cutter, or your own favorite shape if you want to branch out.
Melt half a bag of candy melts in a small bowl following the directions on the package. When your chocolate is smooth, dip one end of a lollipop stick, popsicle stick, or paper straw into the chocolate. Then, gently press it into the bottom of your pumpkin shaped treat. You can finish off the treat by drizzling chocolate over the pumpkin or leave them plain.
FAQS ABOUT RICE KRISPIE PUMPKINS:
Q: Will the marshmallows stick to the bowl?
A: This is where the importance of the butter comes into play!
Q: What other toppings could you add to these fun pumpkin rice krispie treats?
A: Sprinkles are always a great addition!
Q: Can you use orange food coloring to make the "pumpkins" orange?
A: Yes! Edible food coloring can be used to give the rice krispies an orange color.
IF YOU LOVE THESE SIMPLE RICE KRISPIE PUMPKINS, SPEND A FEW MINUTES TO SEE THESE OTHER RECIPES THAT WILL BE AN AMAZING PART OF YOUR RECIPE COLLECTION!
RICE KRISPIE PUMPKINS
Click below to print/save this recipe or pin it to bookmark!
Pumpkin Pops Rice Krispy Treats
Great treats to share this Halloween!
Author:
Janel at A Mom's Take
Ingredients:
3 tablespoons butter
10 oz orange "regular-size" marshmallows
6 cups Kellogg's Rice Crispy cereal, or similar
½ bag Chocolate Candy Melts
Directions:
Spray a 9x9 pan with cooking spray and set aside.
Over low heat in a medium stockpot, melt the butter. Add the marshmallows and stir until well combined. Remove from the heat and stir in the rice cereal until well coated.
Press the mixture into the pan using a piece of wax paper to help you get it even. Let the treats cool completely in the pan.
Remove from the pan in one big sheet and place on a cutting board. Cut out the shapes using a pumpkin cookie cutter.
In a small bowl, melt about half a bag of candy melts according to the directions on the bag. Once the chocolate is smooth, dip one end of a lollipop stick or paper straw into the chocolate, then gently press it into the bottom of the pumpkin shape. Drizzle chocolate over the pumpkin (if desired).

Do you have a favorite treat you like to bring to Halloween parties?