Family gatherings and game day events happening over the next few months call for easy appetizers and dips are a great way to save yourself time but still be able to take something yummy to share with friends and family. This Slow Cooker Camp Dip is a fun spin on the classic cheese dip or chili cheese dip with new and great flavors. We love how easy it is to adapt the heat level by adding a few sliced jalapeno's to the mix or even a touch of chili powder if desired. Leaving the simple recipe as is makes it mild enough for the kids to enjoy alongside the adults.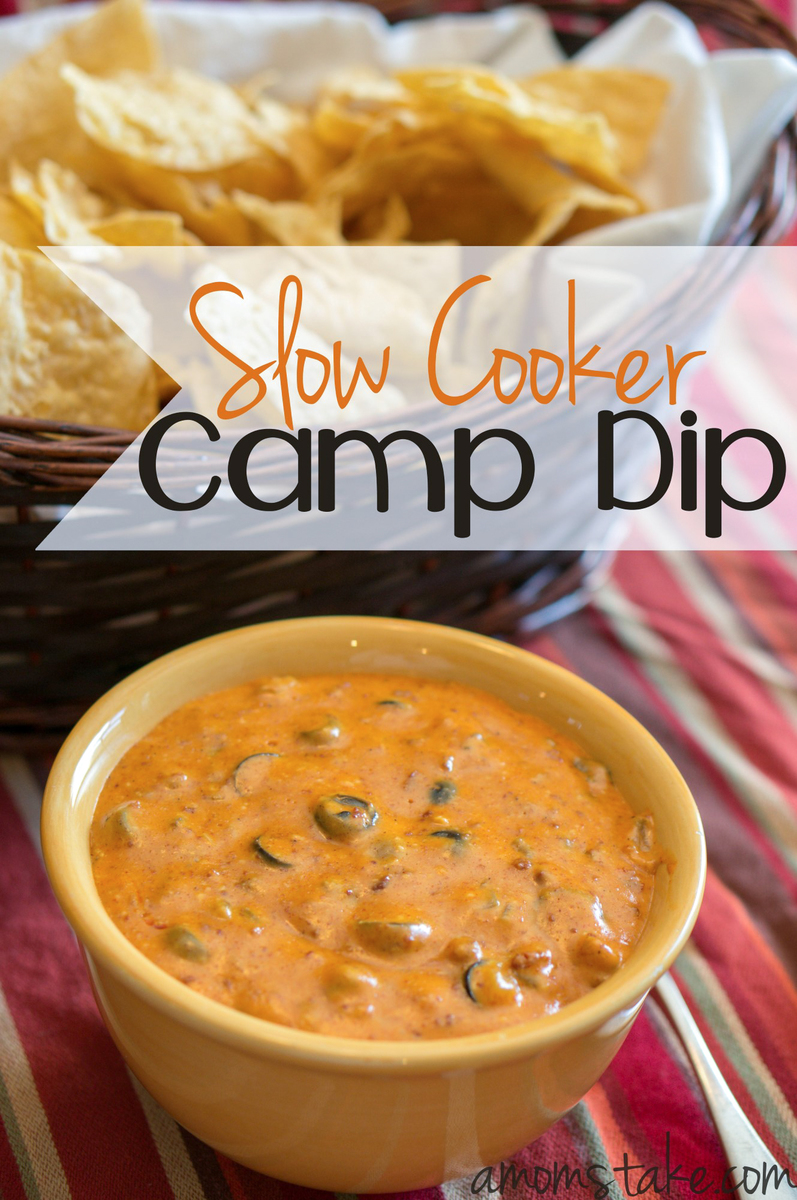 To make this dip, you'll start by quickly frying the Chorizo up in a large skillet for 7-10 minutes. Once your Chorizo is cooked, the rest is all a piece of cake! Toss the chorizo, processed cheese cut into cubes, a can of green chilies and black olives all into your slow cooker.
Mix up your ingredients and allow to cook for 45 minutes to an hour on a low heat until the cheese is completely melted. Then, all that's left to do is stir well and then enjoy!
This is a great dip that is hearty and rich and will be a great substitute for your traditional cheese dip. We often serve it as a side dip at parties, along with burgers or even a thin spread over a corn or flour tortilla with some grilled vegetables for a hearty and tasty Quesadilla.
Slow Cooker Camp Dip Recipe
Click to print/save this recipe!
Slow Cooker Camp Dip Recipe
Yummy and creamy camp dip recipe you can make in your slow cooker!
Author:
Janel at A Mom's Take
Ingredients:
1 12oz Package Chorizo
1 Large Package Processed Cheese Spread
1 Small Can Green Chili's
1 Large Can Black Olives (sliced or chopped)
Directions:
In large skillet cook Chorizo for 7-10 minutes until cooked through.
Cut processed cheese spread into 1" cubes and place in slow cooker.
Mix in green chili's (in liquid), drained black olives and Chorizo.
Mix together, cover and let cook on low for 45 minutes to 1 hour or until melted. Stir until well blended.
Serve with tortilla chips, corn chips or crackers.
Store in airtight container in refrigerator for up to 1 week.
Try this Easy Crock Pot Shredded Beef Tacos recipe, next!
Looking for more game day fun, try these simple party toothpicks for your appetizers!
Share your favorite game day foods in the comments!