It's been over 100-degrees for the past month here in Phoenix, which means we're living on cool treats to help us survive this summer. Our favorites? My boys and I all love candy popsicles mixing in our favorite gummy treats! We've been adding gummy cherries, gummy worms, and gummy bears – all 3 make for a really fun summer treat, that look just as good as they taste!
I received compensation for this post. All opinions are my own.
Candy Popsicles Recipe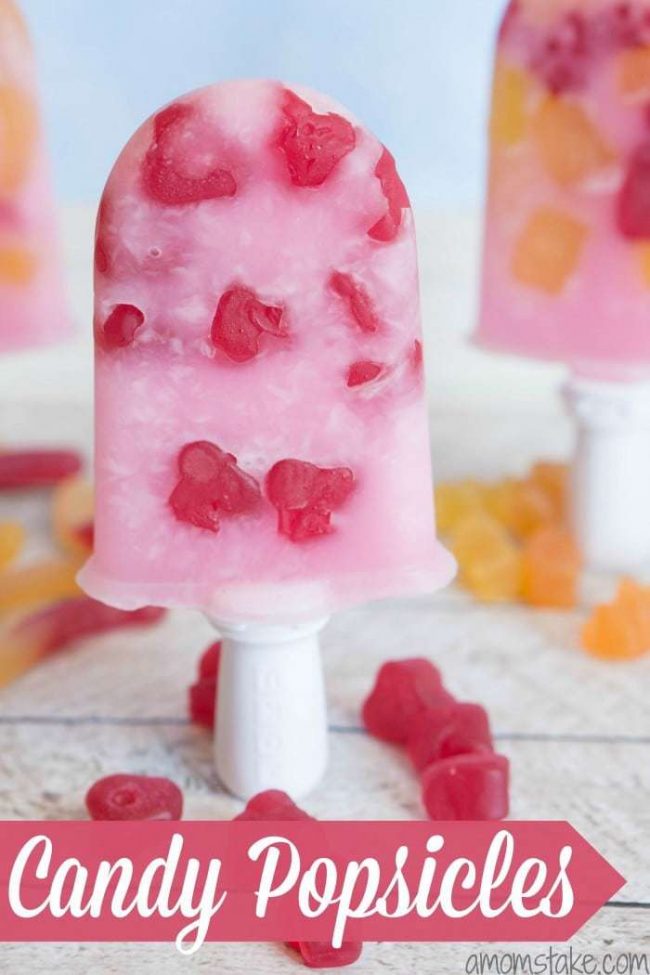 You'll Need:
Pink Lemonade
Zoku Popsicle Maker
We start our candy popsicles with the new Black Forest Organic gummies! They are each gluten and fat free and contain no artificial flavoring or colors! Best of all, they still taste absolutely wonderful! I'm completely hooked to these better-for-you gummy candies!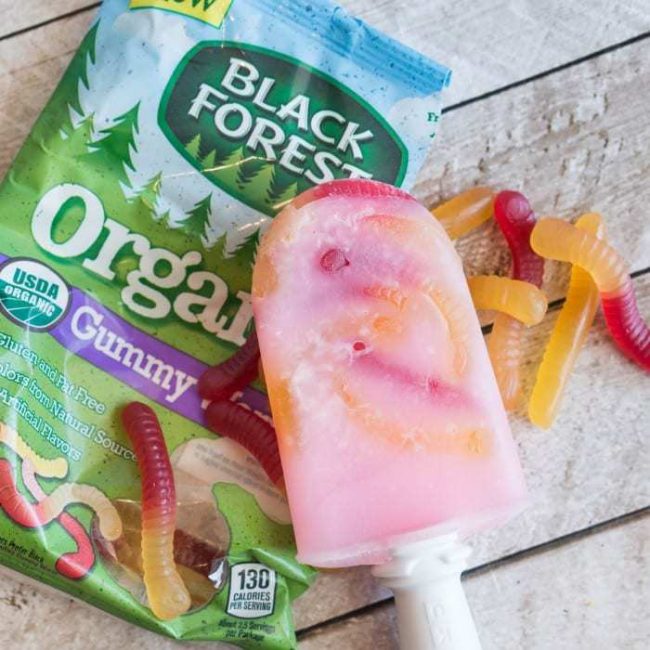 Just drop a small handful of your favorite Black Forest Organic gummy candies into the bottom of your popsicle molds.
Add your popsicle handles.
Fill with juice.
Allow to freeze until your popsicles are solid.
I swear by using a Zoku popsicle maker when adding candy to your popsicles as the candies stay soft and yummy while the juice freezes and forms into a popsicle! That means, you aren't hurting your teeth with this yummy treat.
Then, of course, it's time to enjoy! My boys go crazy for this easy summer treat because it's very refreshing on a hot day and it's so much fun to eat! They love grabbing a gummy bear out of their popsicle in each bite.
Because I get to control everything that's inside, I look for quality candies that I can feel confident in sharing with my growing kids. I don't want them loaded with artificial ingredients or high fructose corn syrup.
When you're ready to make your own delicious gummy worm candy popsicles, turn to Black Forest Organic line for three delicious options that won't disappoint!
Head over to the Black Forest website to grab a coupon good for $.75 off any 1 package of Black Forest Organics product 4-oz or larger. You can find them in most local stores, available now!