Will you be entertaining any guests or hosting a party this month? We always have lots of reasons to get together in December and often we will host. Sometimes, you don't want to serve a whole meal and that's where setting up a display of holiday appetizers can still be welcoming for your guests and save you tons of time on the prep and clean-up. Let me show you some easy appetizers that will be perfect for your holiday gatherings and be unique, too, not just a display full of sweets.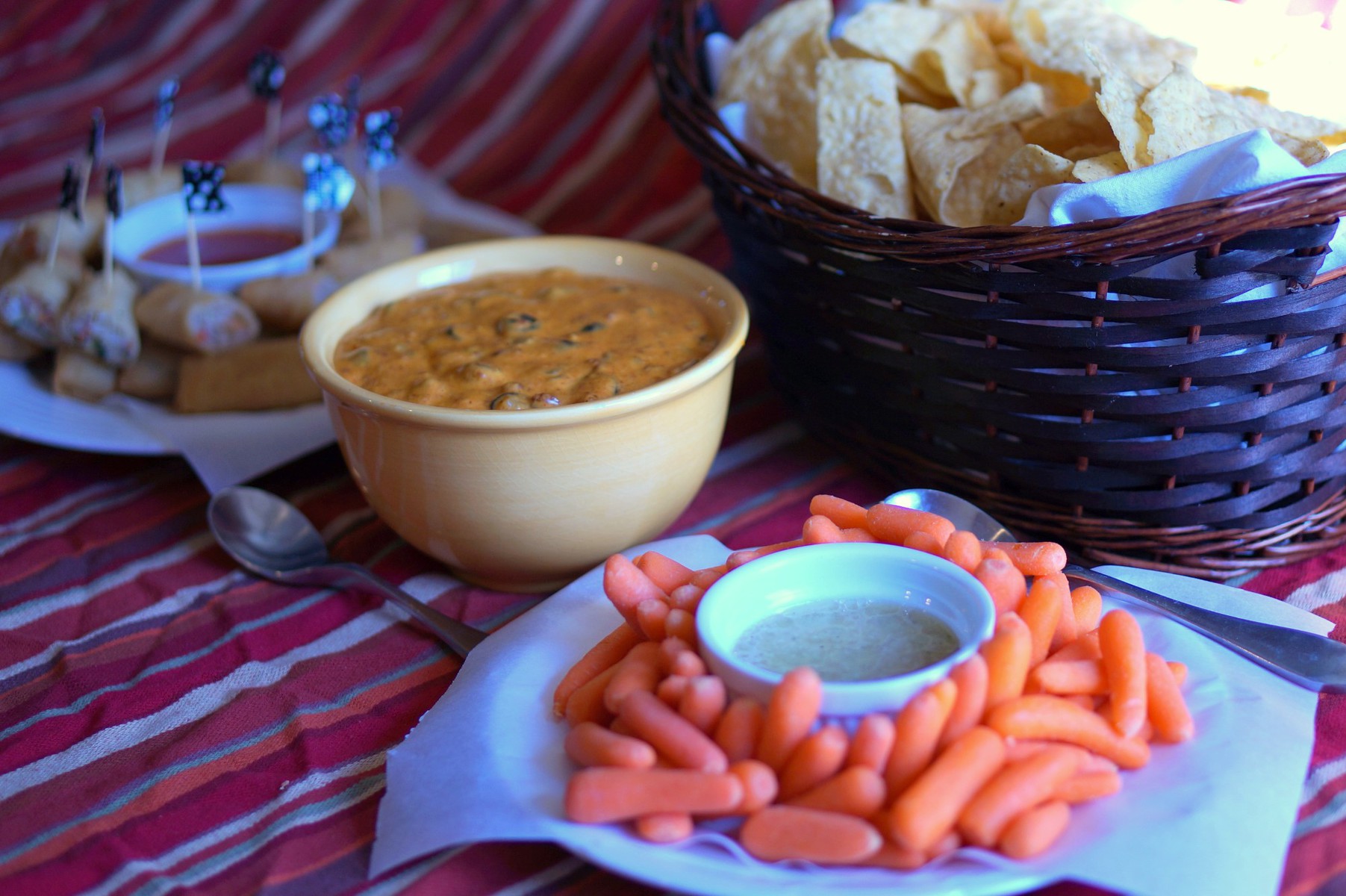 There's a Walmart right on the way home from my son's school, so I stopped in on my way home from dropping him off at school, ran in to pick up the few different party ingredients I needed to make my dip and grabbed a package of spring rolls and I was set.
We threw together this easy set up of appetizers with so little effort, it might surprise you! We served Rich's SeaPak Spring Rolls, whipped up our Slow Cooker Camp Dip, toss a bag of tortilla chips into a woven basket lined with a flour sack towel, opened up a bag of baby carrots and displayed them around a dish of Italian dressing on a sheet of parchment paper. All the prep for our food took about 20 minutes including getting the dip ready into our slow cooker!
Rich's SeaPak Spring Rolls make a perfect appetizer to serve at your next gathering! They are super easy to prepare, just toss them in the oven, flip once during cooking so you have even cooking, and then plate them when it's time! You can serve them whole as they are easy to grab from a serving plate, or cut them in half to have your holiday appetizers go twice as far. We cut half of ours so that it was easier for our guests to see what was inside as some may not like seafood and want a peek inside before they commit. Plus, it made our whole display look really cute with them cut open and the party toothpicks that made them easy to grab!
I always know something is a hit of my little boys will eat it, and they gobbled these down going back for seconds and thirds and treasuring aside the toothpicks they collected after they ate their shrimp rolls.
Simple Party Toothpicks for Serving
To dress up our display, and make our spring rolls go further, we cut them in half at an angle and then placed a simple toothpick in them to make them easy to grab and really cute on our display.
To decorate your toothpicks, just lay your toothpick onto a decorative duct tape or other decorative tape. Fold the tape back over and onto the tape again so that it sticks to itself. Then, just cut at your pattern. I did half an inward triangle and half an outward just following the inverted pattern that as left after cutting the previous piece of tape.
Then stick a party toothpick into each of your half cut spring rolls and they will be really easy to pick up and add to a plate or just walk around with and eat for your guests. Plus, the kids loved the little "flags" as they called them.
Want to give Rich's SeaPak Shrimp Spring Rolls a try? Walmart will be demoing their Spring Rolls on December 8th between 1pm and 5pm! This is the perfect chance to try them yourself! To stay in the loop on offers and new products, connect with SeaPak on Facebook or on twitter at @SeaPakShrimpCo.