Being a mom on a budget, when cooking, my favorite four words to see describing a recipe include: Cheap, Easy, Fast, and Yummy recipes. Those same four words describe my favorite peach cobbler recipe.
It tastes SO delicious that people think I spend hours baking the cobbler; In reality, I finish making this dessert before the oven has finished pre-heating. This is my favorite "Go To" dessert whenever we are having company over.
I received samples and compensation for this post.
Affiliate links are used below. All opinions are my own.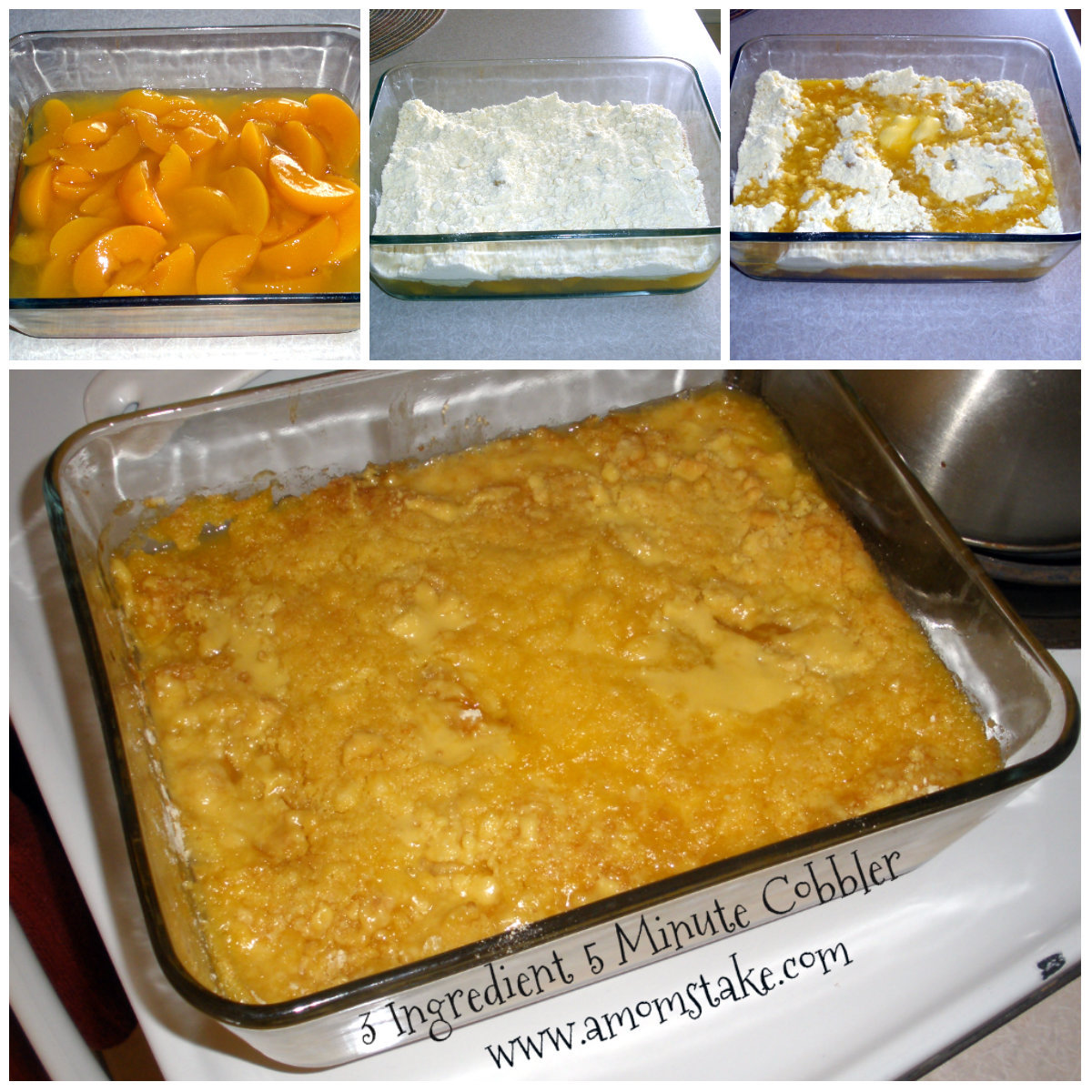 How to Make a Peach Cobbler with Cake Mix
This has got to be the easiest recipe you'll ever try. By making a peach cobbler with cake mix, you get all the  yummy flavor and literally no difficult steps!
Step 1: Start by pouring a large can of peaches in the bottom of your 9×13 casserole dish. You want to include all the juices, just dump the whole can.
Step 2: Sprinkle a bag of yellow cake mix evenly over your peaches in the casserole dish. You don't mix up the cake mix with anything else, just cut open the bag and sprinkle evenly over your peaches. So easy. You don't need to mix or stir, either.
Step 3: Melt one stick of butter (8 tbls) and then evenly distribute the butter over your peach cobbler with cake mix. The juices from the can of peaches and the melted butter will moisten the cake mix and it will turn out perfectly, again no need to mix.
Now, just bake at 350°F for 30 minutes and enjoy! I love adding a big scoop of vanilla ice cream on top of my 3-ingredient peach cobbler, but it doesn't need it.
 Cleaning up Your Peach Cobbler Recipe is Easy!
After eating this delicious bisquick cobbler, the inevitable clean-up follows. Fortunately, Scotch-Brite Non-Scratch Scrub Sponges are here to aid with the clean-up process. These innovative sponges bring a splash of happiness to your kitchen sink through bright spring colors and fun phrases.
I love cooking, but dread washing my dishes. Scotch-Brite Scrub Sponges makes washing my dishes more enjoyable. I love feeling stylish while I clean. I feel that these sponges bring a modern touch to my kitchen.
The springy colors and fun phrases bring a smile to my face. I love the fact that I don't have to worry about scratching my dishes when I use Scotch-Brite Sponges.
These sponges clean my dishes EXTREMELY well; they provide the perfect tool for removing dried food. Because of Scotch-Brite scrub sponges, I was able to remove numerous stains from my counter tops.
Scotch-Brite Printed Non-Scratch Scrub Sponges protect my dishes and quickly rid them of food. Cleaning up after cooking is no longer a concern in my home.
3 Ingredient Peach Cobbler Recipe
3 Ingredient Peach Cobbler
I often experiment and swap out the fruit I put in the bottom of the pan; pears, apples, pie filling.
Author:
Meagan at A Mom's Take
Ingredients:
1 Large Can of Peaches (or 2 smaller cans)
1 Bag Yellow Cake Mix
1 Cube of Butter
Directions:
Preheat the Oven to 350
In a 9X13 baking pan, pour peaches (including juice)
Sprinkle cake mix evenly over peaches
Melt stick of butter and evenly distribute butter over cake mix
Place in the oven and bake for 30 minutes
 More Easy Cobbler Recipes
Love cobbler? Come see our Pear Cobbler recipe next! It's a recipe based on a Bisquick cobbler that's so easy and completely different then this peach cake mix cobbler recipe. Yum-yum!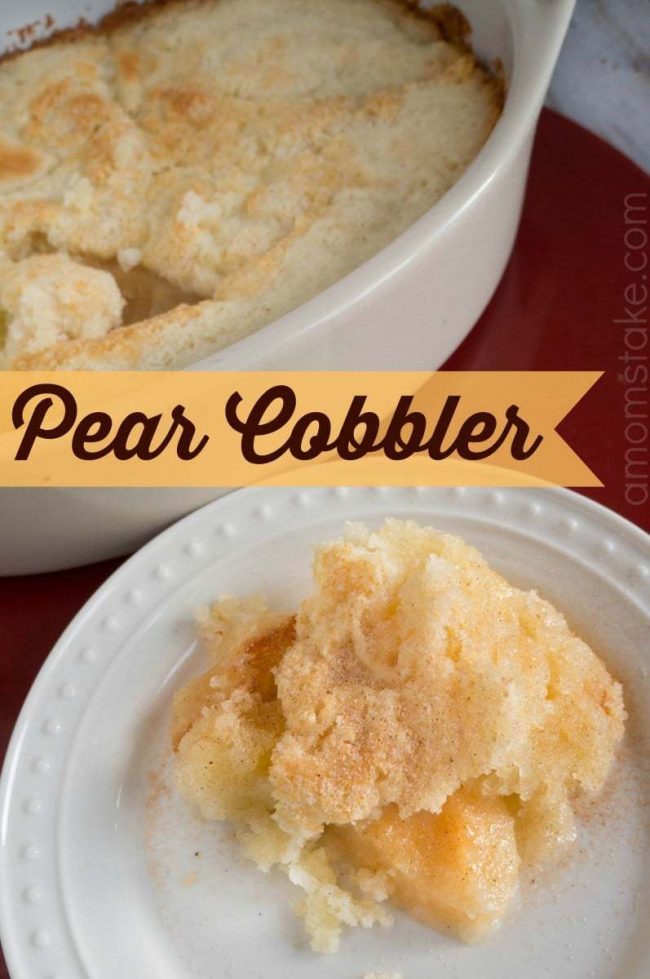 Do you love peach cobbler recipes? Share your feedback in the comments!