My home is filled with many little girls. Four little girls to be exact. I have a range of ages, I have an 11 year old (Abby), a 6 year old (Sophie), a 3 year old (Harley), and a 5 month old (Mischa). Because I am surrounded by little girls, my home has become a land of pink, princesses and baby dolls.
Baby dolls are very important to my girls. Each girl has watched the next sister come along, and have wanted to also hold and change a baby, since mom is just so mean by not letting them constantly hold the real baby, or put her in a tiny stroller and push her around the house. A baby doll gives my girls the "mommy experience" they really want to have.
I have many types of baby dolls in my home. Cloth and vinyl, hair and no hair, clothes you can change, and clothes sewn on. My little girls play the most with dolls that they can change the clothes, brush the hair and their favorite…take in the bath!
My 3 year old Harley is my shadow. When I decided to be a stay at home mom, it was when I had her, so we have been together a lot. She sticks to me like glue, and has been there with me throughout the days since I had my newest little girl. She also wants to be a mommy and take care of a baby. Harley was very pleased to get to be one to try out HABA Gotz Doll Maxy Aquini 16.5 vinyl doll.
Gotz Baby Doll Review
Harley loved playing with "Abbergurl" (the name she gave the doll). She loved that she could brush her hair. HABA Gotz baby dolls have hair that can be washed, styled (even with a curling iron or blow dryer on low settings!) and brushed.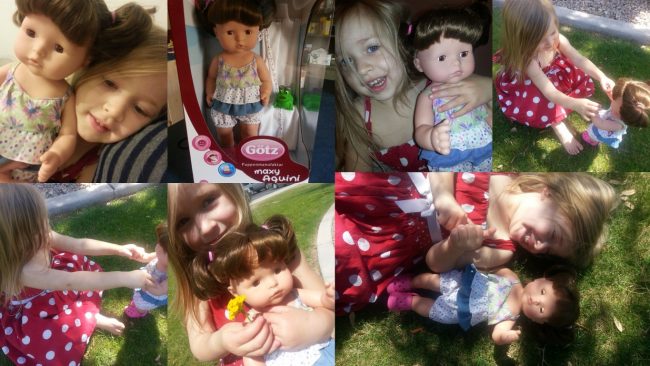 That part absolutely amazed me. Dolls with hair usually can't have their hair brushed because it pulls out. A company secret keeps the hair of the HABA Gotz dolls locked in and prevents snarling.
Harley favorite part of all was that Abbergurl could go in the bathtub with her. She absolutely loves to take baths, and is usually very disappointed when her dolls can't enjoy the experience. But, the Maxy Aquini is 100% waterproof.
She's made to go in the water, get her hair washed and be there to have fun. She even comes with a froggie squirt toy and a doll sized towel. When the baby doll is all dry, she has the cutest outfit to put back on and adorable pink sandals to match.
Harley just loves playing with the doll, and I can tell it can stand up to rough play a 3 year old will give her.
About the Gotz Baby Doll Line

In 1950, Marianne Götz handcrafted beautiful dolls while her husband, Franz Götz, would sell them from a wagon he pulled with his bike. Six decades later, the second generation of Götz family members is still running the show; and these two prominent companies have come together to sell their adored doll line to American children ages 3 and up.
For generations, the magic of a Gotz doll was its extraordinary hair, sculptured face, trendy clothing and its soft fabric or vinyl body. Their superior quality and design still remains a favorite of doll lovers and collectors today.
You can find Gotz Baby Dolls on Amazon!
I received product samples and/or compensation in exchange for this post. The opinions expressed above are my own. Any claims should be verified on the sponsor's site. Affiliate links are included in this post.