My carpet and I have a love-hate relationship. I love my carpet's plush surface and the soft landing it provides for my rambunctious toddler. However, keeping my carpet clean and sanitary is a HUGE pain! Among the pet hair, spilled sippy cups, and dirty shoes, keeping on top of stains is quite the chore. However, using this DIY Carpet Stain Remover, my carpet has never looked better!
I received a Samsung Motion Sync Upright Vacuum in exchange for this post. All opinions are my own.
DIY Carpet Stain Remover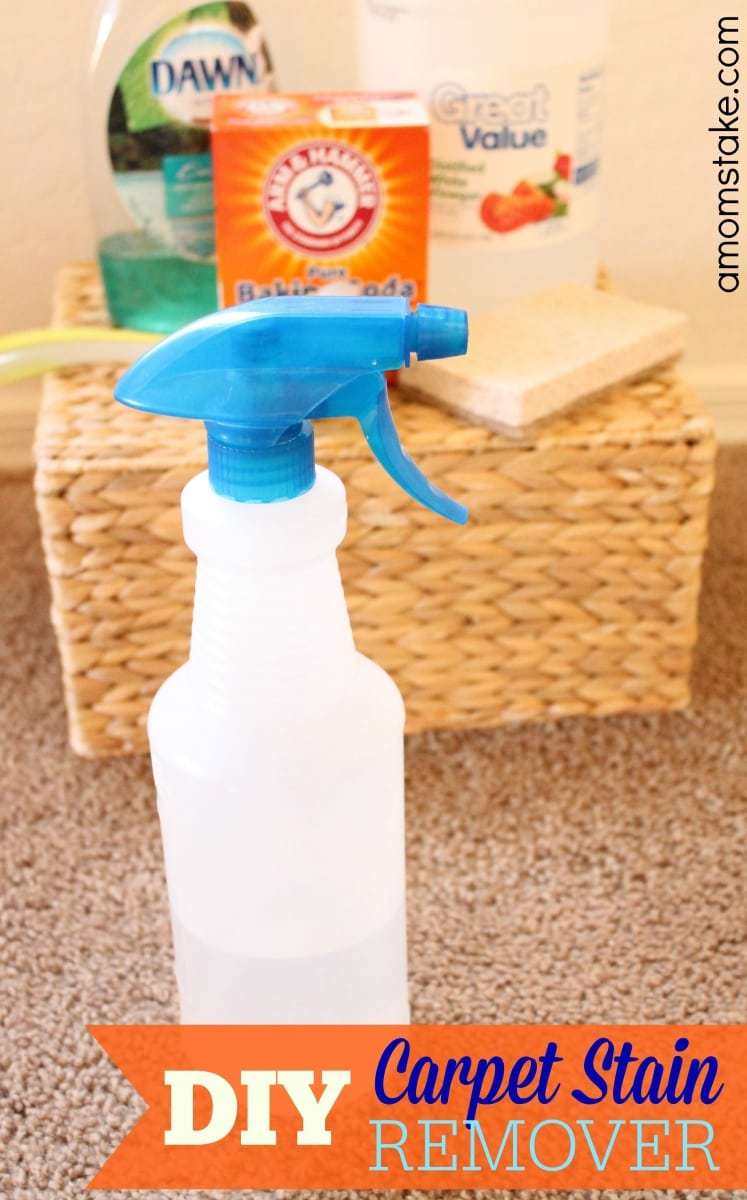 Ingredients/materials needed:
– Distilled white vinegar
– Water
– 1 teaspoon baking soda
– 1 teaspoon dish-soap
– Spray bottle
– Dish scrubber or sponge
*Be sure to test on a small area of carpet before use to make sure there is no discoloration.
Instructions:
1. Fill your spray bottle with half-part water and half-part vinegar. (I usually fill my spray bottle about 3/4 of the way full)
2. Add dish-soap to the mixture. (I love the scent of Dawn Destinations)
3. Put the baking soda in last; because of the chemical reaction, it may over flow a bit. To make sure that your solution doesn't get everywhere, do this part in the sink. Once the solution settles down, you're ready to begin.
4. Saturate your stain with your DIY Carpet Stain Remover. Allow stain to soak for 3-5 minutes. Using a dish scrubber or sponge, scrub solution vigorously into carpet. After a few minutes, rinse with a damp rag (preferably warm water).
5. Allow spot to dry completely to view your nice clean carpet. Repeat process if necessary.
I'm not lying when I say that my carpet has never looked better; just check out the before and after photos. This DIY Carpet Stain Remover took out a grease stain (left by the repairman), sticky fruit snacks that were stuck in the carpet, and muddy paw prints. Although it's important to spot treat your carpet, that's just part of the carpet cleaning process. In order to establish clean and sanitary carpet, a reliable vacuum is a must.
Looking for such a vacuum? You've got to check out the Samsung Motion Sync Bagless Upright Vacuum with Fully Detachable Handheld (Titanium Silver); by far the best vacuum I've ever used. This Samsung Vacuum's 9-cyclonic chambers provide excellent suction; the proof is in the debris collected during each use. It picks up everything. I'm not joking when I say that I have to empty the vacuum every 1-2 vacuum sessions – that's a sign of a great vacuum! In fact, I decided to do a little experiment of my own to test this vacuum's suction. After vacuuming with my normal vacuum, I decided to run my Samsung over the exact same area. Check out all of the dust, fuzz, and hair that my Samsung collected that was left behind by my other vacuum (this was JUST from my family room). So glad that I now have a vacuum I can rely on.
The flawless transition from carpet to hard floors is just another reason why I love this vacuum. Not to mention, the swivel technology is to die for. With such easy maneuverability, there isn't anywhere this vacuum can't reach. The reach on this vacuum is also apparent with its ability to clean right up next to the wall – goodbye dog hair and dust! Perfect for furniture or cleaning out the car, this Samsung Vacuum's hoseless detachable handheld vacuum helps you clean all of those hard to reach places. What more could you ask for in a vacuum?
Achieving clean carpet has never been easier thanks to the Samsung Motion Sync Bagless Upright Vacuum ($449). Be sure to visit Samsung for more product information.