Did you know that you can use freezer paper to transfer an image to a piece of fabric and make something custom really easily? This DIY Pillow was made with a freezer paper image transfer, I can't wait to show you how you can make your own designs!
Items Needed:
Card Stock
Ink Jet Printer
Fabric (Canvas and Cotton Work best)
Image of choice
Tape or glue
Directions:
Cut a piece of freezer paper to 8.5″ by 11″, or use the already precut and sized freezer paper made for printers and glue or tape it to your card stock shiny side up. The cardstock will help stabilize the freezer paper so it doesn't get jammed in your printer or smear the ink when it doesn't pull properly from a slippery sheet of freezer paper.
Place into printer so that your image will be printed onto the freezer paper.
If you want to make your pillow like mine, you can grab the free Love <3 Printable here! Just click that link or the image below to view the image full size to save or print the image.
Now, set your printer settings to print your desired image in reverse or mirror image, depending on the type of printer. You want words especially to be in reverse, as the image will be flipped again when it transfers.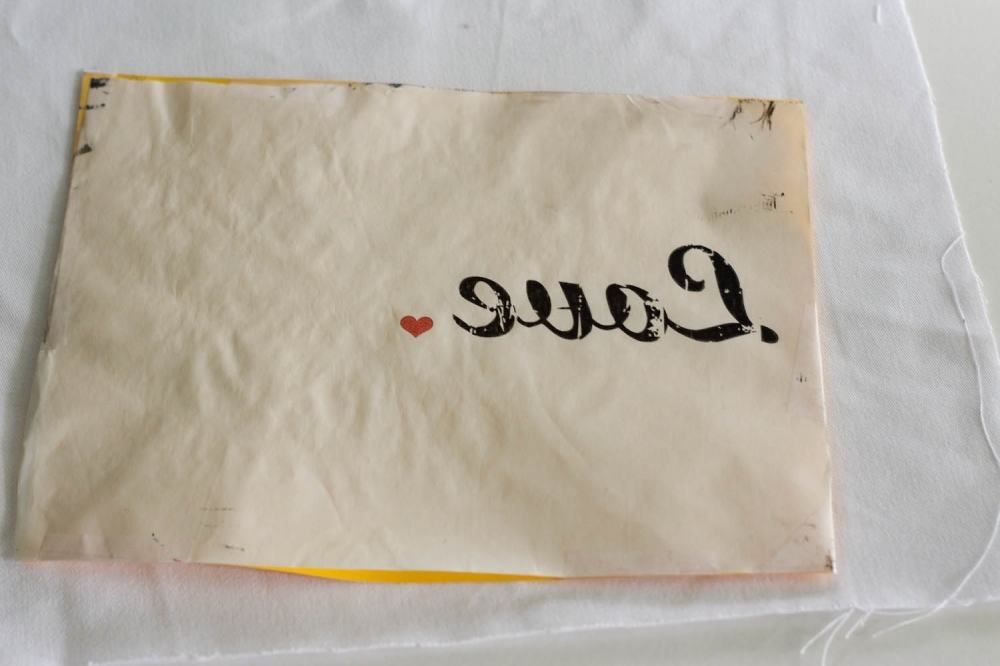 Once the image has printed, place your freezer paper directly on your fabric. Use an iron on a hot/dry setting and iron the image on well. Be careful not to peep while you're ironing, as you can misalign your image and mess up the design. Try hard to be patient and let the iron do it's work transferring your image.
Carefully remove the freezer paper. Set the ink by placing your fabric in the dryer for 10-15 minutes before washing.
The design possibilities are endless! This design is a really simple easy word, but it looks great on a pillow! Try images, words, monogramming, or even a custom design for your kids t-shirts or bedrooms.
What will you make with a freezer paper image transfer?