I received a Target gift card to shop for ingredients as well as StarKist and Flatout samples in exchange for this post. All opinions are my own.
I love simple and easy dinner recipes, they just make life so much easier! So, when I received a challenge to create a recipe using flatbread and tuna, I knew right away what I wanted to do. I wanted to make something that would be great for lunch or dinner and that the kids would love. Of course, it had to be quick to put together also. So, I thought of one of my kids favorite meals that we haven't had a lot recently. I came up with this spin on a classic grilled cheese sandwich. I'm calling it a Double Cheese Tuna Melt Recipe!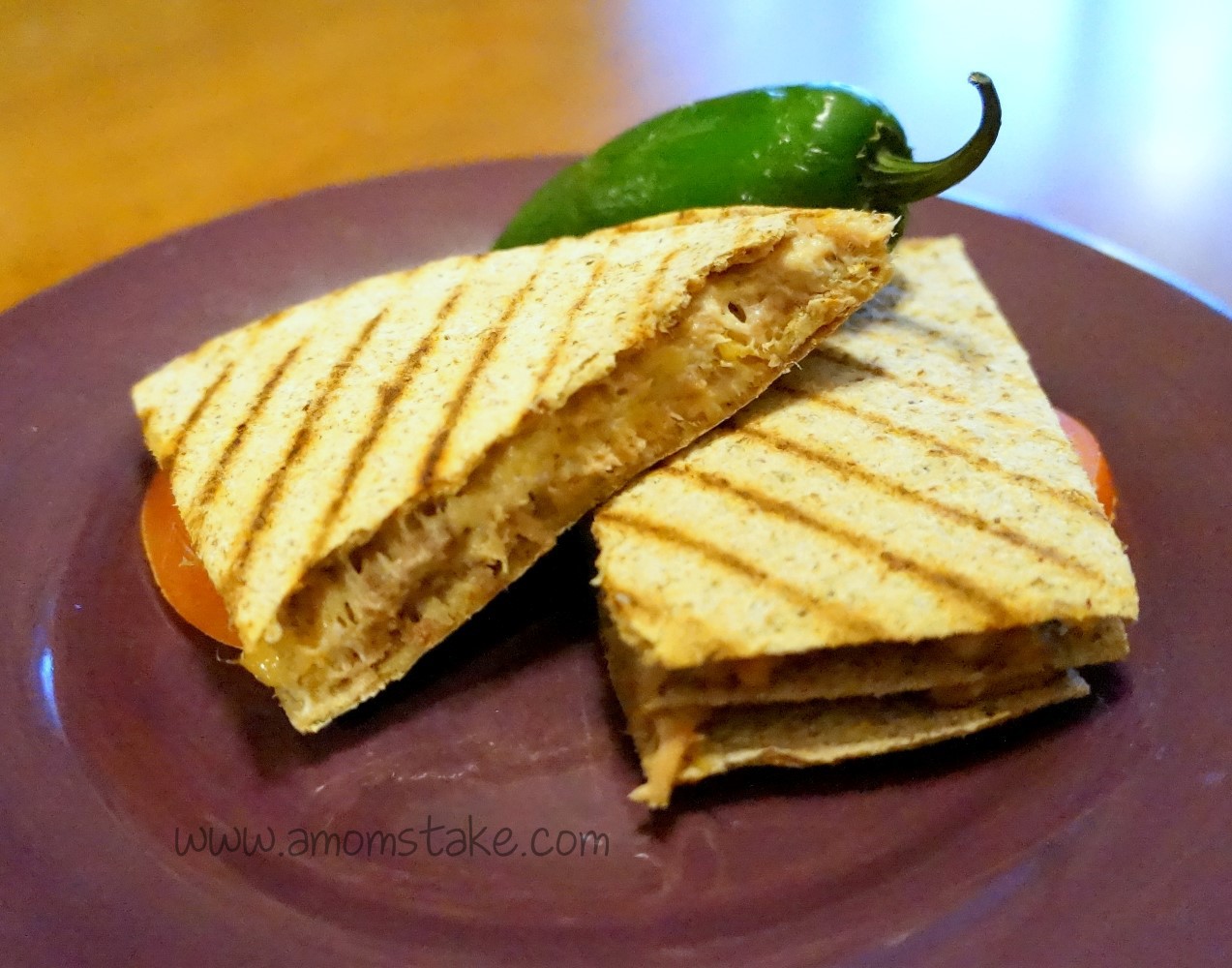 Flatout flatbread is launching at Super Targets and to celebrate they have partnered with StarKist to offer a Buy One Get One free offer! Now through October 14th, when you buy Flatout at Super Target, you can get a free pouch of StarKist! Perfect for making your own winning lunch combos or trying out my Double Cheese Tuna Melt recipe! Flatout has even shared some winning recipes to get you started including Sweet & Spicy Tuna Wrap and Buffalo Tuna Thin Crust Pizza recipes!
If you'd like to give my recipe a try, let me show you how easy it is to make. Start by combining a few simple ingredients into a small mixing bowl including StarKist Tuna Creations, a dab of mayo, a cup of cheese, and an ounce of cream cheese. If you don't have cream cheese with the pre-measured lines, add about 1/3 a cup. This is also the perfect time to add in a kick of spice! My kids don't like anything spicy and since my husband was traveling this week, I left out the jalapeno when I mixed up the recipe for our dinner.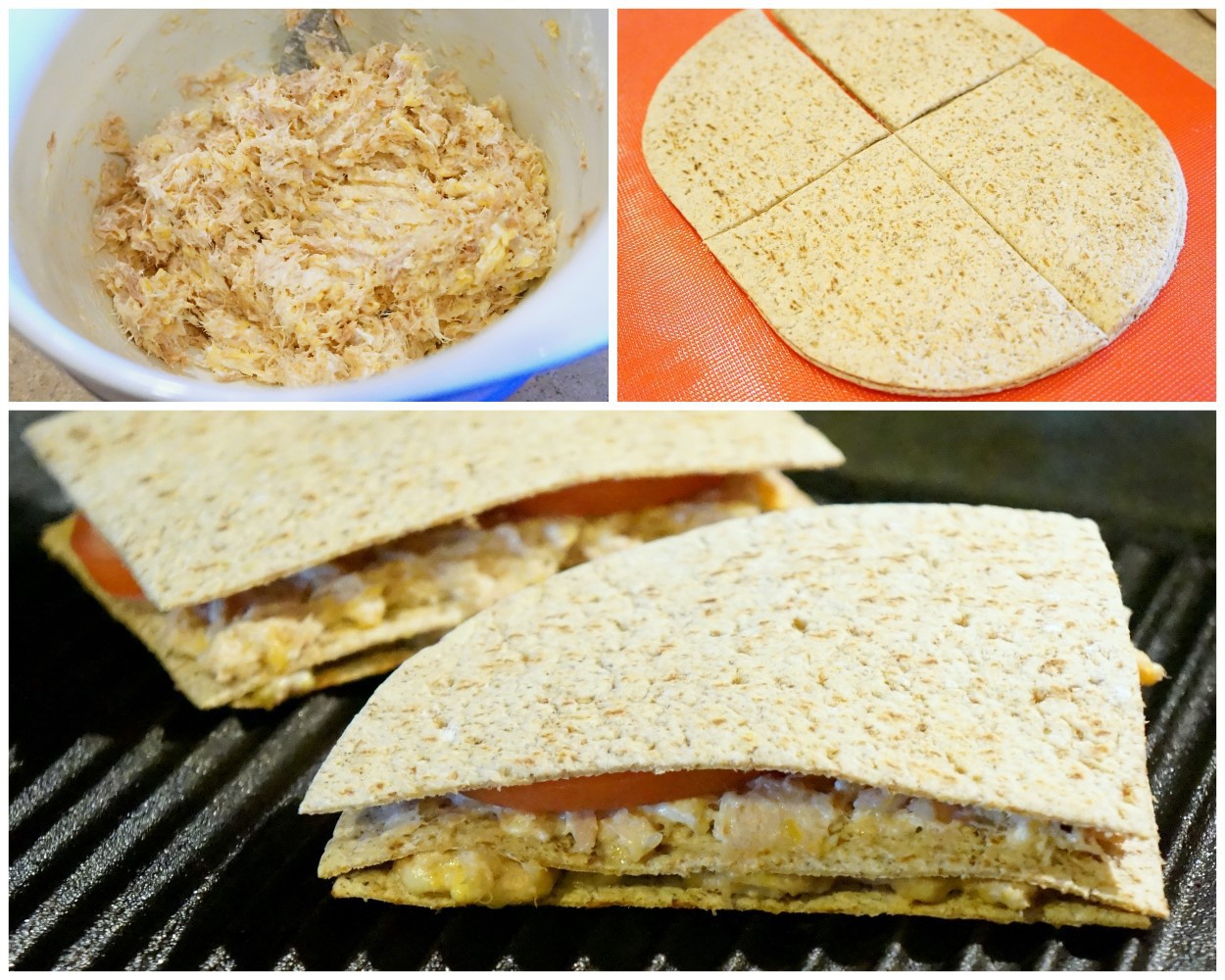 Next, stack three slices of Flatout Flabread onto a cutting board. Because the bread is thin and soft, it cuts really easily with a pizza cutter and having them stacked will keep all your pieces really close in size when assembling them later in layers. Cut the flatbread into equal quarters with three slices remaining for each quarter. These slices will form layers for your sandwich.
Next, turn on your stove top to a medium heat if you have an electric burner so it can warm up a bit and put a cast iron pan on your stovetop to cook with, if you have one. Using cast iron will let you avoid any butter and it will cook beautifully! I used a grill pan but you could use a cast iron frying pan or a traditional frying pan and that would work fine.
Finally, add your tuna/cheese mix onto both the first and the second layer. Then, top with two thinly sliced tomato slices and the top piece of flatbread. Cook for a couple of minutes per side until your bread gets lightly golden and the cheese is melted. Now it is time to enjoy your tuna melt!
Double Cheese Tuna Melt Recipe
Double Cheese Tuna Melt
A twist on this great classic gives you a creamy delicious sandwich!
Ingredients:
2 packages StarKist Tuna Creations Herb & Garlic
3 slices Flatout Flatbread
1 cup shredded cheese (cheddar or a blend)
1 oz cream cheese, softened
2 tbls mayonnaise (or substitute in a low-fat Italian dressing)
Half a tomato, thinly sliced
1 tsp diced Jalapeno, optional - will make your sandwich spicy!
Directions:
Combine into a small mixing bowl your tuna, cheese, cream cheese, mayo, and jalapeno if using.
Stack three pieces of Flatout flatbread on a cutting board. Use a pizza cutter to cut through your stack of bread in half and then half again creating four quarters with three slices each.
Heat up a cast iron grill or frying pan on your stove to a medium heat.
Layer your tuna and cheese mix on top of your first and second slices creating layers with flatbread, tuna, flatbread then tuna. Add two sliced tomatoes then top with your final flatbread piece.
Grill or fry your sandwiches for a couple of minutes on each side or until lightly toasted and your cheese melts.
StarKist's Tuna Creations liven up any meal with already seasoned easy to serve tuna, all 110 calories or less! You will be able to find them in the canned fruit aisle at Super Targets. Enjoy your tuna with a slice of Flatout Flatbread that is low in fat and a good source of fiber! Flatout will be available in the bakery section.
Pair this recipe with a yummy Roasted Veggies Salsa!