Decorating a Gingerbread House is one of the holiday traditions many families look forward to each year. The key to a great creation is using a Gingerbread House Icing that will hold up your decorations and act like a glue easily adding your decorations to the gingerbread house.
We've tried regular icings and frosting, others just won't do. This recipe for a super hold icing works perfectly for decorating your Gingerbread House!
Affiliate links are included below.
Gingerbread House Super Hold Icing
Ingredients: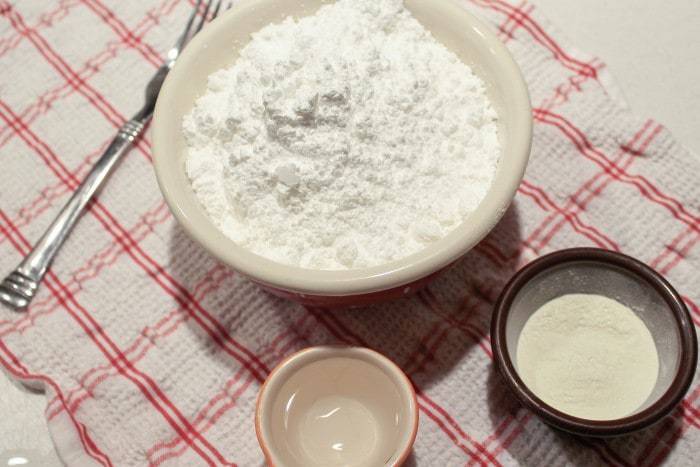 Directions:
This recipe truly couldn't be any easier! You may not readily have meringue powder available, but pick some up! It's inexpensive and is great for baking! Of course, we use it every year in our icing for a gingerbread house.
It's also used in a royal icing recipe for decorating soft sugar cookies, if you want a harder more decorative frosting that's not as sweet.
To start this recipe, all you need to do is combine powder sugar and meringue powder in medium bowl. They are both powders, so just whisk it together with a fork while dry. This just helps to distribute the powders evenly.
That meringue powder is our secret weapon that helps to thicken and harden the frosting as it sets up. It will stay pliable and spreadable while the kids are decorating those gingerbread houses, but then setup firm for display!
Next, start by adding 1/4 cup water and mix well with a fork until well mixed. It whisks together really easily, so I really just use a fork or have the kids mix the gingerbread icing together! They love to help.
If you decide to make a large batch for a big group, you can use an electric mixer to make the icing sugar on a low speed. But I really love the simplicity of making it in batches right when you want to use it so it doesn't firm up to a thick consistency on you while decorating.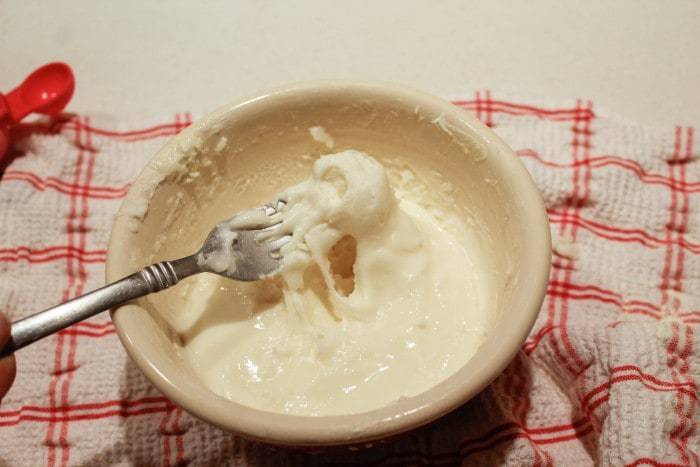 If mixture is crumbly add water 1 tsp at a time to thin mixture to proper consistency. Mix well after each tsp. Mixture should be sticky not runny. If too much water is added you can add powder sugar in small amounts to absorb excess water.
When you have the consistency just right, you'll load the royal icing for gingerbread houses into a piping bag. Usually, we'll just use a freezer ziploc bag and snip off the corner. Start with a small'ish hole. You can always cut it a little bigger if needed. You only need a little icing to help stick the candies or the sides of the house stick together.
Now, you'll just squeeze from the back end of the piping bag or pastry bag to dispense icing onto the gingerbread house sides as you put together the graham cracker side pieces, extra crackers for the roof, and stick on all your favorite candy varieties!
You can make different colors, also, but we really love white best. Just mix in a drop or two of food coloring and mix well to change up the color of your perfect gingerbread house icing!
Keep in mind, the frosting will dry in 4-6 hours and be fully set overnight. You can use and touch the frosting while you work, but when they're done try to keep hands off for a few hours while everything cements into place!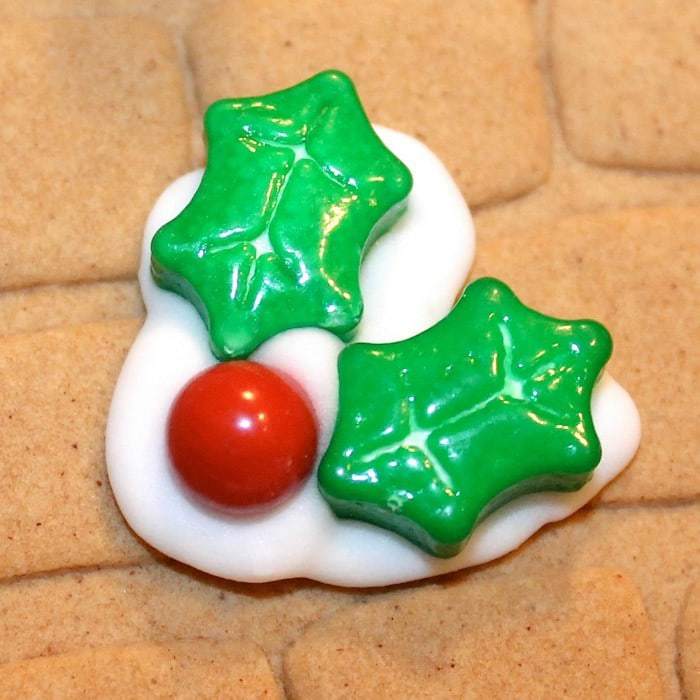 Once you're icing is ready, now the fun can begin! Pull out all the candy varieties and let the kids have a blast decorating their own dream candy houses. Let them sit out on display through the holidays, or gobble them up throughout the season.
We LOVE using these adorable Candy Christmas Lights on our gingerbread houses! The holly leaf and berry candies always REALLY pop on the house, too! You can't go wrong no matter what candies you choose, though.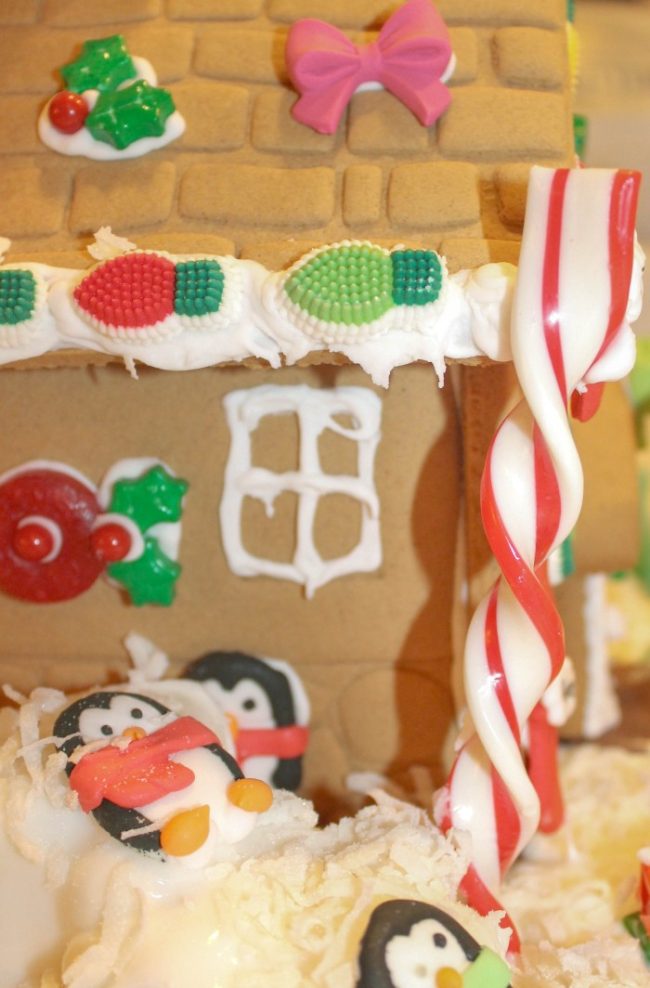 *** Continue to our printable Super Hold Icing for Gingerbread House Recipe card below! ***
Gingerbread House Decorating Contest!
One of our favorite traditions, that's gaining popularity on social media, is having everyone create their own gingerbread house creation. Then, post pictures of each of the houses with a number and have your friends and family vote on which one they love best!
The kids love competing against mom and dad, siblings, even their cousins as they hope to be named the best gingerbread house! And since this icing for gingerbread houses couldn't be easier to make and use, they love decorating and picking out all their favorite candies to add to the scene.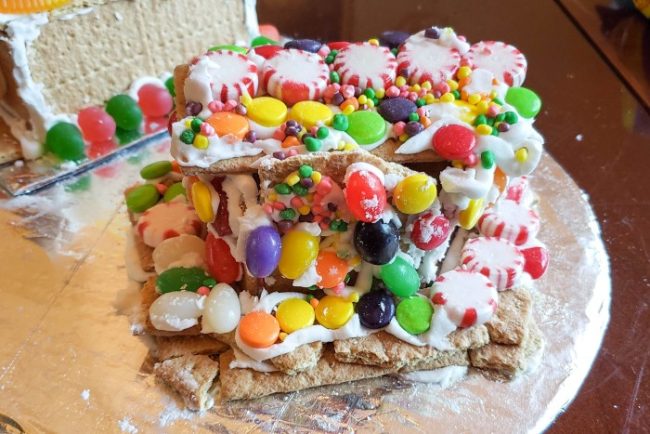 This is how one of my son's gingerbread house's turned out last year. Clearly, it's a winner! 🙂
In a pinch, you could always resort to a premade gingerbread cookies kit. They can be useful for younger kids as the gingerbread is usually stronger than just using graham crackers and they have some candies already included. They'll work great with our frosting added as they never come with enough (and I don't love that included icing!!).
Gingerbread House Candy Ideas
Are you stumped of what perfect candies to add to our selection for decorating a gingerbread house this year? No worries! We'll get you brainstorming with this massive list of some of our very favorite candies.
Plus, I'll put another one of our gingerbread house creations right here for some added inspiration on how to get creative and have fun with this beloved Christmas tradition!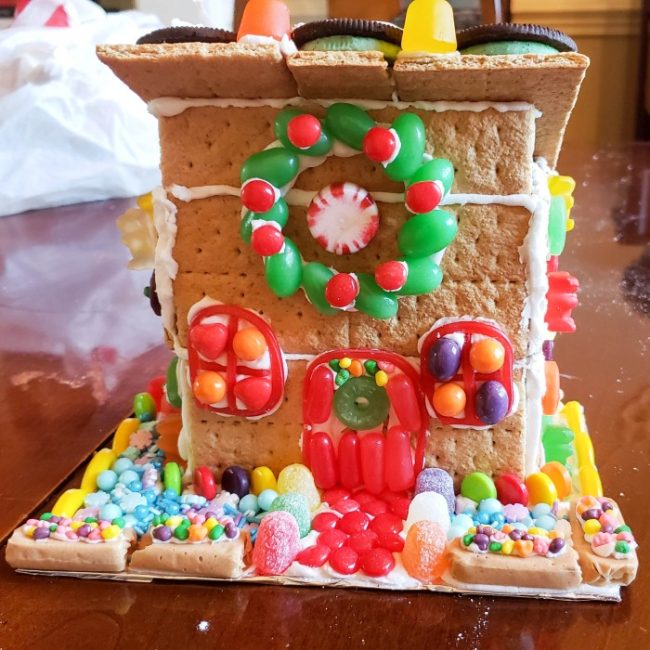 Genius Clean-up Trick
(Before you start!)
And — for a genius clean-up trick! Give each family member a cookie sheet, baking sheet, even a cutting board or a sheet of parchment paper in a pinch will do. Just place that on their work surface to help contain all the candies, extra frosting, and make it easier to move their houses, when needed.
More Popular Christmas
Content You'll Love
The nativity skit is our #1 most popular Christmas post!! I absolutely love seeing how many people this post has reached. But we have other fantastic Christmas posts you don't want to miss! We're sharing our other favorite and most popular holiday ideas, printables, and recipes here! Please take the time to visit some of our others posts while you're here.
Free Christmas Printables: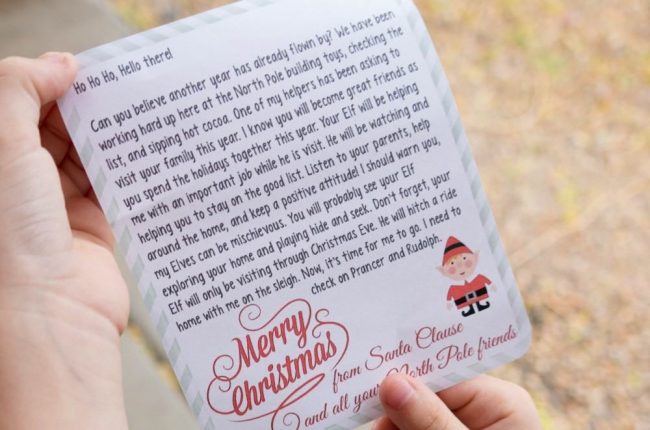 Christmas Activities: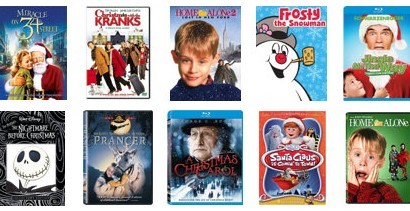 Christmas DIY & Gifts:
Top Christmas Recipes: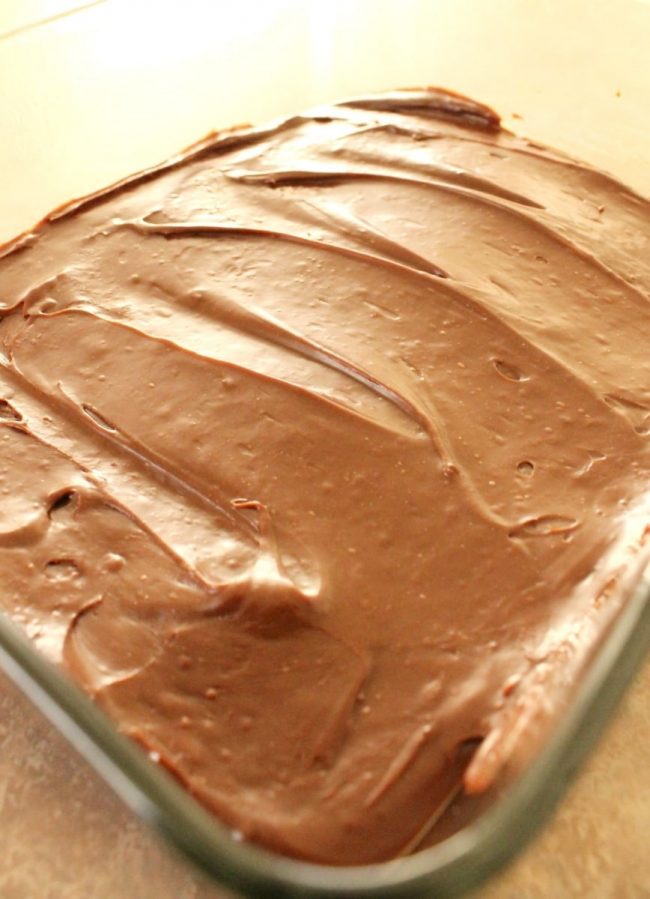 Super Hold Gingerbread House Icing Recipe
We really appreciate your visit to our site! Stick around for wonderful content and resources for families with kids activities, recipes, printables, and more! You can save or print the gingerbread house icing recipe right here. We'd also really love if you'd come back to rate the recipe!
Super Hold Gingerbread House Icing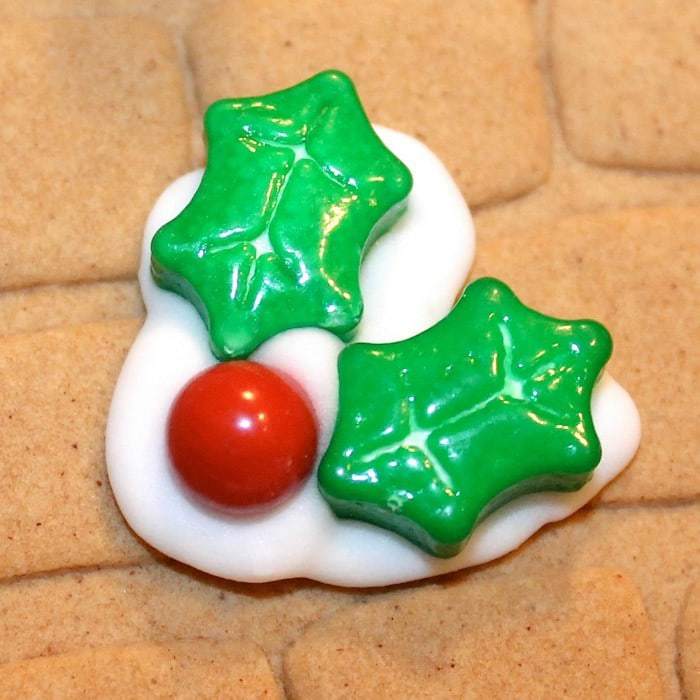 This recipe for a super hold icing works perfectly for decorating your Gingerbread House! We've tried regular icings and frosting, others just won't do.
Ingredients
2 1/2 cups powdered sugar
2 tbls meringue
1/4 cup water
Extra water, as needed
Instructions
Combine powdered sugar and meringue in a medium bowl.
Add 1/4 cup of water and mix well with a fork until well mixed.
If mixture is crumbly, add water 1 tsp at a time to thin mixture to proper consistency. Mix well after each time you add water. The super hold gingerbread house icing should be sticky and not runny.
* If too much water is added, just add more powdered sugar in small amounts to absorb excess water.
Place frosting in piping bag or freezer bag and snip corner to use as a piping bag.
Notes
Frosting will dry in 4-6 hours and be fully set overnight.
I hope you and your family have an absolutely wonderful holiday season filled with fun memory making, Christmas traditions, and quality time spent enjoying each other's company!
What are your favorite candies to use on your Gingerbread Houses?