One of the things I love about Christmastime is the opportunity to thank and appreciate others around you. It's fun to plan gifts for our neighbors, my boys teachers, co-workers, friends and acquaintances that may not be on my full Christmas shopping list but that I am still thinking about at this time of the year.
This year, we're delivering colorful wrapping paper neighbor gifts to celebrate the season and skip the baked goods!
This is a sponsored post, I am a Sears blogger, though all opinions are my own.
Wrapping Paper Neighbor Gift
You'll Need:
Rolls of wrapping paper
Tape
Holiday ribbon
This year, we shopped for our wrapping paper at Sears. They had these beautiful foil wrapping paper rolls with prints I loved! They are modern but still feel holiday and with fresh colors that will give variety to wrapping presents this year.
Once home, I made these adorable Wrapping Paper holiday gift tags! You can download a free copy to make your gifting even easier this year!
Click here to download FREE Wrapping Paper Neighbor Gift Tags
Once I had all my rolls of wrapping paper and other supplies gathered, it was as easy as lacing ribbon through the tape dispenser and tag and tying to secure. Add one spot of tape around the back side to secure the ribbon in place. Then, curl the ribbon with the edge of a pair of scissors and you're done!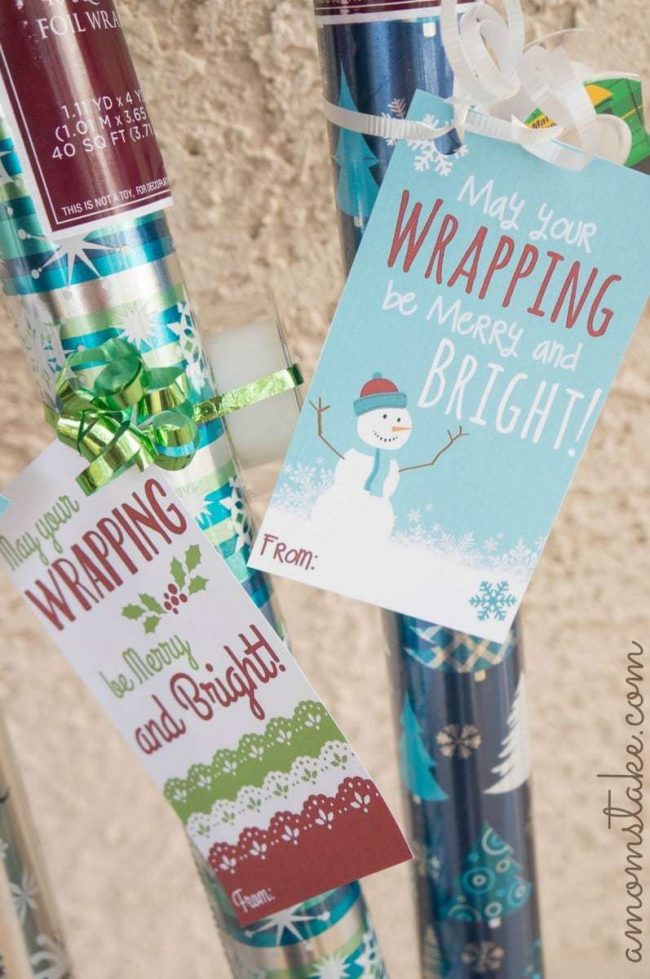 While at my local Sears store, I picked up a special gift for someone who is always, always reaching out to help anyone he can. He is the first to show up to fix a broken faucet or help an elderly neighbor with a TV that isn't working. For such a handyman, I spied this Craftsman 20-piece ratcheting wrench set and knew it would be a perfect gift for him.
Sears has a newly updated app that lets you add coupon offers, earn rewards, and even shop right in stores! You can use the Sears app to order, then pick-up your order from your car without even unbuckling! I was thrilled to see a bonus $4 in rewards show up on my app while in my local Sears store and a banner that offered me free shipping on any order I placed online while I was in stores! With Sears, you can always skip the shipping fees on your online purchases. Just have your order delivered to your closest store and you won't pay any shipping charge.
The Sears app even let me load up a coupon to save on my tool purchase while I was in the checkout line! How cool is that!! Seriously, I was saving money I definitely would have spent anyways as I didn't walk into the store with any coupons in hand. Check out the app at Sears.com/mobile! If you ever shop at Sears, it's a must have app.