One of the things I love about Christmastime is the opportunity to thank and appreciate others around you. It's fun to plan gifts for our neighbors, my boys teachers, co-workers, friends and acquaintances that may not be on my full Christmas shopping list but that I am still thinking about at this time of the year.
This year, we're delivering colorful wrapping paper neighbor gifts to celebrate the season and skip the baked goods!
Wrapping Paper Neighbor Gift
You'll Need:
Rolls of wrapping paper
Tape
Holiday ribbon
I like to pickup my wrapping paper gifts at a local Dollar Store. They have a huge assortment and it makes it affordable for gifting to all your friends and neighbors!
If you're only gifting to a few friends or have more room in your budget, my absolute favorite place to buy wrapping paper is Sam's Club! The rolls last an eternity (usually 2-3 years!) and they're either double sided to add variety or foil for that special holiday feel. They're about $7 for a roll, though, so keep that in mind when planning.
Once home, I made these adorable Wrapping Paper holiday gift tags! You can download a free copy to make your gifting even easier this year!
Click here to download FREE Wrapping Paper Neighbor Gift Tags
Once I had all my rolls of wrapping paper and other supplies gathered, it was as easy as lacing ribbon through the tape dispenser and tag and tying to secure. Add one spot of tape around the back side to secure the ribbon in place. Then, curl the ribbon with the edge of a pair of scissors and you're done!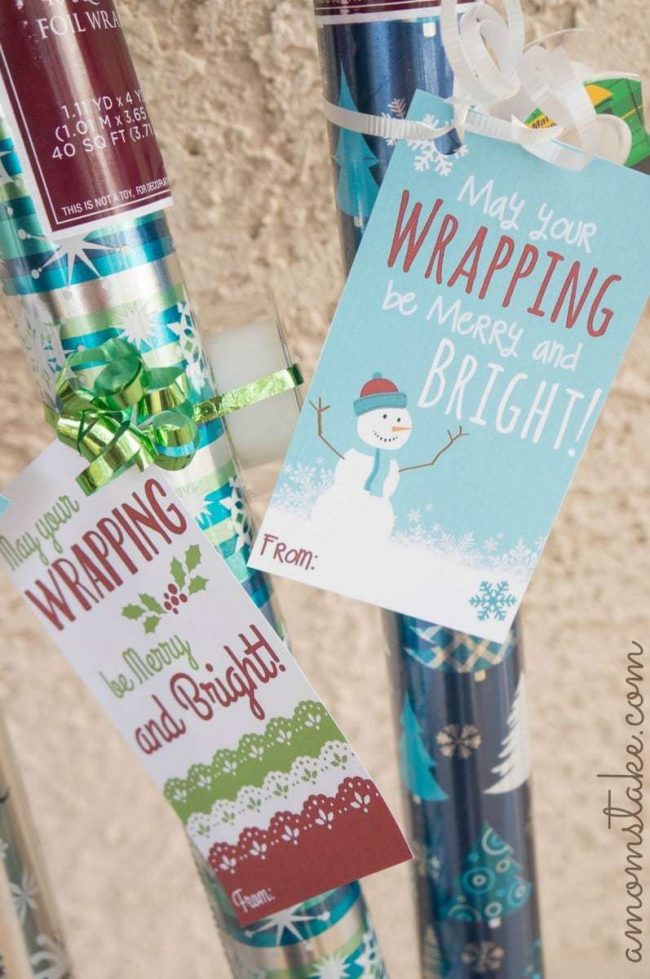 This has been the BIGGEST hit and we've continued to gift wrapping paper every other year (to keep it interesting) for the past 6 years now! It's something our friends and family have continued to comment on, even during the year.
It's hands down one one of the most memorable neighbor gifts you could give! It's useful and practical but still fun and thoughtful.
Looking for more perfect ideas for gifting to friends and neighbors? Check out this round-up post with 24 Neighbor Christmas Gift Ideas!