Are you planning a Halloween party, but not sure what to include? You'll love my list of 21 Halloween Party Game Ideas! I spent a bunch of time planning for my own Halloween party this year and came up with some super fun and easy to setup activities kids of all ages (and parents) will love!
Plus, I'm sharing a cute Halloween Party Checklist to add that extra bit of flair to your Halloween festivities.
Affiliate links are included in this post.
8 Halloween Party Game Ideas
1. Cookie Decorating
Have unfrosted sugar cookies and provide frosting, sprinkles, and other decorative toppings and let the kids decorate their own cookie to eat or take home.
I grabbed some fun Halloween plates from Walmart from their .50c plate collection that are so awesome! They had themed ones with a purple translucent color and black swirls that were so spooky and fun! I set up one at each seat so the sprinkles wouldn't get everywhere and a couple plates to hold the ready to frost cookies.
You'll also want to have some sandwich ziploc bags handy in case the children would prefer to save their cookies. Just set them aside and have them pick up their cookie when it's time to go home.
For extra fun, I also had a bowl of Vampire teeth at this table they could have for completing the cookie activity. They were a HUGE hit with the kids!
Of course, I used my grandma's Best Soft Sugar Cookies recipe! They're SO yummy!! Pair it with a powdered sugar frosting and you're set!
Excuse the Christmas Cookies picture, I forgot to get a picture of the kids decorating cookies!
2. Candy Corn Bucket Toss
For this one, all you'll need is some trick or treat buckets and candy corn! Set up the buckets on one end of the space and then leave a bowl full of candy corn on a small side table on the other side.
Let the kids toss the candy corn and they get to keep what they make in the bucket!
This one was a big hit with the younger kids and was essentially no prep!
You could also swap out candy corn for eyeball ping pongs! I found these at both Dollar Tree and at Walmart. Then, just let them grab a handful of candy corn after they play the game.
Keep in mind — these balls are bouncy! It may be a game better setup outdoors or in a carpeted area.
3. Spider Web String Maze
This one was the BIGGEST hit!! I set it up a couple days before the party as it was setup in our covered patio and out of the way until party time.
All you need is a big spool of black yard and a pair of scissors.
I started by stringing Halloween lights so that the area was well light, but not with just bright room lights.
Then, I just started weaving back and forth across the room wrapping the string around chairs, handles, furniture, and anything else I could find!
After threading one string back and forth, cut it and tie it off. You can then use that first string to loop your next line of string across to pull the strings in different directions and give you more anchor points around the room.
You can also cut short lengths of string to fill in any gaps and keep the course challenging! Just tie from one to the other and you've got an instant new web string to block open paths!
Then, the kids played this game just like they would as a secret agent dodging lasers. They weaved up and over and down below the strings.
I ended up also hanging spider rings all over the webs and let the kids take home a ring as their prize!
4. Balloon Truth or Dare
This game was SO much fun – even the adults got involved!!
Print out a list of kid-friendly truth or dare questions. Print truth questions on orange paper and dare questions on purple paper. Then, cut out the challenges into skinny strips.
Fold your question strips into 4th and slip them into the neck of the balloon.
Then, use an air compressor – if possible – to make it fast and easy to fill up your balloons! One person fills and the other person ties off the balloon.
We filled up big black garbage bags with all our filled and ready balloons and set them aside until we were ready for this activity. Then, it was easy to pull out the bags, dump out all the balloons so they were all over the party room and all the kids could pick one easily.
I used a poster board and pushed through several thumbtacks from the backside through to the front, and then taped them in place as well, just to secure them.
Then, I put the poster up on the wall and the kids were able to easily pop the balloons and all the mess ones in one spot for easy clean-up!
5. Witch's Broom Obstacle Course
The idea for this fun Halloween Party Game idea is to setup an obstacle and let the children take turns two at a time racing to the finish line.
Give them a broom and a balloon and they have to get their balloon through the course and to the end only using the broom to sweep the balloon along.
Of course, when I told my husband and boys about this party game idea, they had to transform it into an adults versus kids game!
In our version, we gave the kids a variety of fun objects to use including camping pads and scooter boards and told them THEY were the obstacles!
Without using their hands, they had to try to keep the balloon away from the finish line while the parents would do their best to work their way through the children and get their balloon to the end.
It was SO funny and lots of fun! Since we had a big group, we split up the kids into smaller groups as obstacles for their parents, so it wasn't 30 kids versus 2 adults!
My pictures are terrible as it was dark and everyone was constantly moving, but hopefully it'll give you an idea to spur your own obstacle course game!
6. Monster Mash Dance Party
Don't forget some good tunes for your party! Put on some fun Halloween music and let everyone dance.
I just asked Google to play a Halloween Party Music playlist on Spotify and it worked great! One playlist was little kids nursery songs turned to Halloween lyrics that the littlest kids absolutely loved, and then we switched over to more general Halloween tunes.
For a fun challenge, task each family with creating a 30 second "Monster Mash" dance routine! Then, have a dance competition!
7. Pumpkin Photo Booth
Setup a station on your doorstep or somewhere in your party with a pile of pumpkins that families can use to snap a photo in costume!
In a pinch, you could also use a dollar store backdrop to create a photo booth! Include funny costume props, if you're not doing a costume party.
This year, we got an adorable new Halloween Pumpkin Photo Booth Inflatable from Amazon. I absolutely love it!! The kids can stand behind the pumpkin and parents can take photos from the front side.
We lined it up in our yard so we captured some of our other fun inflatables as well.
One extra tip, is use a colorful plugin light to help set the scene and ensure their faces can be seen, even when it's dark out.
8. Haunted House
The absolute highlight of our Halloween Party was the kid-created Haunted House!!
Recruit all of the older kids to create a Haunted House! This will give them a collaborative task to work on and help you focus on the younger children that need a little more help with your other party activities.
We used our garage and a pile of moving blankets, boxes, and random Halloween supplies and it was a big hit!
Our kids made a short path to weave through from the side garage door and then into the house.
They used a fog machine and Halloween spot lights to really create the scene. Make sure you crack the bottom of the garage door open if using a fog machine, we started with only open a couple inches, and then increased it to about a foot and it helped manage the fog.
Then, the kids were the characters throughout to be spooky! They did such an AWESOME job at their Haunted House and the kids loved going through the Haunted House over and over.
13 More Halloween Party Game Ideas
These 8 above were the ones we settled on for our own Halloween party. But I had a huge list and settled on these. I was mostly looking for activities that didn't need a ton of micro management, as I knew I would be busy, busy as the host! But here are some more fun ideas, if you're looking for other activities:
Eyeball Ping Pong Tournament
Flashlight Tag
Halloween Bingo – This is a great game to include all the party goers.
Ghost in the Graveyard – One person hides, and when someone finds the ghost, all other players have to run back to the base before being tagged. (The finder is safe!)
Group Spooky Story – Sit in a big circle and one person starts with one line of the story. Continue around the circle with everyone adding the next part of the story.
Massive game of Telestrations – Use Halloween words and spiral notebooks and watch the hilarious picture telephone game unfold.
Murder Mystery
Pumpkin Painting – I would pick this one or cookies, but probably not both. Skip carving and let the kids paint small pumpkins instead! They'll last longer and be much less mess. Make sure you cover your surface!
Octopus Ring Toss – They sell adorable inflatable octopus with rings the kids can try to land on one of the tentacles. My friend brought this one and we set it up for the kids to play.
Corn Hole Toss – Set up a side game of corn hole for those looking for an activity between events.
Pin the Spiders on the Web
Halloween Twister – Just like twister, but with cute themed spaces. Extra fun while in costume!
Toilet Paper Mummy – Have a mummy making contest where groups try to make their volunteer into the best mummy ever using only toilet paper and tape.
For fun foods to include at your Halloween Party, head over to see our post with 31 Spooky Halloween Recipes!
Printable Halloween Party Checklist
After coming up with our master list of Halloween Party Game Ideas, I decided to make a printable checklist to help direct the party. I did a similar Easter Checklist of things to hunt for, and my boys still love doing that activity!
This printable includes all 8 of the main activities above. I specifically picked these activities as they take very little overall prep before party day and work for a variety of ages from littles to teens! The Haunted House is the only one you'll want a handful of older kids to pull off.
If your group will be mostly little kids, you can make the Haunted House as simple as a box, blanket, and pillow fort and they will be OVER THE MOON excited to build that together! Or, simply set up a spooky themed room in one of your side rooms ahead of time.
The printable set below includes a full page printable that can be printed poster size, if preferred. This size is great to help keep the party on track and follow through a "schedule" of sorts as you make your way through your event.
I've also included a smaller 4 per page option that can be printed out and handed out to the kids so they can make their way around your party space and visit all of the activities – checking them off as they go.
You'll also find a bit larger half sheet titles for each of the 8 activities to help you designate your party spaces with each activity to help the kids better navigate and make their way to each activity.
For the perfect spooky Halloween recipes to share at your party, head over to grab our recipe for Halloween Cream Cheese Swirled Brownies!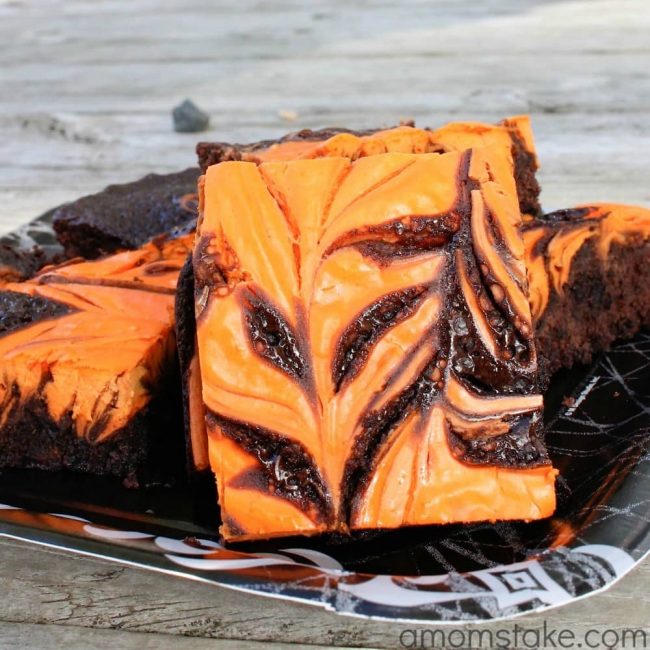 What other fun Halloween Party Game Ideas have you used in the past? Which of these ideas is your favorite?