I am just about ready to welcome my fourth little baby into this world. I find it so much fun to see how baby gear has evolved over the years since my first baby, 10 years ago. With so many gadgets and gear on the market, it can be hard to narrow down to the essentials. Here's my list of a few of my favorites!
I received samples in exchange for this post. All opinions are my own.
Get ready for the cutest baby knit jump suit you've ever seen! You've got to check out these adorable clothes from ChubbyBubbyBear. Whether you're looking for baby dresses, socks, rompers, or shoes, ChubbyBubbyBear offers a wide variety of stylish clothes for both baby girls and boys.
Browsing ChubbyBubbyBear's website, there are so many adorable options. Here are a few of my favorite: The Knit Heart Jumpsuit (pictured above), Pocket Knit Jumpsuit (a great choice for little boys), and their Ribbed Thermal Romper (an excellent gender neutral option). The fashionable possibilities are endless with ChubyBubbyBear!
Sleep is one of the best gifts every new mother exists. The Arm's Reach Versatile™ CO-SLEEPER® Bassinet allows for mom to stay within arms reach from baby while still providing baby their own safe sleeping area. Keeping the Arm's Reach Versatile™ CO-SLEEPER® Bassinet next to your bed, baby is still able to be close for feedings and comfort while still maintaining a safe space.
The Clear-Vue feature allows parents to easily see into the bassinet at any given time. I also love that the Arm's Reach Versatile™ CO-SLEEPER® Bassinet has a free standing mode and can also adjust to the height of your bed. The wheels on the legs allow for easy transportation if moved to different rooms in the house. Not to mention, the storage bin below the bassinet is perfect for baby essentials – diapers, wipes, ect. Equipped with a mattress, sheet, mobile, and music box, the Arm's Reach Versatile™ CO-SLEEPER® Bassinet is definitely a must for every new baby!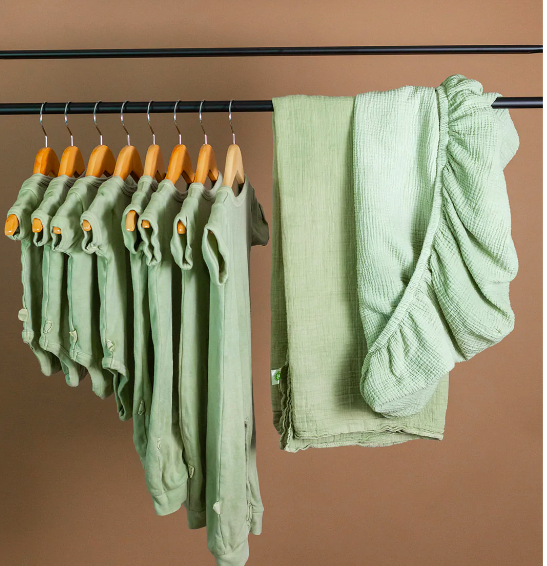 Provide your little one with amazing organic clothing and bedding products from Mercurii Baby. Whether you're looking for clothing basics, swaddles, sheets, or accessories, you can be assured absolute quality from Mercurii Baby.
Guess what? All of Mercurii Baby's products are 100% organic cotton, GOTS certified, sustainability sourced and ethnically produced, and naturally hypoallergenic. I absolutely LOVE their Dye Drop 7 Crib Sheets. The yellow Dye Drop Crib Sheets is dyed from turmeric and the pink is dyed from beets. How cool is that? With so many other cool organic products, you'll love browsing Mercurri Baby's teethers, baby mats, bedding, and basics.
I can't be the only mom that wakes up during the night just to make sure my baby is safe. If you're anything like me, you'll love the peace of mind the Eufy Baby Smart Sock s340 brings. Designed for babies 0-18 months, this smart sock alerts parents (through the base and on their phone) of baby's different health markers. The Eufy Baby Smart Sock and Monitor gauge baby's sleeping patterns, heart rate, sleeping movements, and fussiness.
Available in three different sock sizes, the Eufy Smart Sock can grow with your baby. The socks are even washable and work on both feet. The 2K camera provides parents with absolute clarity and night vision that won't wake baby. Every new mom will feel such relief with their baby using The Eufy Baby Smart Sock.
There is nothing softer and more delicate than baby's skin. That's why quality bath time towels and washcloths are so important. Thankfully, KeaBabies premium bamboo washcloths and hooded towels and created with gentle material helping protect your little one's skin.
KeaBabies washcloths come in many different gender neutral colors! These buttery soft washcloths are perfect for sensitive skin. They can also be used as face washcloths and even burp cloths! You'll LOVE KeaBabies organic bamboo hooded towels. They help absorb moisture quickly leaving your baby's skin clean, soft, and dry. KeaBabies also offers a wide variety of bibs, burp cloths, feeding tools, and sleeping gear!
I've always said that moms need one more hand! Thankfully, the Willow Go Wearable Breast Pump gives moms just that – the ability to pump on the go without having to be hooked up to tubes or wires.

Willow Go is designed for moms on the go. Simply put the willow pump in your bra and go about your daily tasks. The Willow Go Wearable Breast Pump is super easy to clean, dishwasher safe, and connects to an app to help you keep track of pumping schedules. The Willow Go Wearable Breast Pump also has a great battery life allowing moms to go 3 full pumping sessions without having to charge it. With different suction and expression modes, pumping just got so much easier. Explore more about the Willow Go Wearable Breast Pump!
With cooler weather quickly approaching, I've been looking to update my daughter's wardrobe. Thankfully, Little Bipsy provides modern clothes for newborns up to 10 year old kids! They even have an assortment of matching mommy and me options! From pullovers to windbreakers, you little one will look adorable and fashionable this winter season.
Why is it that everything tiny is so adorable? Little Bipsy's pocket pullover is no exception. I also adore their two way zipper rompers and accessories! Little Bipsy provides so many stylish options for your little one.
I don't think it's possible to ever have enough baby swaddles! Between blow outs and spit-up, I feel like my newborns go through 3-4 swaddles each day. Thankfully, Little Unicorn provides hand printed cotton muslin swaddle blankets for every occasion.
I love using swaddle blankets for more than just swaddling. They work great as carseat covers, nursing covers, play mats, etc. Little Unicorn's large sized muslin swaddles not only make swaddling a breeze, but they fold up nice and compact in your diaper bag. I also appreciate how these Little Unicorn Cotten Muslin swaddles get softer with every wash! With so many fun prints and patterns like Dragons, Farmyard, Mermaid, and Garden Bees, you can't go wrong with Little Unicorn.