Kids love to play. It is all they want to do! Guess what? That is because that is what they are supposed to do. There are several kinds of play that children participate in: solitary play, parallel play, group play.
I received samples and compensation for this post, all opinions and ideas are my own.
As adults it can seem like playing all the time can be a waste or frivolous, but playing is how kids discover and grow. In their early years, children's interactions with their peers is where they explore everything from language, cognitive ability and skills, to social connections. Children learn as they interact with others and with their toys. Providing opportunities for your child to play through discovery is crucial to their development. Having toys that they love to explore and develop with is one of the easiest ways to provide that type of growth.
VTech offers some awesome toys that aid in interactive play. My kids are lucky enough to play with them on a daily basis, let me introduce you to the Brilliant Baby Laptop™, Kidizoom® Camera Pix™ and the Touch & Learn Activity Desk™ Deluxe.
My older kids, ages four and five, can't get enough of their Touch and Learn Activity Desk™ Deluxes. They each have their own and it is so fun to watch them laugh and learn as they play with it. This 3-in-1 activity desk with interactive pages can also be an easel or a chalkboard and has built in storage for supplies and accessories.
The desk features an interactive desktop and five pages that are filled with engaging content including letters, numbers, music, colors and more. My favorite part are the expansion packs. These packs allow you, as a parent, to truly customize the way your child grows with this toy, keeping it at their personal level.
Each expansion pack comes with a cartridge that is easily inserted into the desk and four double-sided pages that fit on the top of the desk. Choose from eight expansion packs (each sold separately) that each focus on a specific curriculum like nursery rhymes, reading skills, animals and numbers. I love that my preschooler can have her own pages while my kindergartener can focus on skills that are more at his level.
The Touch and Learn Activity Desk™ Deluxe also transforms from a desk into an easel and chalkboard with plenty of storage space for art supplies to encourage creativity and learning. My kids love to spend some time each day playing at their desks.
My youngest daughter loves her Brilliant Baby Laptop™. It is geared for ages 6-36 months, and has a ton of amazing features. This travel-ready toy laptop has nine brightly colored shape buttons and a movable mouse that interact with the light-up screen. It has three different play modes. Animal mode encourages your child to learn about animals and their sounds. Music mode plays different songs, melodies, and short tunes. And shape mode explores colors and shapes. It folds up easily and my little lady loves to tote it around with the carrying handle.
With benefits like encouraging imaginative play, improving her motor skills, learning cause and effect, and language development, I am happy to let her play away on her Brilliant Baby Laptop™! She loves to make animal sounds and the different melodies always make her smile and dance!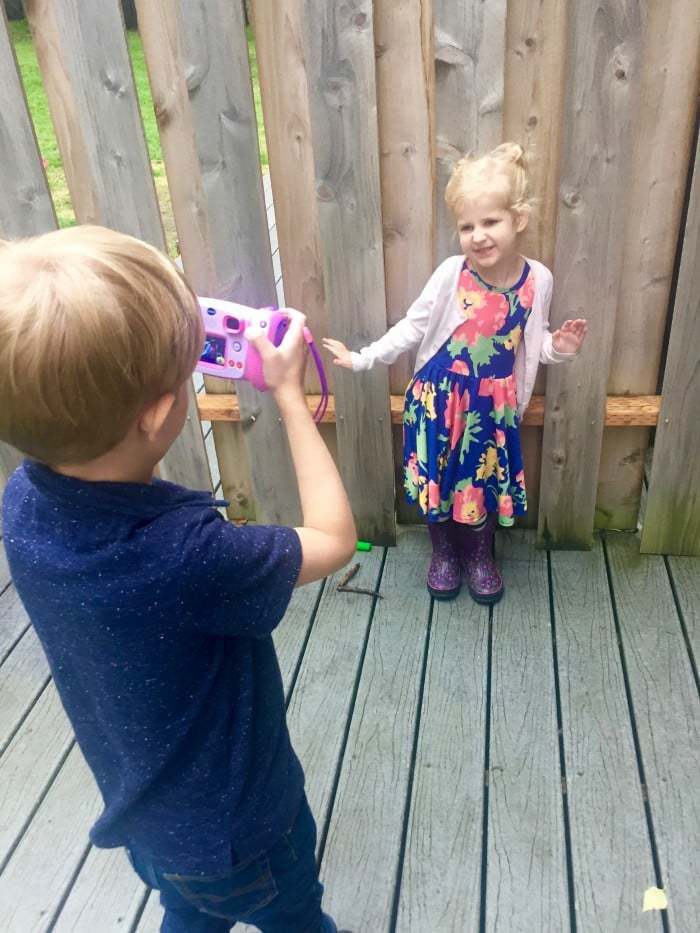 Last but not least, we have been having so much fun with our Kidizoom® Camera Pix™. My husband is a hobby photographer and just last weekend he took the kids on a picture taking adventure. They love having their own real camera to take along. One of their favorite features of the camera is the ability to add templates to their photos. They giggled all night, making it look like they were swimming under water. The Kidizoom® Camera Pix™ also has additional tech-forward features like a video recorder, voice recorder, 4 built-in games and more that add to the fun.
With kids so close in age it can be hard to find toys that they actively play with, without fighting. So far, this camera has been such a huge source of joy and entertainment, I see many more hours of fun capturing memories together.
I am so excited about this line up of toys from VTech, I love that my kids can have fun and discover while they play, and learn a few new things while they are at it!
Which one of these toys would your kids love to play with?