Summertime is calling for a delicious pie – and our fun and easy Neapolitan Ice Cream pie recipe is the perfect fit. With all your favorite flavors (and a few extras) combined into a scrumptious chocolate pie shell, what more could you want? Best of all, it's a treat that will cool you off during the summer heat.
This post is sponsored by Lunchbox. All opinions are my own.
Neapolitan Ice Cream Pie
Ingredients:
1 Chocolate pie crust
1 cup Chocolate Ice Cream
3 Tbls Chocolate syrup or fudge ice cream topping
3/4 cup Vanilla Ice Cream
1/2 cup Whipped topping or homemade whipping cream
1 cup Strawberry Ice Cream
4-5 Fresh Strawberries, thinly sliced
Directions:
We'll assemble the pie in steps, freezing between each layer. Start by adding a couple medium scoops of Breyers chocolate ice cream into the bottom of your pie shell. Use the back of your spoon or a spatula to spread out the ice cream evenly across the bottom of your crust. If you are having a hard time spreading the ice cream, allow it to soften for a few minutes and try again.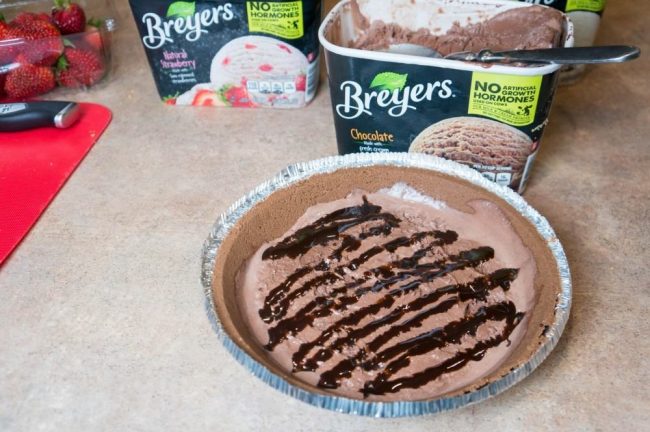 Next, drizzle chocolate syrup or fudge ice cream topping (melted so it can drizzle) over the top of your chocolate ice cream layer. Place the pie in the freezer for 20 minutes before adding the next layer.
Now, combine your vanilla ice cream and whipped topping together until smooth. The whipped topping makes our white layer extra white and adds a little something to keep each layer exciting!
Now, just smooth the white layer carefully over the chocolate layer by again dropping in medium spoonfuls across the top of the layer. Spread the spoonfuls out until you have an even layer. Return to the freezer for 20 minutes before adding your final layer.
Now, you can add your strawberry ice cream layer by once again dropping your Breyers strawberry ice cream by medium spoonful on top of the vanilla layer. Smooth out the ice cream evenly across the top of your pie. Return to the freezer until ready to serve, or top with strawberries and then freeze.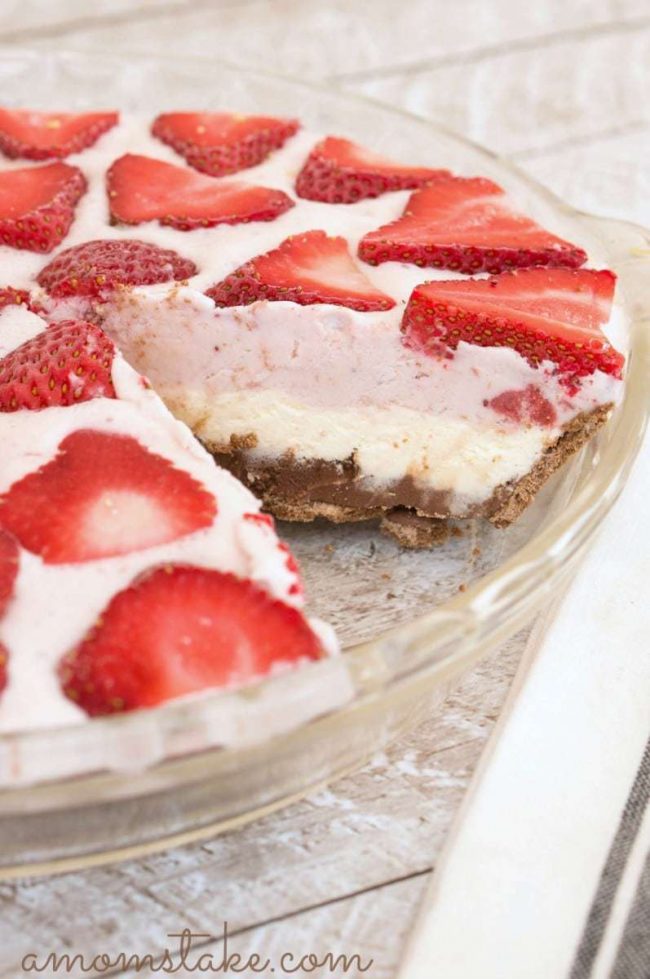 You will top the pie with your sliced fresh strawberries. It works best if you top the pie with strawberries right before serving, but it won't hurt if you freeze the strawberries for any leftovers (if you manage to have any!!) or if you know you won't have time to top the Neapolitan pie later.
Now, it's time to indulge! Grab a fork — and share if you must! It's such a fun pie that looks really neat and like you spent a ton of time, but each layer will only take you 2-3 minutes and can be done in-between preparing other meal items for your guests.
Want to save this recipe for later? Make sure you pin me!