Today is Memorial day, it's more than just a day off of work, but a day to recognize and celebrate all those who have served to protect our country. I love the patriotic holidays that remind us to be proud to be an American. To celebrate, I'm sharing this fun red, white and blue yogurt popsicles that will make a great treat for any patriotic occasion this summer.
Red, White, & Blue Yogurt Popsicles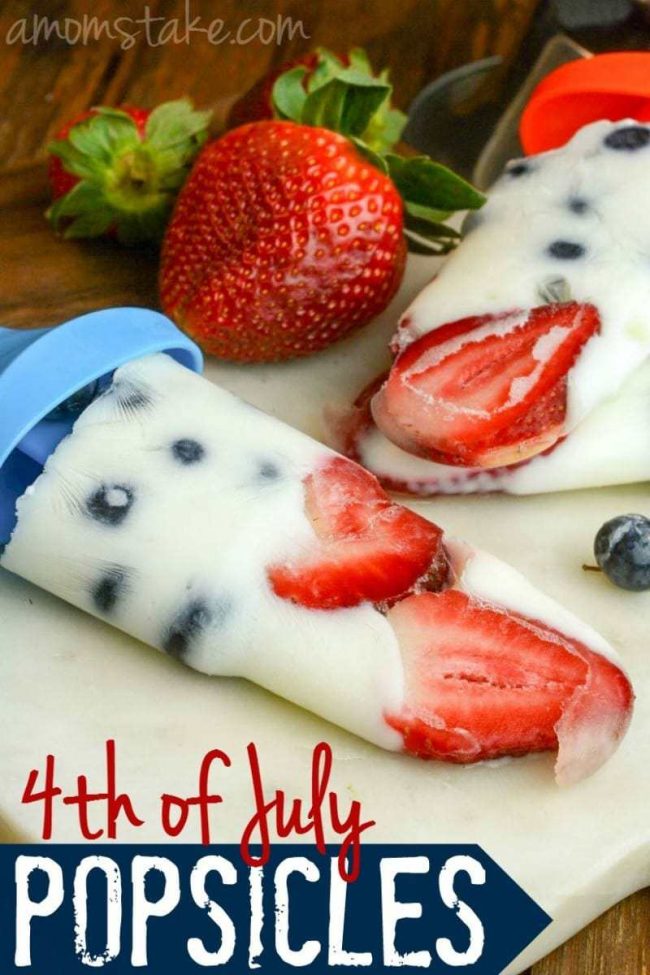 Ingredients:
2 cups plain yogurt
1/4 cup sugar
1 cup fresh blueberries
3-4 fresh strawberries, sliced
Directions:
Stir together yogurt and sugar, until combined.
Press your sliced strawberries down into the bottom of your popsicle molds. We have these funky ones with straws that are really neat!
Next, fill with your yogurt mixture. Now, sprinkle with a small handful of blueberries.
Freeze for 4 hours or overnight before serving.
This easy recipe is great as a quick breakfast as well. It will feel like a treat, when really you are serving fresh fruit and yogurt. This recipe will make approximately 4-6 popsicles, depending on the size of your popsicle molds.
It's really fun for your holiday festivities, including your 4th of July backyard barbecue! You can freeze a batch, then remove them from your popsicle molds and store in a gallon freezer safe zipper bag until you're ready to serve. That way, you can make as many popsicles as needed and be prepared for a party setting.
Pop over next to see our yummy Patriotic Layered Smoothie!