I love spring time! As the weather starts warming up the flowers begin to bloom and the birds and bunnies come out, too. These Bird's Nest Cookies are really fun for spring creating a little nest out of a macaroon cookie.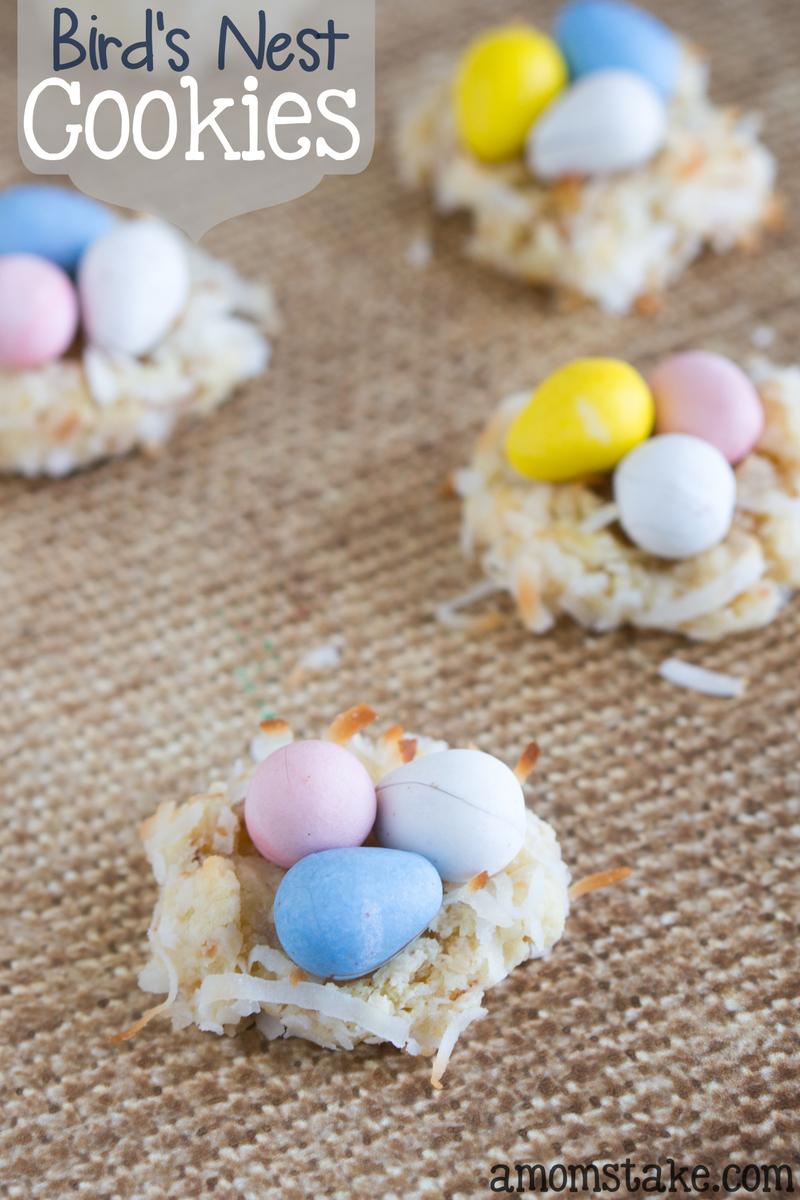 To make this cookie, I toasted my coconut first, but the recipe doesn't require this. I just really like the taste of toasted coconut and wanted that extra flavor in my cookies. The coconut will toast a little bit in the oven while the cookies are cooking.
To toast coconut, just toss your coconut into a small frying pan and stir constantly to avoid burning. It will just take a few short minutes. When the flakes are golden brown, remove from the heat and allow your coconut to cool.
Bird's Nest Macaroon Cookies
This is a slightly adapted recipe of Kraft's Macaroon Kisses recipe!
No need to recreate a recipe that's already great!
Ingredients:
1/3 cup butter or margarine, softened
1 package (3 oz.) cream cheese, softened
3/4 cup sugar
1 egg yolk
2 teaspoons almond extract
2 teaspoons orange juice
1-1/4 cups all-purpose flour
2 teaspoons baking powder
1/4 teaspoon salt
5 cups Sweetened Coconut Flakes, divided
Robin Egg Candies
To make the macaroon cookies as your base, you'll beat together your butter, cream cheese, and sugar in a large bowl until well blended. Add in the egg yolk, almond extract and orange juice, beating your mixture together.
Next, sift together your dry ingredients – flour, baking powder and salt. Slowly add the dry ingredients mix to your wet ingredients, beating the mixture together until well blended. Add in 3 cups of coconut, saving aside the additional 2 cups for later.
Refrigerate your cookies until firm enough to handle and then roll the cookies into 1″ balls. Roll each of your cookie balls in the set aside portion of coconut and place on a greased or lined cookie sheet.
Bake your cookies at 350° F for 10-12 minutes, or lightly browned. Now, you'll take the cookies out of the oven and let them sit to cool for two minutes. Then, press your robins egg candies using 2-3 per cookie into the center of the cookie to make a nest. If the cookies are too hot, the eggs will crack as you're adding them to the nest. You do want to add the eggs while the cookies are warm, though, to help them form the dip and nest.
This recipe will make 48 cookies, enough to share with family and friends! The chocolate inside the robin's eggs will be softened or melted depending on how long they have to cool. This adds a really great chocolatey taste with the toasted coconut that makes these cookies great!
In the end, you'll have adorable little bird's nest cookie that the kids will think are really fun! My boys loved these cookies and have been talking about them for days! They look just like a little nest and they really loved that!
Want more cookie love? Try my Soft Sugar Cookie Recipe, which can be cut and frosted to match any season.
What's your favorite Spring cookie?