This post is sponsored by P&G. Save on NEW Gain Flings and Tide Pods at Target. Text CLEAN to Target (827438) for mobile coupons*.
We all have the chores we hate. For some it's dishes, others it's yard work, for me.. it's laundry!! With a full household of boys there is always a mounding pile waiting for me and I know there is a huge and heavy detergent bottle waiting for me, too.
At least now, there is one thing that can make my Laundry job easier! Tide Pods and Gain Flings are making it simple to get your laundry done with a toss and go detergent packet. Their simplified solution has inspired me to share my own 5 Tips to Simplify Laundry duty!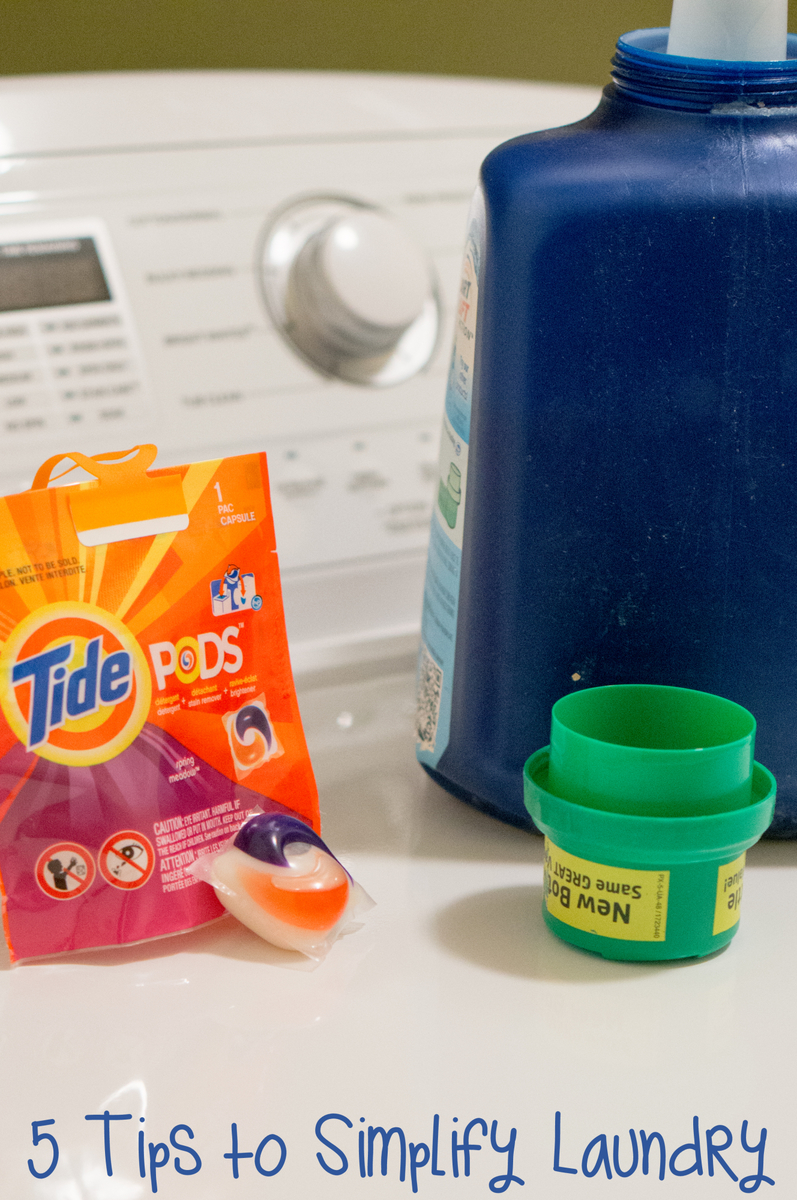 1. Separate – or Don't! At some point, all the clothes will have to be separated out and put back away in their proper rooms and dressers. However, don't feel like you have to separate everything all of the time. Try out different methods and figure out works best for us. I've tried it all. Sorting by colors, sorting by individuals, sorting out towels. For me, it's easiest to just toss it all in the washer except our pure whites which go separate.
2. Sorting and Folding Party – If you've got a massive laundry pile, like us, turn the piles at the end of the wash cycles into a party. We gather everyone together and my husband and I sort and fold while the kids run trying to "beat" us by getting back before we have another folded item for them in their pile. It makes doing laundry almost fun, and it goes much faster, too.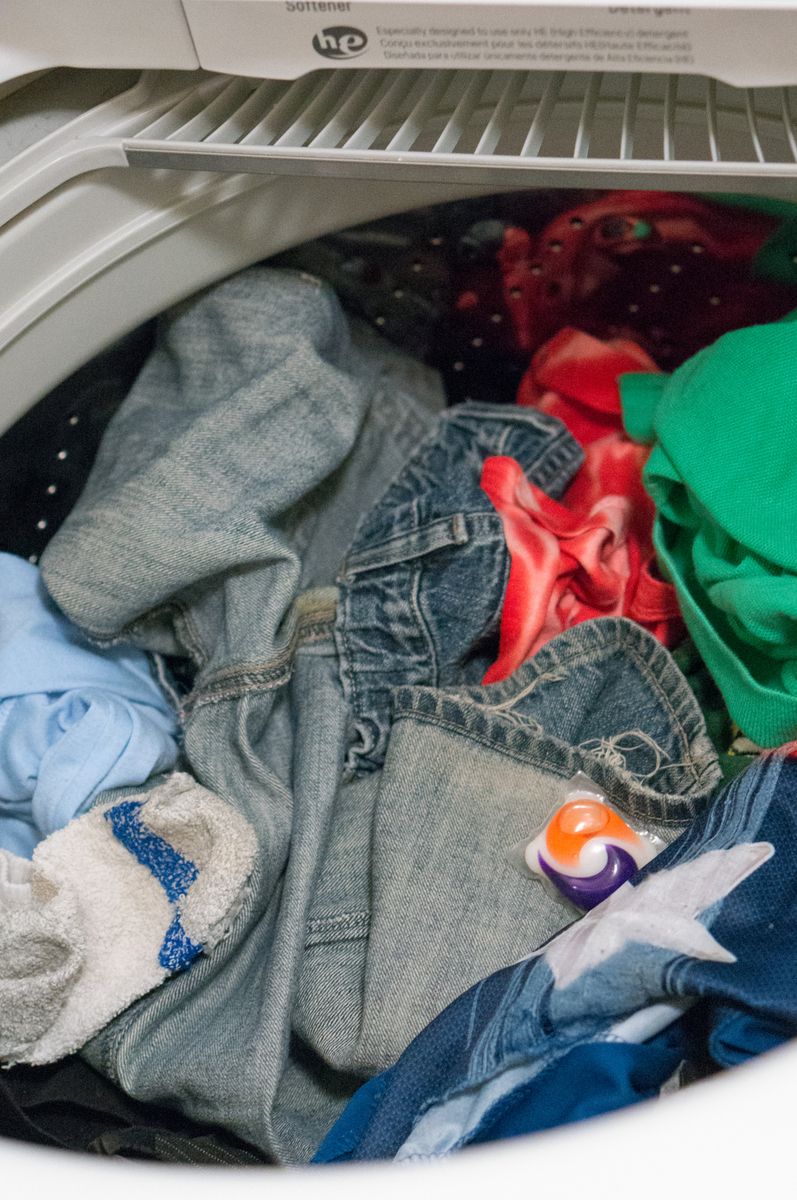 3. A little at a time – My mom raised six kids (I was #3). She has always told me to do at least one load of laundry every single day. If you save up your laundry until all the laundry baskets are full, the job becomes very overwhelming. Instead, try tackling a load every day and make it a routine. Or, you could commit to two loads every other day if back to back loads work better for you. Below is what the load above looks like folded. Our washer can hold a lot of clothing, so folding a single load a day is about all I can usually squeeze into my busy schedule.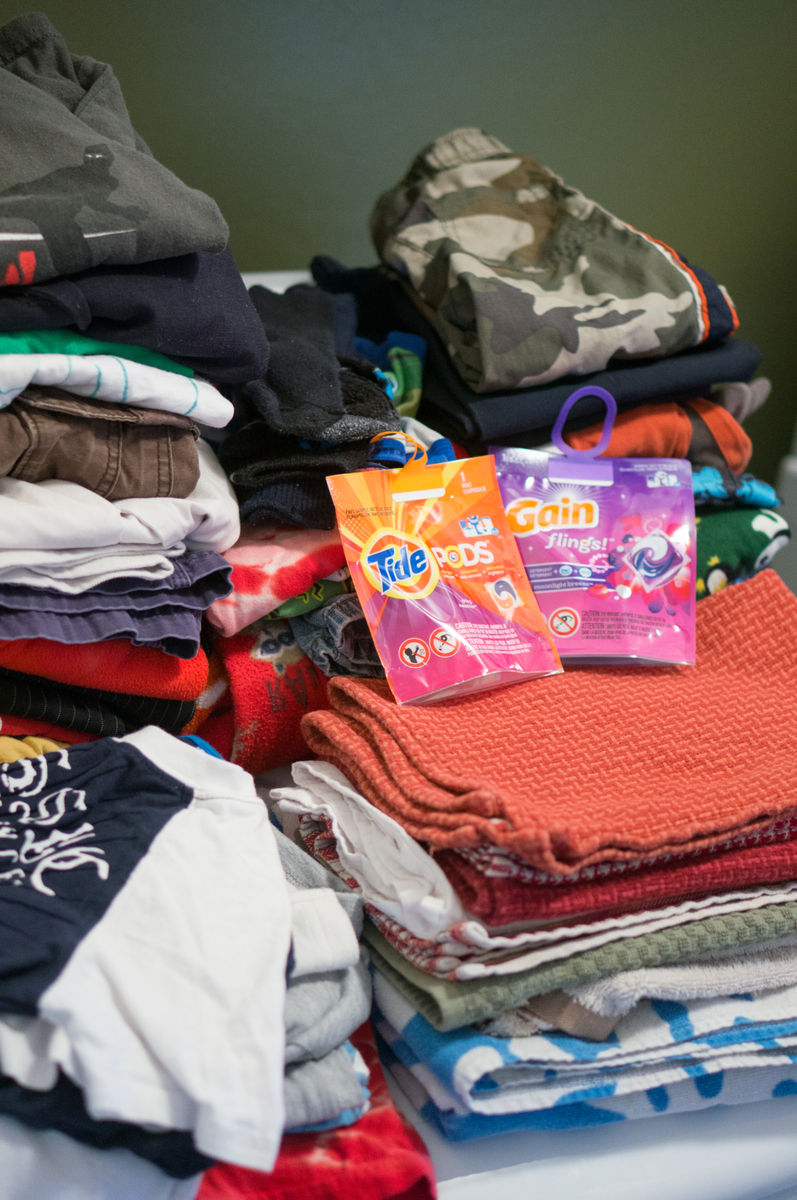 4. Choose a washing machine that meets your needs – This is a big one! We started with a really, really small washing machine as newlyweds. Of course, that was fine for the two of us. As our family grew, so did our pile. When it washing machine broke, it gave us the perfect opportunity to pick out a washing machine that was right for our growing family! I shared how to pick a washer and dryer previously, so head on over if you need help knowing what to look for in a good set.
5. Ditch the big jugs (and all those extras, too) – Skip the mess and the struggle that comes with a big huge jugs of detergent, dryer sheets, and even stain fighters. Instead, toss in your choice of Tide Pods or Gain Flings and you're detergent is set!
It always amazes me what little things can make such a big difference in our lives. I always notice the little things, like when a stranger smiles at you on the street or your friends sends a note "just because". Those things can completely change a day around. Simplifying laundry does the same thing for me, A little something that makes a big difference and lifts my day.
Tide Pods and Gain Flings have simplified my laundry routine. They saves me my most valuable resource – time. They also mean one less mess, which is one thing every mom wants! I loved everything about using these easy detergent packets. My laundry smells great and I'm in and out of the laundry room in a flash.
Choose from your favorite detergent you already love:
Tide Pods: Detergent + brightner + stain remover in one
NEW! Gain Flings: Gain detergent with 50% more scent + Oxi boost + Febreze
Both of these products are available at Target, so they are easy to pick up the next time you shop.
How do you simplify laundry duty?
*Message and data rates may apply. 1 message per request. http://m.target.com/spot/sms/coupon-alrts-terms for Terms, Conditions, and Privacy Policy. By texting the key word to us, you agree to receive an autodialed text message from Target at the mobile number from which you sent your request. Consent to receive messages is not a condition of purchase.