These healthy breakfast burritos are the perfect way to start any day! Packed full of protein for all-day energy!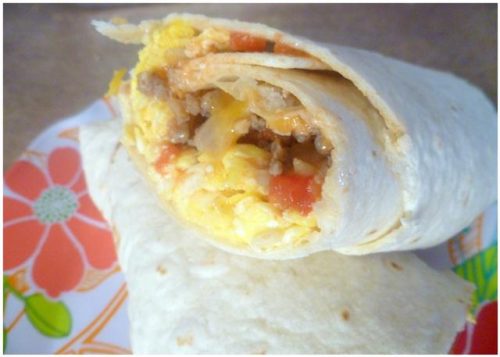 CLICK HERE TO SAVE THIS RECIPE ON PINTEREST!
Not only do these make-ahead breakfast burritos taste amazing, they are a time-saver for me as well!
I may not be a morning person per se, but this easy breakfast burritos recipe is starting to make me one!
For another quick breakfast option, try our Apple Oatmeal!
Affiliate links are used in this post.
HEALTHY BREAKFAST BURRITOS
Most mornings the boys and I will just eat cereal, muffins, bagels or the like that don't involve any cooking but it's nice to have a big filling breakfast so when we have the time (and energy) we'll whip up something more substantial! Recently, we decided to try something new and a bit away from our "norm" and made Breakfast Burritos! They were SO good that they will definitely make their way into our breakfast favorites and become a "usual".
HOW TO MAKE HEALTHY BREAKFAST BURRITOS:
The ingredients are so simple!
spicy breakfast sausage
diced onions
eggs
can of diced tomatoes
flour tortillas
cheddar cheese, grated
Now comes the fun part…!
Brown the spicy breakfast sausage and diced onions.
Cook and scramble eggs then add the sausage and onions mixture into the eggs along with a portion of a can of diced tomatoes (about a half a can for 4 burritos)
Mix and then scoop into a flour tortilla and add grated cheddar cheese. (the more cheese, the better!)
Roll up and serve!
This meal comes together surprisingly quick and is a absolutely delicious and very filling! What's even better though is all three of my boys will eat this without complaint!
FAQS ABOUT HEALTHY BREAKFAST BURRITOS:
Q: Can you freeze breakfast burritos?
A: Absolutely. Making them ahead of time and freezing is a great way to meal prep and plan ahead. Just make certain that you are reheating them to the proper temp before eating!
Q: Can you substitute corn tortillas to replace the flour ones?
A: Yes, just know that the consistency may taste a bit different but still overall delicious!
Q: What other meats can be added to these easy healthy burritos?
A: Soft bacon bits, ham or even turkey bacon would all be great substitutes.
IF YOU LOVE THIS EASY BREAKFAST BURRITOS RECIPE, SPEND A FEW MINUTES TO SEE THESE OTHER BREAKFAST RECIPES THAT WILL BE AN AMAZING PART OF YOUR RECIPE COLLECTION!
CONNECT WITH A MOM'S TAKE ON YOUR FAVORITE SOCIAL CHANNEL FOR MORE RECIPES!
You can find us on:
Instagram | Facebook | Pinterest | YouTube | Twitter
HEALTHY BREAKFAST BURRITOS
Click below to print/save this recipe or pin it to bookmark!
Breakfast Burritos
Simple, nutritious, and filing breakfast burritos.
Ingredients:
Spicy Breakfast Sausage
Diced Onions
Eggs
Can of Diced Tomatoes
Flour Tortillas
Cheddar Cheese, grated
Directions:
Brown Spicy Breakfast Sausage and Diced Onions. Cook and scramble Eggs. Add the sausage and onions mixture into the eggs along with a portion of a can of Hunt's Diced Tomatoes (about a half a can for 4 burritos). Mix and then scoop into a Flour Tortilla. Add grated Cheddar Cheese. Roll up and serve!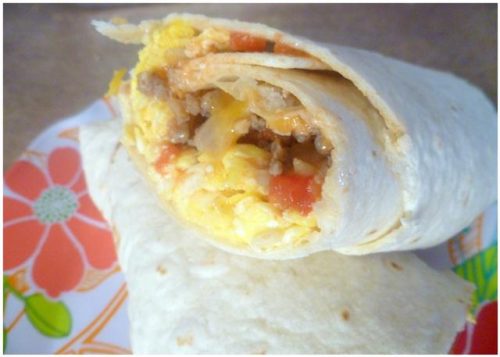 WHAT WOULD YOU ADD TO YOUR HEALTHY BREAKFAST BURRITO?