Take breakfast to a whole other level with this amazing Monkey Bread Waffles. Delicious, hearty and good to the last bite!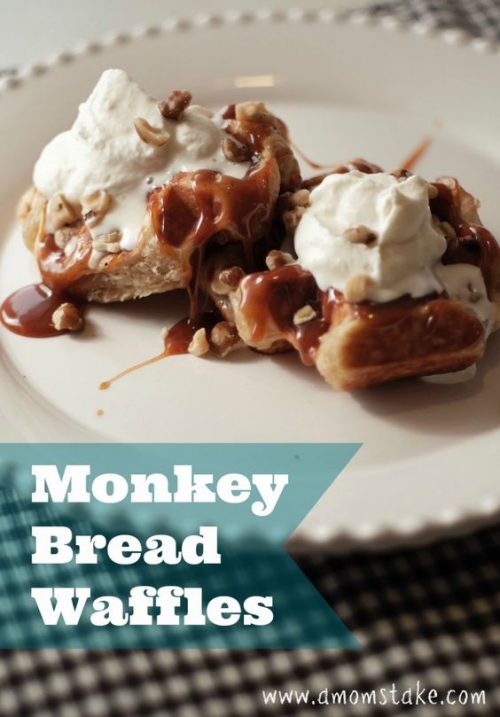 CLICK HERE TO SAVE THIS RECIPE ON PINTEREST!
Not only is the flavor of these monkey bread waffles amazing, you'll find that you want more and more and more each time!
You'll love the uniqueness of these waffles!
For another amazing homemade breakfast, try our pancake mix from scratch!
Affiliate links are used in this post.
MONKEY BREAD WAFFLES
I remember as a little girl helping my mom prepare for Christmas morning. I would help her make the rolls and get the pan ready for our traditional breakfast. Once we woke up we had to wait for my parents to get dressed and my mom would put breakfast in the oven so it would be ready after all the excitement of Santa was over. We ALWAYS had warm monkey bread after opening gifts and this gooey, tasty treat always takes me back to those cozy Christmas mornings.
Now that I am a mom it is time for my little family to make our own traditions. I knew I wanted to continue the tradition of monkey bread on Christmas morning, but with our own little twist. My family LOVES waffles. We have breakfast for dinner at least once a week, and waffles are our favorite choice. I decided to combine these family favorites into one delicious breakfast treat, perfect for Christmas Morning.
Have you ever had monkey bread? Your family might call it something different, but it is basically rolls with sticky butterscotch and walnut topping. For these waffles, I made the topping into more of a syrup. This is where you will start. This rich butterscotch sauce is super easy to make and really makes these waffles unique and delicious.
HOW TO MAKE MONKEY BREAD WAFFLES:
1.5 cups of water
1/2 cup of butter
3/4 cup white sugar
3/4 cup brown sugar
1- 3.4 oz package of Butterscotch instant pudding (not the sugar-free kind)
1 tsp of cinnamon
Heat all your ingredients in a saucepan. Stir until sugar is dissolved. Bring to a boil and let the sauce thicken. Serve warm. (Seriously, it's that simple!)
Now make your waffles. I swear by my Croquade Waffle Maker from Sur La Table. We used the Belgian Waffle Plate, I love that I can change the plates out to make stuffed waffles, panini sandwiches, heart-shaped waffles, or even waffle cones. But the best feature, by far, is that the plates can be removed completely for easy cleaning. No more wiping down the cooking surface with a damp rag, you can really get these babies clean!
Where was I? Oh yes, cook your waffles however you would like. We used Vanilla Liege Waffle Dough that you can find here. Any favorite waffle recipe will work, but these Liege waffles with Belgian pearl sugar really take the recipe up a level with their extra sweetness. If you have never had Liege waffles before, you have to try these. The pearl sugar leaves little-caramelized bits of crunchy sweetness throughout the dough that is to die for!
Top waffles with warm butterscotch syrup, whip cream, and walnuts.
They taste best in your pajamas, surrounded with the ones you love most. Trust me.
FAQS ABOUT MONKEY BREAD WAFFLES:
Q: What is monkey bread?
A: It's a type of pluck it and eat it type cake that tastes delicious for breakfast and is usually made pretty sweet tasting as well.
Q: Why is it called monkey bread?
A: The way that you pull off pieces and eat it reminds people of how a monkey eats.
Q: Where did monkey bread originate from?
A: Monkey bread started out as a Hungarian treat that we have known to come and love as well.
IF YOU LOVE THESE SIMPLE MONKEY BREAD WAFFLES, SPEND A FEW MINUTES TO SEE THESE OTHER BREAKFAST RECIPES THAT WILL BE AN AMAZING PART OF YOUR RECIPE COLLECTION!
CONNECT WITH A MOM'S TAKE ON YOUR FAVORITE SOCIAL CHANNEL FOR MORE RECIPES!
You can find us on:
Instagram | Facebook | Pinterest | YouTube | Twitter
MONKEY BREAD WAFFLES
Click below to print/save this recipe or pin it to bookmark!
Monkey Bread Waffles
Ingredients:
1.5 cups of water
½ cup of butter
¾ cup white sugar
¾ cup brown sugar
1- 3.4 oz package of Butterscotch instant pudding (not the sugar-free kind)
1 tsp of cinnamon
Directions:
Heat all your ingredients in a saucepan.
Stir until sugar is dissolved.
Bring to a boil and let the sauce thicken.
Serve warm.
Now make your waffles.
src="https://www.amomstake.com/wp-content/uploads/2014/12/monkey-bread-waffles-500×717.jpg" alt="monkey bread waffles" width="500″ height="717″>
What are your Christmas morning breakfast traditions?