My grandma has the best recipes! Whenever I think up something I want to cook, it always brings me back to thinking about my grandma and something she has made in the past.
Whether that be homemade pancakes on our camping trips, jello pretzel salad for Thanksgiving, or our traditional soft sugar cookies we make every single year for Christmas!
Truly, Christmas wouldn't be the same without these amazing cookies! They remind me just a little bit of lofthouse cookies – only because the cookies are soo soft but they taste a million times better.
These are by far my very favorite cookies so I'm excited to share the best soft sugar cookie recipe with you!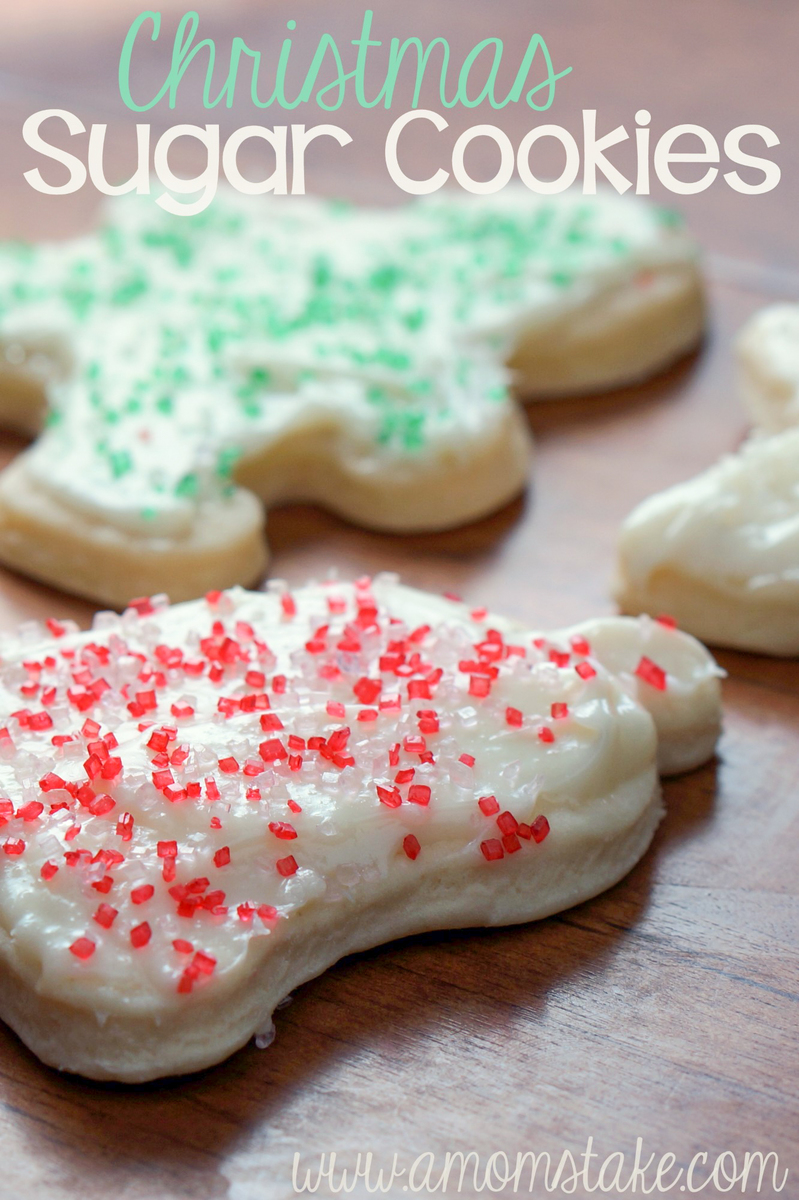 Why this recipe is the best sugar cookie recipe there is!
There are two things that make this recipe really, really good. Things that make this recipe unique from most of the sugar cookie recipes I've ever seen.
It's these two simple steps that will give you super soft sugar cookie – recipe is below, but for now let me show you these secrets!
1. The recipe has two "secret" ingredients that make this cookie dough so amazing!
Vanilla and Lemon Extract! You'll absolutely need these two yummy flavorings to have delicious sugar cookies! There is only a tiny hint of lemon in the cookies, but it makes a world of difference.
2. The second secret is to chill the dough before you begin to roll it out.
Having it chilled will allow it to roll better so you can't skip out on the flour. On that note, we always roll our sugar cookies out between two pieces of wax paper so we don't add any extra flour. This keeps the cookies from tasting too floury and gives you the texture you're looking for.
3. Bonus Tip: Homemade Frosting!
You are also going to want this amazing powdered sugar frosting recipe to pair with these yummy cookies!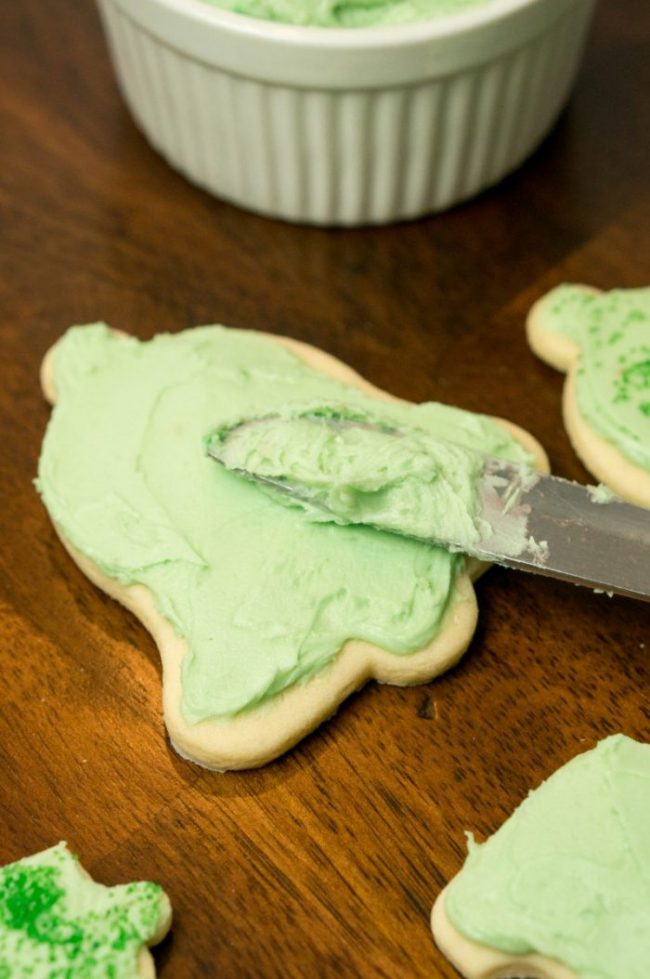 After our cookies are baked and ready, allow your cookies to cool and then frost and decorate. We always just grab a bag of powdered sugar and follow the Powdered Sugar Frosting recipe here.
It's the easiest recipe and works perfect for these sugar cookies as it spreads really well and it's easy to color if you wanted to.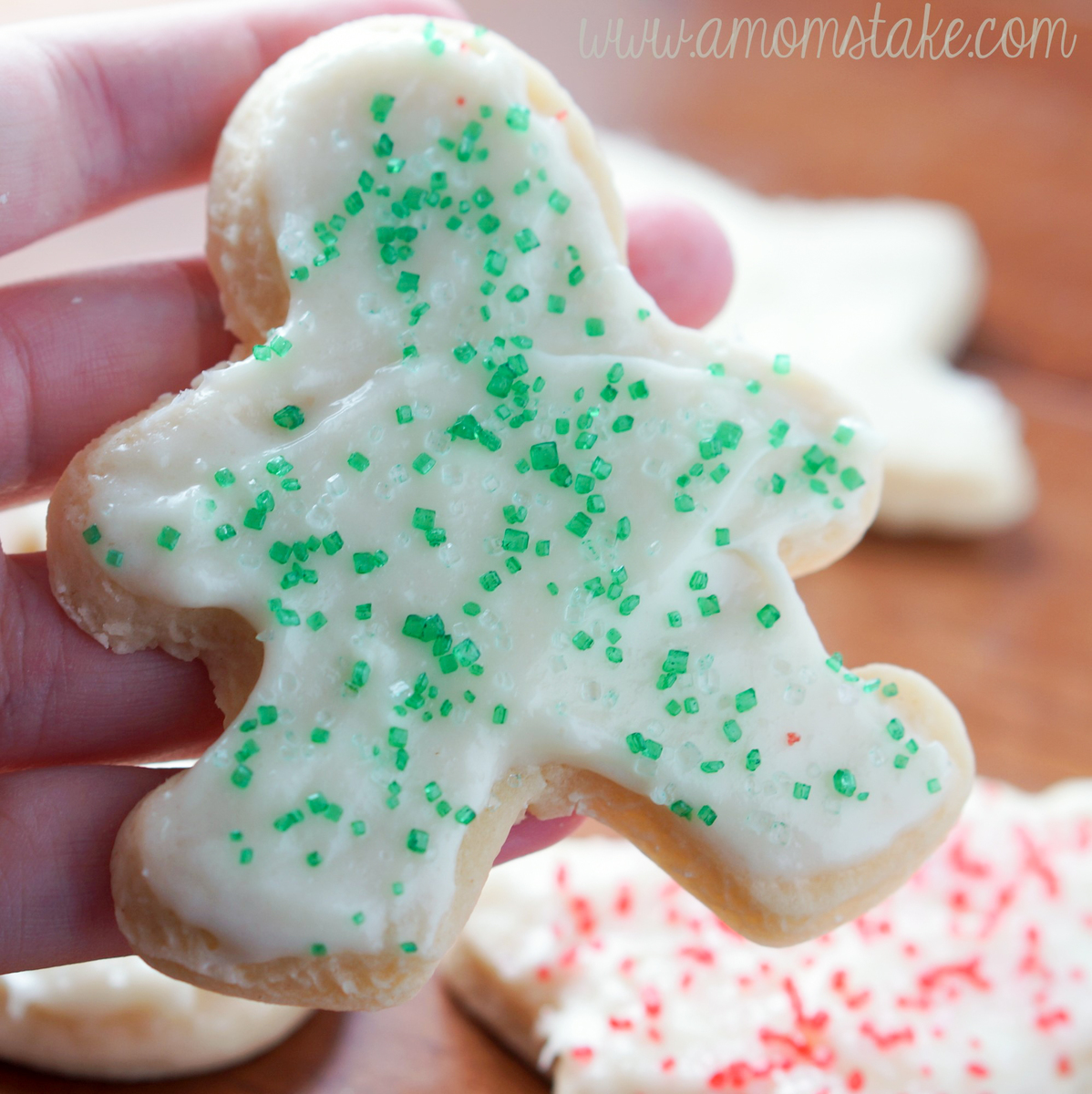 Then, grab a bottle of colorful sprinkles to jazz up the cookies if you want to. My kids always go crazy for the sprinkles, it's their favorite part of the whole process.
Then, you can store the cookies with a sheet of wax paper between each layer and enjoy. Try not to eat too many at once, it will be hard!

Best Soft Sugar Cookie Recipe
Yield: 24
Soft Sugar Cookies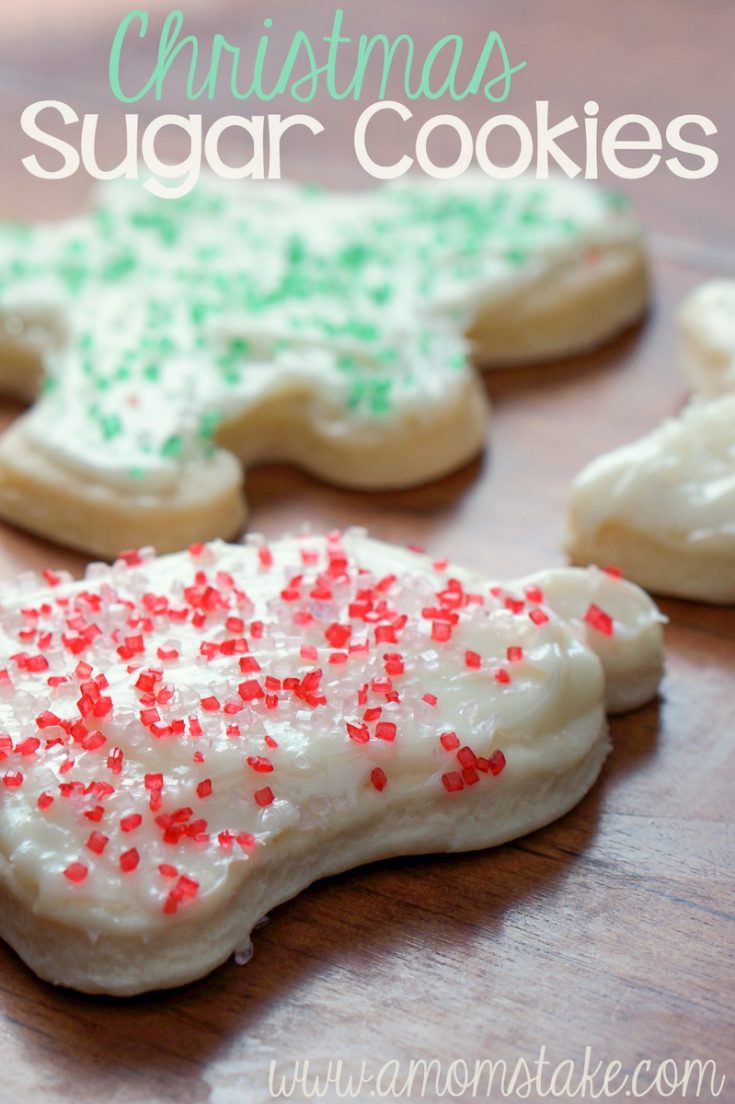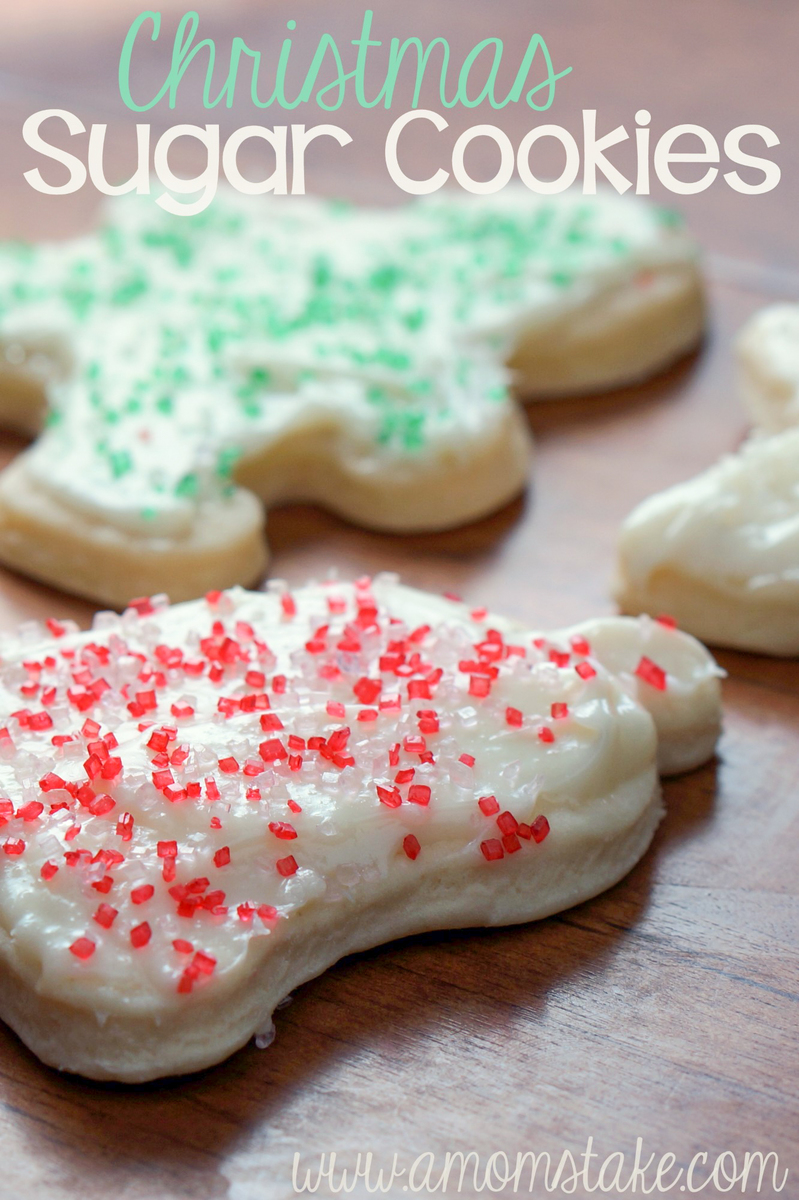 Super soft sugar cookies that are a classic for Christmas but versatile enough to be shaped with cookie cutters for any holiday, season, or event!
Ingredients
2 eggs
2/3 cup butter
1 cup sugar
1/4 cup milk
1 tsp baking soda
1 tsp vanilla
1/2 tsp lemon extract
4 cups flour
1/4 tsp salt
Instructions
Cream together your butter and sugar. Beat in your eggs into the mixture.
In a separate dish, dissolve your baking soda in your milk and then add to your creamed egg/sugar mixture.
Add vanilla and lemon flavoring. Then, add your dry ingredients and mix well.
Chill your dough for 1.5 hours or overnight.
Roll out the dough to 1/8" thick (not too thick, not too thin). You can use wax or parchment paper to roll out the dough so you don't need to add any more flour. Just place your dough between too pieces and roll away.
Cut out shapes with your favorite cookie cutters and placing on a baking sheet.
Bake 8-10 minutes at 350*
Here's another yummy cookie recipe for Snickersnap Delights, a twist of snickerdoodles and sugarsnap cookies!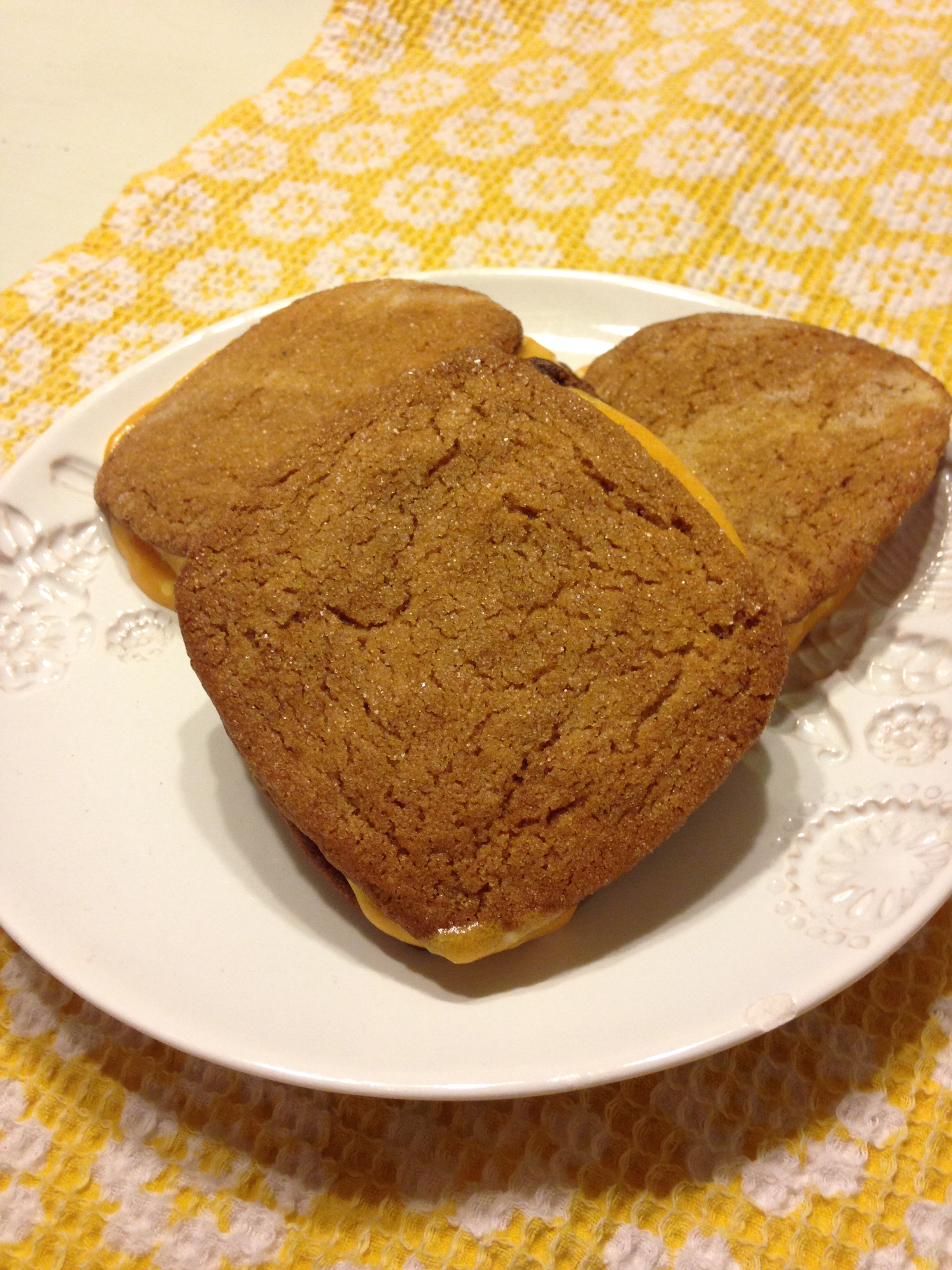 Do you have a favorite Soft Sugar Cookie Recipe?