These Cherry-Almond Refrigerator cookies are perfect for you to bake for the holiday season! They can be made ahead and frozen once they have been made into rolls or after they have baked. The red flecks of cherry and light pink hue make these cookies a pretty treat to jazz up your cookie trays this year!
This post is part of the SPLENDA® 365 SWEET SWAPS™ Blogger Program by McNeil Nutritionals, LLC and The Motherhood, who sent me products and compensated me for my time. Opinions, experiences and photos shared here are my own.
Cherry-Almond Refrigerator Cookies
Ingredients:
½ cup slivered almonds
1 cup softened butter
1 cup white sugar
½ cup packed brown sugar
1 egg
½ teaspoon vanilla extract
½ teaspoon almond extract
2 ½ cups all-purpose flour
1 ½ teaspoons baking powder
½ teaspoon salt
1 cup chopped red candied cherries
Sprinkle almonds in ungreased heavy skillet. Cook over medium heat 5 to 7 minutes, stirring frequently until nuts begin to brown, then stirring constantly until nuts are light brown. Cool 10 minutes. In food processor, process almonds until finely chopped; set aside.
In large bowl, beat butter, granulated sugar and brown sugar with electric mixer on medium speed until smooth and creamy. Here, we made a sweet swap by using SPLENDA Sugar Blend and Brown Sugar Blend. These blends use half regular sugar and half SPLENDA sweetener to give you a lower calorie and sugar treat without sacrificing on texture and taste. When you swap out the recipe's call for sugar with SPLENDA's Sugar Blend products, you use half of what the recipe calls for – so here I added 1/2 cup SPLENDA Sugar Blend and 1/4 cup SPLENDA Brown Sugar Blend in place of the full recipe's amount — no need to add anything additional.
Next, add egg, vanilla and almond extract; beat on medium speed until smooth. On low speed, beat in flour, baking powder and salt until dough forms. Stir in cherries and chopped almonds.
Form dough into 2 (8-inch) logs. Wrap in waxed paper or plastic wrap.
It works really well to just drop half of the recipe onto each of two sheets of wax paper, and then roll it into a log as you roll up the wax paper and press to form the log.
Refrigerate at least 2 hours or until firm.
When your dough is firm, heat the oven to 375°F. Cut dough into 1/8- to 1/4-inch slices. It's really easy with the cold dough to cut your slices.
On ungreased cookie sheets, place slices 2 inches apart.
Bake 7 to 9 minutes or until edges start to turn golden brown. Cool 1 minute; remove from cookie sheets to cooling racks. You'll get around 4-5 dozen cookies, depending on how thick you cut them.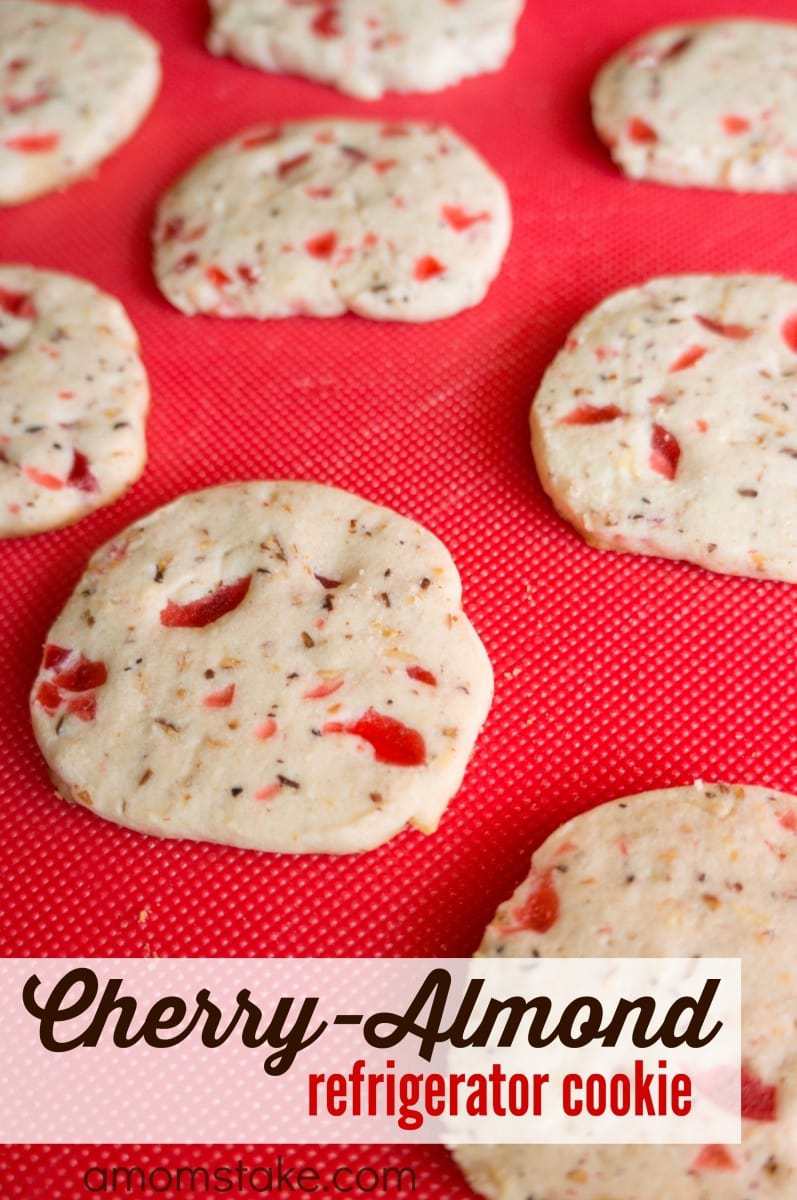 These cookies pack in a lot of flavor and really look festive and pretty on your cookie platter.
Swapping out unnecessary sugar really makes a difference in my home. My 6 year old son was diagnosed with Type 1 Diabetes just over a month ago and we've been making simple changes that really make a big difference around our home to help him as well as our whole family. Cutting out some of the unnecessary sugar helps us make smarter choices and cuts out about half of the carbohydrates from our recipes.
Tips for Sweet Swaps in Cookie Recipes
Cookies often rely on brown sugar for their chewy, crunchy texture. To retain the texture, replace only the white sugar or replace sugar using SPLENDA Sugar Blend.
You may need to flatten cookies before baking to help them spread.
Use an additional teaspoon of vanilla extract per one cup of sugar swapped to enhance flavor.
Baked goods made with little or no sugar do not brown like recipes made with sugar. Watch closely to ensure you don't over bake the cookies.
Cookies may bake more quickly than those made with sugar. Check 3-5 minutes before the original recipe's expected bake time.
You can find more recipes that swap out the sweet at 365SweetSwaps.com.