Christmas is the very best time of the year, as long as we stay focused on the things that really matter most. Spending time together with our loved ones and making lasting memories is really what this holiday is all about.
This post is sponsored by JCPenney. All opinions are my own.
Giving and receiving gifts is a nice way to show those we love how much they mean to us and gift them something fun, unexpected, or practical that will help them through the upcoming year. But, when gifting goes overboard with spending and a huge pile of gifts, it's easy to forget the meaning of the holidays and instead turn it into a shopping spree simply to look like the best gift-giver out there.
JCPenney is challenging you to stick to your budget and still come out ahead with amazing gifts at prices you won't believe so you can enjoy the holidays without stressing out over your dwindling bank account.
How to Have an Amazing Christmas – on a budget!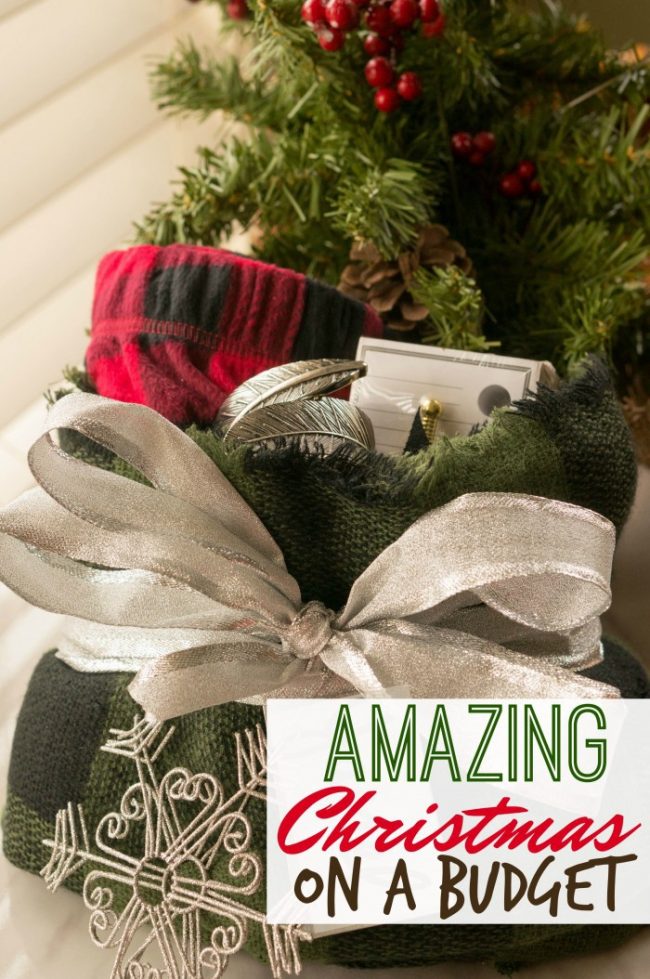 1. Consider Your Finances – Starting with a budget can go a long way to keeping your spending in check for the holidays, but the first step of that is considering your family income, expenses, and other responsibilities before setting your budget. Don't base your budget on outside factors like what you think other families might be spending. Keep it realistic to your family's needs and a little room for a want if you can afford it for each member of the family.
2. Stick to Wish List – Start jotting down ideas of what things your loved ones might want or need. Your list can change and adapt over time. As you start closing in on Christmas, it will be easier to narrow down the list to the items that will really be thoughtful and special gifts for each recipient. Once you have your list settled, stick to it and don't deviate by adding additional gifts!
3. Simplify Your Gifts – There's a popular trend you can follow that makes it easy to pare down the pile of gifts into just 4 gifts for each member of the family. This is a great strategy to use if you're short on space, budget, or just want a simple Christmas not overloaded with gifts. It's as simple as finding only 4 gifts, one for each of these categories: a want, need, wear, and read.
4. Wait to Shop – It may seem counter intuitive, but if you start shopping early in the season you'll end up slowly stockpiling gifts and likely end up with way more than they need and end up spending more than you budgeted. If you already know exactly what you want to shop for as gifts this Christmas, you'll be able to avoid inevitably finding more items to purchase by waiting until closer to Christmas to shop. Many of the best sales begin late November and through Christmas, so there is no rush to shop ahead of time. One month before Christmas is the perfect time to start shopping if you can stick to your list and budget.
Get More Than You'd Imagine at JCPenney
JCPenney is ready to help you meet your budget and goals this holiday season with an amazing assortment of gifts from apparel and novelty items to things for the home and toys for the kids! I took on the #JCPchallenge this year to shop for gifts for myself and for my husband, sticking to under a $40 budget per person.
Now, I'm going to share the incredible finds to create an amazing gift bundle for him and for her each for under $40! Plus, some perfect gift ideas for boys and girls under $15 each.
Spoil Her for Under $40
This year for Christmas, all I want is a little bit of indulgence at affordable prices. I found really amazing gifts for the women in your life. Since I routine shop for myself for Christmas each year, I'm not set for under the tree!
We have a tradition each year of a new pair of Christmas jammies! It's the most affordable time of the year to grab a new pair of pajama bottoms and so I started with a pair of Flirtitude Fleece Pattern Pajama Pants in Buffalo Plaid which is the in-print of the season. They were only $5 and so soft and an incredible value!
I recently ran out of my little notepad by the fridge for jotting down notes, reminders, phone numbers, to-do lists, and shopping lists. The so cute Mixit Initial and Pen Notebook Sets comes personalized with an initial and with a pen so it's ready to use. Add a little wrist bling with the Decree Leaf Hinged Cuffed Bracelet that's just $8.99. It has a hinged design that makes it a cinch to get it on and off!
I was so excited for the gorgeous colors in the SEPHORA COLLECTION Winter Magic Eyeshadow Pallete. They'll go great with my winter wardrobe and the case is so cute! I'm still awaiting this gift to arrive, as it ships directly from SEPHORA. I'll pair the eye colors with the City Streets Plaid Blanket Cold Weather Scarf in a trendy olive check, it's a low everyday price of just $10!
It's a large scarf perfect for wrapping and is so soft it's already my favorite scarf! Plus, the subtle colors will go with everything.
All five of these amazing items, and I was still under my $40 spending budget!
Shop this Gift Bundle:
Under $40 Gift Bundle for Men!
I started out this guys gift bundle with a matching Stafford Flannel Pajama Set in black that will coordinate for inexpensive matching pajamas! The 2-piece set was under $15 making it a great value.
Often, men spend a lot of time at their desk. The Wembley Artsy Pin Relief, priced at $14.99, is such a fun gift idea for them to fidget with when they have some downtime at work. It's a retro blast from the past novelty gift that's sure to be fun!
My husband is hoping for some new tops this year, and I was thrilled to find some cute picks at great prices. This fun "I can get you on the Naughty List" Novelty Promotional Short Sleeve Humor Graphic T is right up my husband's alley. It fits his personality and humor and will be great as a gift, plus it was only $5!
The Arizona Long Sleeve Thermal Top is a classic look for fall and winter and the two-toned look makes it look expensive, even though it was just $11.99.
Shop this Gift Bundle:
6 Boys Gift Ideas Under $15
6 Girls Gift Ideas Under $15
This gifting season, take the holiday challenge at JCPenney and beat your holiday budget. Get all you want for less than you think—from hot trending items and holiday must-haves to unexpected finds—all available in-store or online at a great value.